A private air carrier operation used by some of Indianapolis' most prominent executives has been under investigation by the Federal Aviation Administration for six years—an absurdly long time in the eyes of some of the executives, who are so fed up that they're fighting the latest round of subpoenas.
Hoosier businessman Gary Aletto, the CEO of Bright Sheet Metal, and friends helped launch AirXL LLC 12 years ago as a lower-cost alternative to commercial charter operators. Its six Cessna Citation jets operate out of Indianapolis Regional Airport in Greenfield.
Executives own stakes in the jets and sign leases to use them as their personal transportation. Current or previous lessees include Ambrose Property Group CEO Aasif Bade, former Simon Property Group Chief Financial Officer Steve Sterrett and former Australian Gold CEO Trevor Gray.
The FAA began asking questions about AirXL LLC way back in 2013 and issued its first batch of subpoenas in 2014.
After executives and the LLCs that own the jets responded by providing the FAA more than 2,000 pages of documents, the investigation took an apparent 33-month hiatus before the agency issued additional subpoenas in December 2017 and August 2018.
Exasperated, more than a half dozen executives have refused to respond to the latest subpoenas—prompting the FAA in February 2019 to sue in federal court seeking to enforce them.
The defendants are fighting every step of the way, accusing the FAA of "abusive and burdensome investigative practices" and asserting that "the obvious purpose of these requests is to bury AirXL under the burden and expense of this investigation."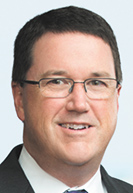 As their attorney, Barnes & Thornburg partner Timothy Maher, said at a hearing in June, "If what we are doing is wrong, shut us down. If what we are doing is not wrong, leave us alone."
Regulatory dispute
In court papers, the FAA asserts the jets are operating under the wrong section of FAA regulations and instead should be regulated as a commercial charter service would be—with additional training and oversight requirements for pilots and additional maintenance requirements.
But despite taking that position, the FAA has not pursued an enforcement action against AirXL, which argues it is operating entirely appropriately.
Among the defendants are Bade, Sterrett, Gray and OurHealth CEO Ben Evans.
Additional executives lease AirXL jets but aren't named in the suit, perhaps because they weren't subpoenaed in the latest round.
So far, the case appears to be going the FAA's way. In June, Magistrate Judge Doris Pryor concluded that the agency acted within its authority when it issued the subpoenas and that they were reasonably relevant to the investigation and not too indefinite or burdensome.
That's not the final word, however. Her conclusions serve as a recommendation to Judge Tanya Walton Pratt, who as of IBJ deadline had not issued her opinion.
Executives named in the suit either couldn't be reached or referred questions to Maher. Maher, who is based in Barnes & Thornburg's South Bend office, declined to comment to IBJ, as did the U.S. Attorney's Office in Indianapolis, which is representing the FAA.
Born from hardship
Aletto began learning about the aviation industry after his wife was diagnosed with a serious illness that necessitated flying to other parts of the country for treatment.
As her condition progressed, it became increasingly difficult for her to fly commercially, according to a memo Maher wrote to the FAA in 2017. After opting for charter flights, he learned about the advantages of the approach ultimately adopted for AirXL.
After Alleto's wife recovered, he and some friends created a limited liability company to own and lease aircraft to executives.
According to the memo, the lessees have "operational control" of the jets, have to obtain $50 million in insurance coverage and have to obtain pilots from an unrelated third party.
AirXL jets are not available to the general public, Maher said in court records.
"Mr. Aletto has a personal relationship with each of the lessee operators," Maher wrote, adding that "almost all of them are sophisticated, high-net worth parties who have employed their own counsel when entering into these agreements.
"These are friends of Mr. Aletto who have sufficient means to make this type of investment in their personal transportation. It is not a commercial enterprise. To emphasize this point, Mr. Aletto is not paid a salary in connection with his involvement with the aircraft."
'Not our clients' problem'
In its lawsuit, the FAA says that starting in 2013, it received "several complaints" that AirXL jets were operating in violation of FAA regulations.
In court papers, Maher surmises that the complaints came from charter operators, which are governed by the more burdensome Part 135 of FAA regulations.
In his 2017 memo to the FAA, Maher wrote: "We understand … that some of your concern is that Part 135 operations are more costly. However, our first response to this concern is that this is really not our clients' problem."
Maher said he thought AirXL had put the investigation to rest in the fall of 2014 after he and other representatives of the operation met with FAA attorneys in Fort Worth, Texas.
"AirXL and its counsel left that meeting with the understanding that it could continue operating in the manner it had been, but the FAA would not be happy about it. AirXL's impression was reinforced by the fact that the FAA ceased all contact for the next 33 months."
The FAA dashed hopes that it would stand down when an FAA attorney contacted AirXL in July 2017 and asked for another meeting.
In its own filings, the FAA makes no apologies for the length of the investigation.
"The investigation has been lengthy. But the alleged violations involve complex business relationships involving dozens of parties. The FAA cannot reasonably conclude an investigation of this complexity within a matter of months or even a few years," the FAA said in a filing.
While the FAA acknowledged that one of its attorneys stated at an October 2017 meeting that it could not shut AirXL down, that was merely because the investigation was not complete, not because it was meritless, according to an FAA filing.
"Respondents' disagreement on the merits and unmet expectations for how they would prefer the FAA to investigate their alleged wrongdoing is no excuse for refusing to comply with the subpoenas," the filing said.•
Please enable JavaScript to view this content.