Patrick Kestner, president of American Institute of Architects Indianapolis, points to design as one way a restaurant or bar can make its mark.
"Unless you're a chain restaurant, which is trying to standardize every detail, places are typically trying to set themselves apart," Kestner said.
To recognize area food and dining architecture that's a cut above, AIA Indianapolis on Thursday released a list of the area's 10 best-designed restaurants and bars.
Selections were made during a lively two-hour debate among the organization's five-member executive committee: Desma Belsaas, IndyVault owner; Marlee Brabin, project director at Blackline Studio; Brandon Farley, architect at American Structurepoint Inc.; Jason Larrison, architect at J.S. Held; and Kestner, owner of Still Architecture + Design.
"We all have different opinions on what makes a space great," Kestner said.
The quintet found consensus when giving unanimous acclaim to two restaurants: the Rathskeller and Vida. Meanwhile, Indianapolis architectural firm Phanomen Design makes three appearances on the list.
In 2021, members of the AIA Indianapolis executive committee publicly shared a list of their picks for the city's top 10 architecturally significant buildings. The roster included structures such as Clowes Memorial Hall and Cummins Global Distribution Headquarters.
The restaurant and bar list, Kestner said, is a way to extend the conversation.
Here's the list, in alphabetical order: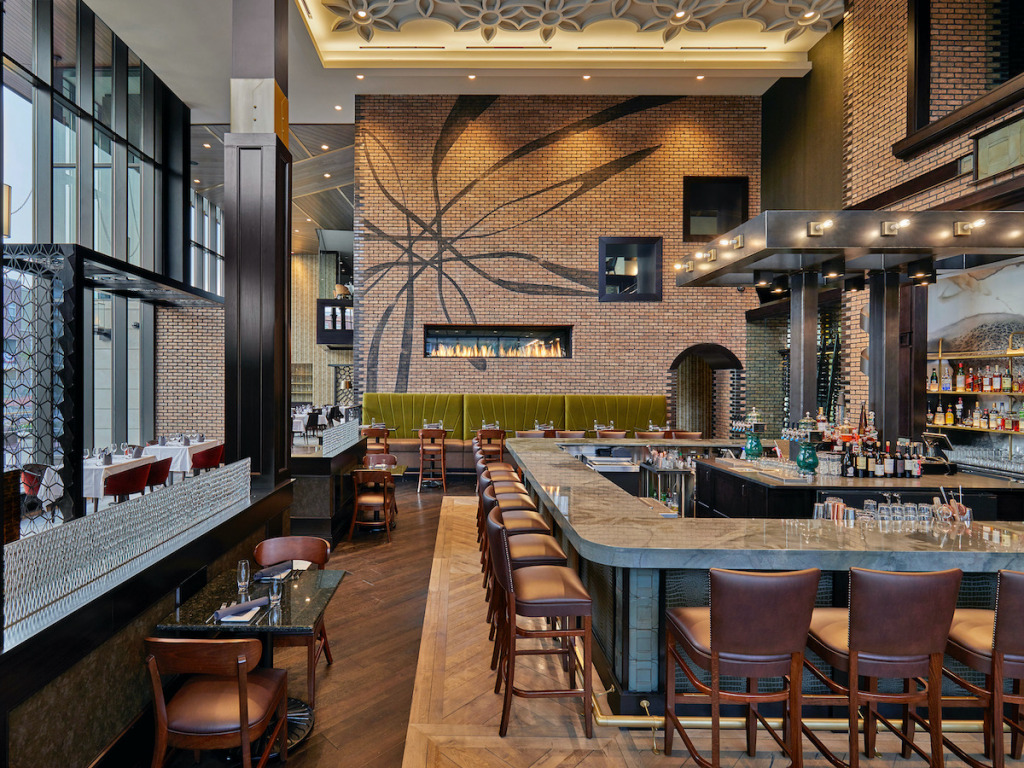 Anthony's Chophouse and 3Up Rooftop Bar
Address: 201 W Main St., Carmel
Designed by: Ratio Architects Inc. and Phanomen Design
The committee praised Anthony's Chophouse and 3Up Rooftop Bar for its two-story glazed wall that looks out onto Carmel's public plaza. Points were earned for salvaging the mahogany bar from the bygone Glass Chimney restaurant.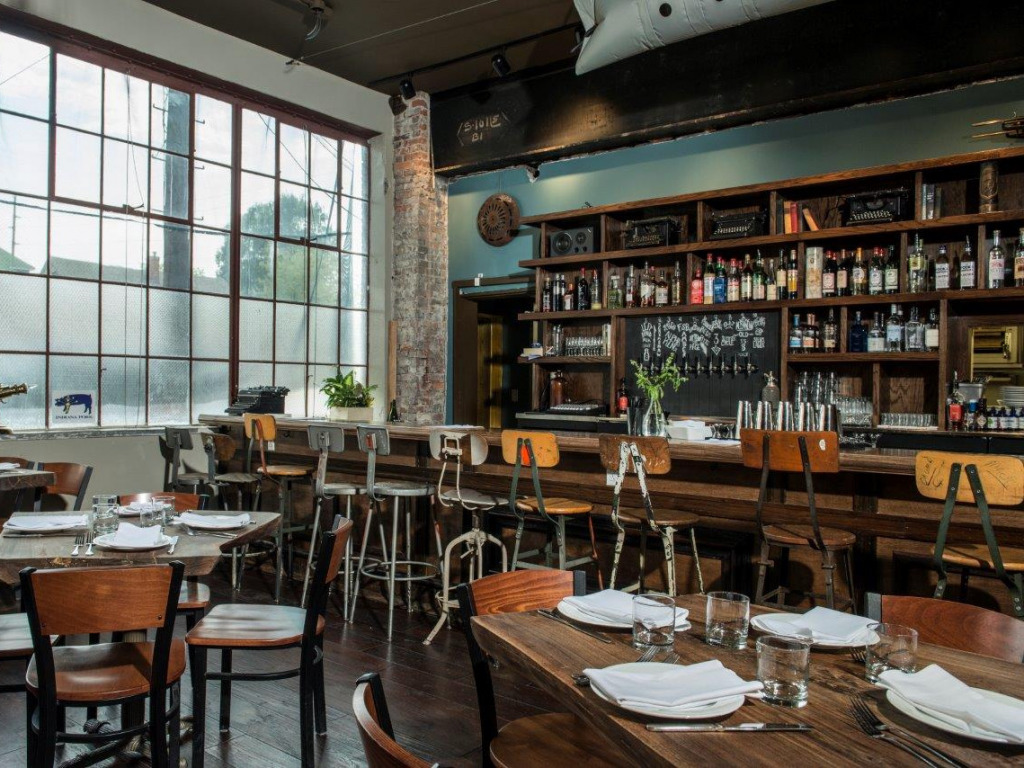 Bluebeard
Address: 653 Virginia Ave.
Designed by: Demerly Architects
Farley described Fletcher Place landmark Bluebeard as cozy, intimate, soft, quirky and a little weird. Of the courtyard's brick arch that greets guests, Farley said, "It's beautiful." The building had been abandoned before father-and-son team Tom and Ed Battista opened Bluebeard, a name inspired by Kurt Vonnegut's 1987 novel focused on the life and work of a famous painter.
The Hulman
Address: 141 E Washington St.
Designed by: ESG Architecture and Design
Minneapolis firm ESG Architecture and Design used a mid-century modern aesthetic for The Hulman, the street-level restaurant of Hotel Indy (designed by Ratio Architects Inc.). "It's a really nice space," Kestner said. "It's a comfortable bar. There's a lot of validity to this" making the top 10.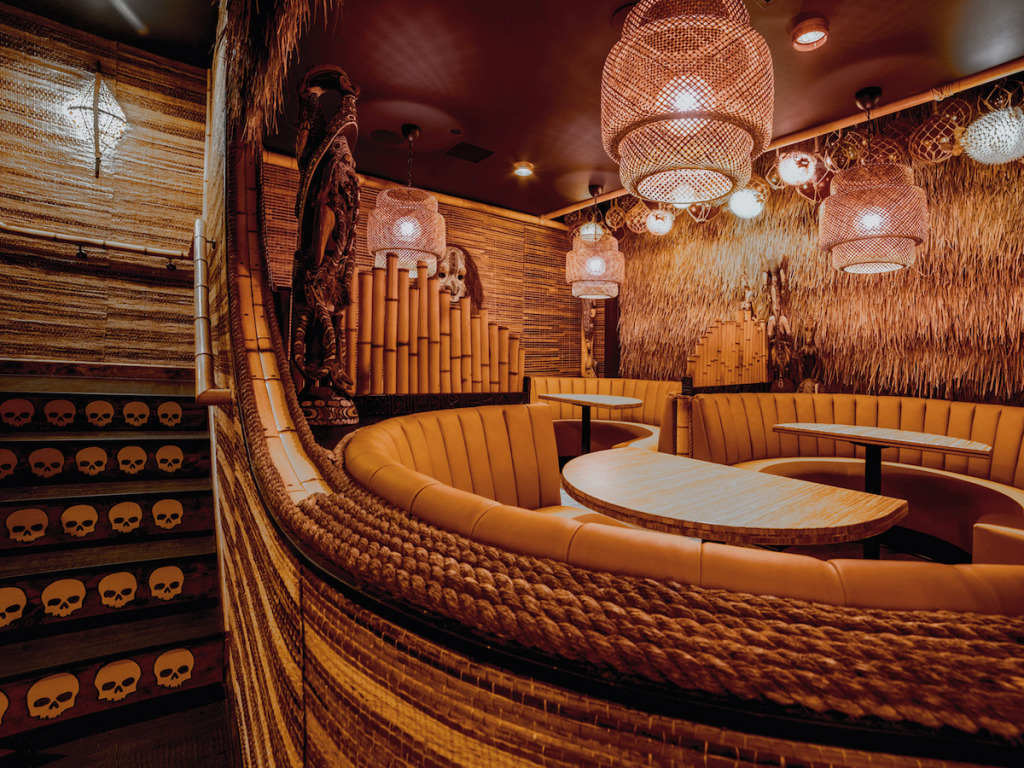 The Inferno Room
Address: 902 Virginia Ave.
Designed by: Blackline Studio
The Inferno Room is the smallest location to make the list, and the list makers discussed the difference between great design and great decorating. Larrison lobbied for the tiki bar to make the list, noting the building's history of once being home to a Marion County court. "It's great architecture," Larrison said. "It's great storytelling. It's dramatic. I love the authentic artifacts from New Guinea. This is more than decoration."
Kan-Kan Cinema and Brasserie
Address: 1258 Windsor St.
Designed by: J.W. McQuiston Architecture + Interior Design
Architects praised the exterior appeal of Kan-Kan, which opened in the Windsor Park neighborhood in August 2021. "It's a great space, and I like what it's done as an amenity and as a community asset for the area," Belsaas said. "It's bold. It draws you in." The Battistas, who co-founded Kan-Kan, have another Vonnegut connection, because the theater and restaurant's name is borrowed from a reference in the novel "Cat's Cradle."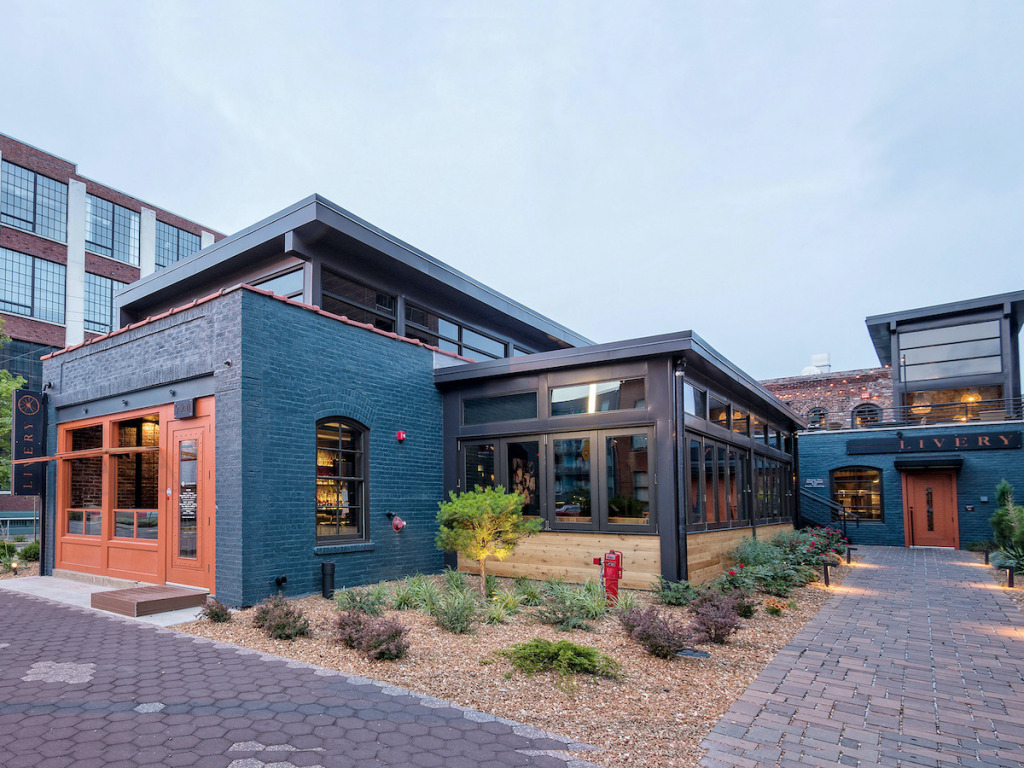 Livery
Address: 720 N. College Ave.
Designed by: Phanomen Design
Livery's distinctive design begins at the sidewalk that runs along the alley of this former 1800s livery stable in the Chatham Arch neighborhood. The committee expressed appreciation for the modern, industrial design that's also inviting. Phanomen also designed the exterior mural, "Night Musings," that won a Monumental Award for Achievement in Public Art.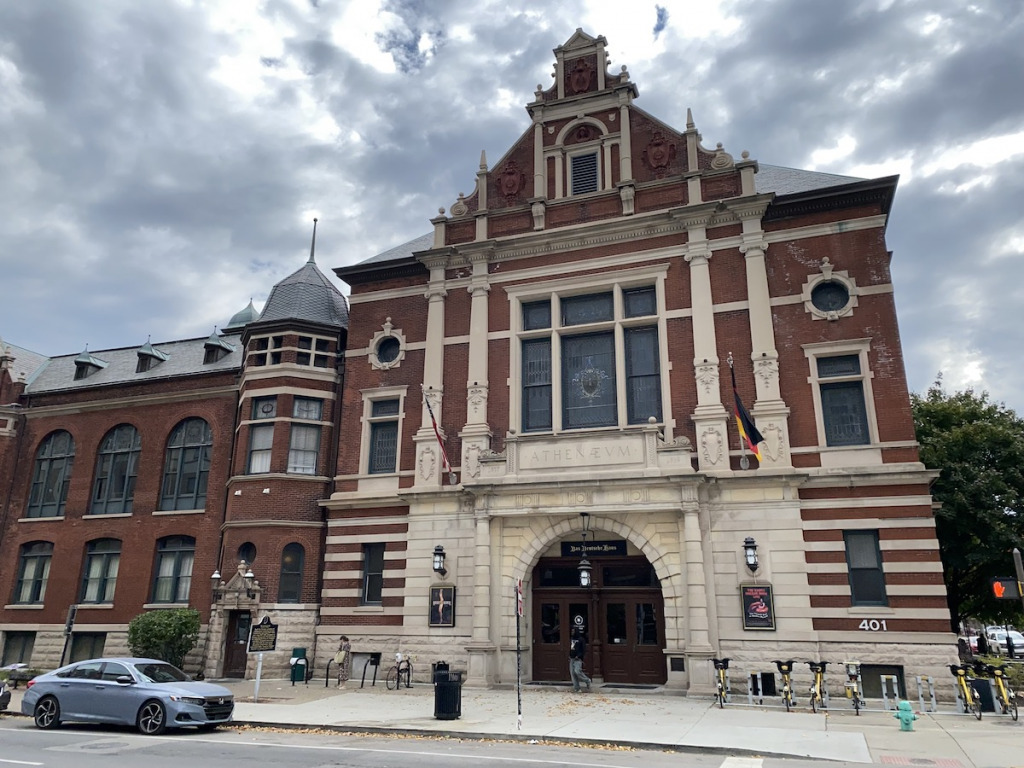 The Rathskeller
Address: 401 E. Michigan St.
Designed by: Vonnegut and Bohn
The Rathskeller is part of the Athenaeum, a 19th century German Renaissance Revival building designed by Vonnegut & Bohn—the firm owned by author Vonnegut's grandfather, Bernard Vonnegut, and Arthur Bohn. The restaurant was designed to mirror a Bavarian inn and dining establishment, as well as a Munich beer hall.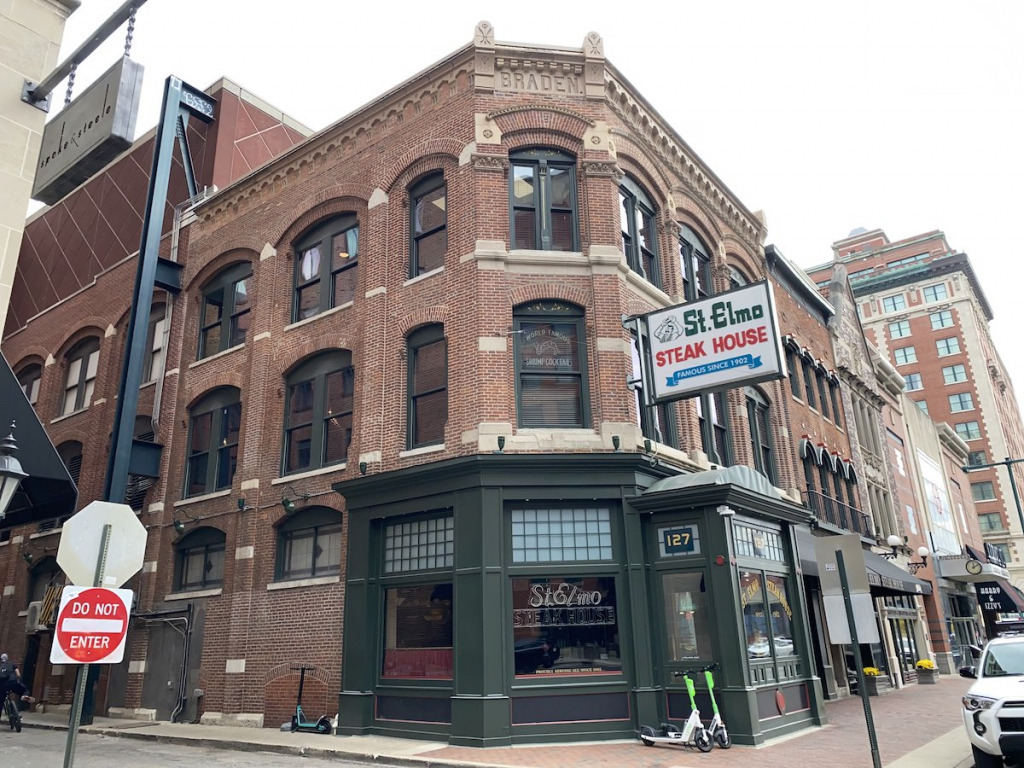 St. Elmo Steak House
Address: 127 S. Illinois St.
Designed by: W.H. Wrigley
St. Elmo Steak House has been a landmark in downtown Indianapolis since 1902, making it the oldest Indianapolis steakhouse in its original location. "Downtown Indy is lousy with classic steakhouses," in terms of design, Farley said. "Singling an individual one out as being a particularly great example of design in some ways seems disingenuous. However, St. Elmo's isn't just a steakhouse. It's the steakhouse. It's the torchbearer for the Indianapolis steakhouse scene."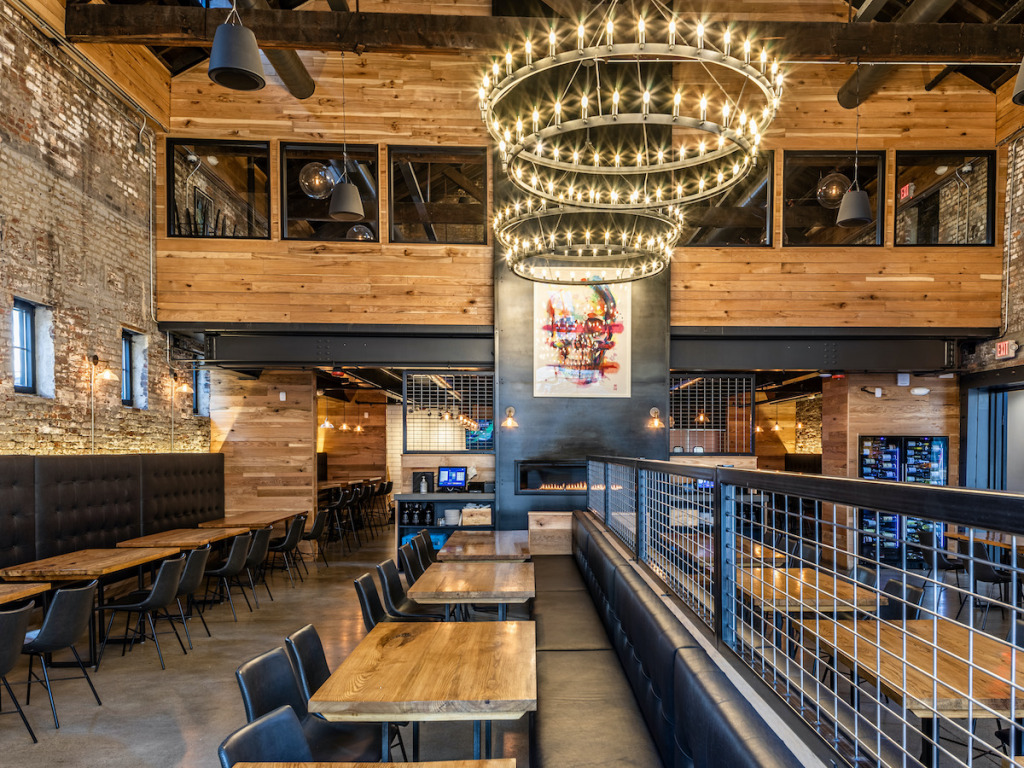 Taxman CityWay
Address: 310 S. Delaware St.
Designed by: Lancer + Beebe LLC
Architects at Lancer + Beebe gave new life to an 1850s downtown building that once was a livery, creating a modern gastropub in 2019. The list makers said the design incorporated the character of the historic brick building, and the update was not an easy feat. The original livery stable was relocated a few hundred feet north and space was added for a dining area.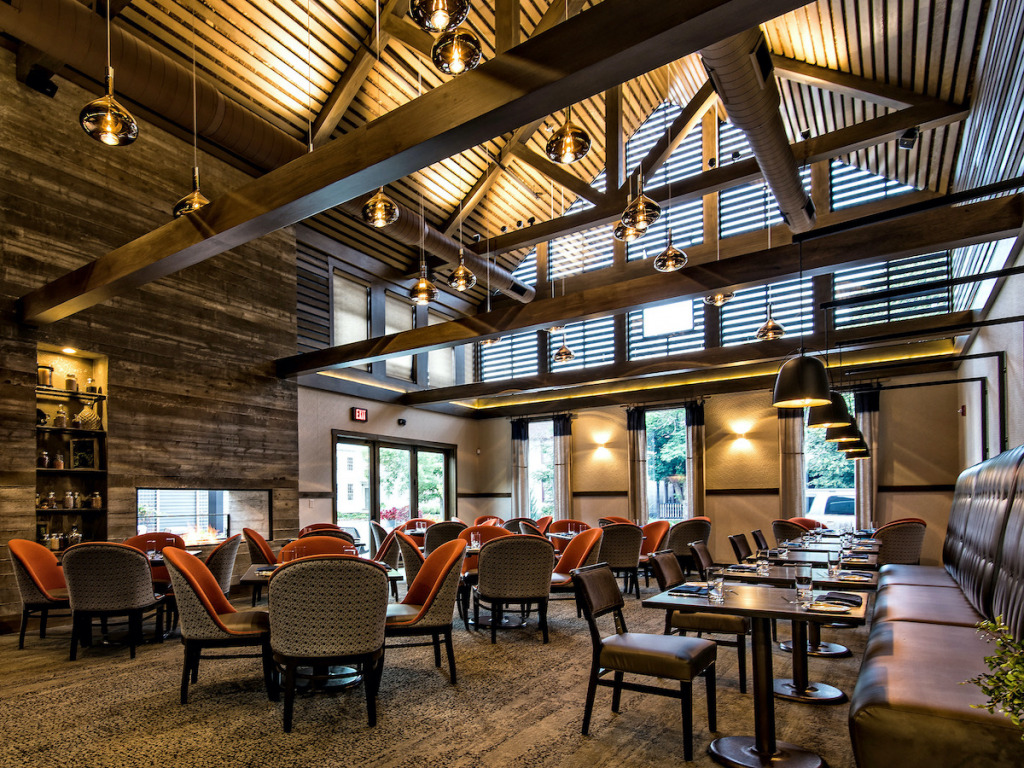 Vida
Address: 602 E. New York St.
Designed by: Phanomen Design
Farley heaped praise on Vida for its cohesive approach to creating an atmosphere. "The door pulls, the inset lights in the floor, the cleverly featured wall of herbs, the gently folded facade above an exterior window—the design is thoughtful and refined all the way down to the smallest details. The design is muted, maybe even understated, but every surface offers something thoughtfully conceived. It tells me exactly what to expect even before I've opened the menu."
For more information about AIA Indianapolis, visit aiaindiana.org.
Please enable JavaScript to view this content.