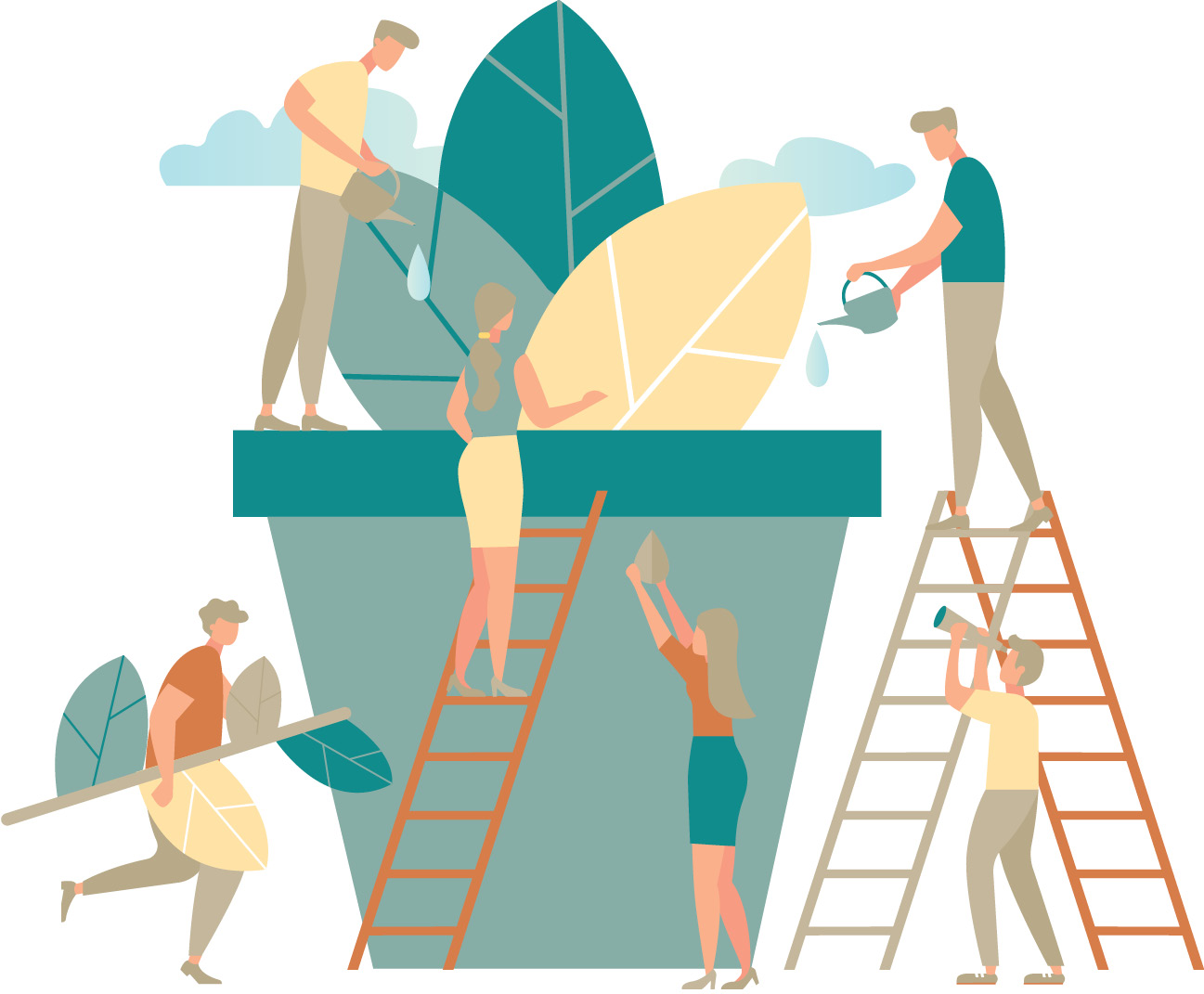 Mike Reynolds said his company, Innovatemap, would be nowhere—least of all in offices overlooking Broad Ripple—without people.
He means that in the full 360-degree sense.
In one sense, Innovatemap, a digital-products agency, got off the ground because people took a chance and hired the company. And when Reynolds' company did well for them, those people provided referrals.
He's also referring to his team. "Our product is our team," he said. "We've been able to retain our entire team our whole time, and that's because we care about them. We create an environment and a culture where this is a place you want
to work."
We asked Fast 25 company leaders: What's a lesson you've learned in starting or running your business that might be valuable to others? Reynolds was among the overwhelming majority who said success boils down to people—hiring the right people, then treating people well, both customers
and employees.
"Surround yourself with the best people," Charles "Skeets" James, CEO of eGov Strategies LLC, recommended.
"It's just people-driven," Phoenix Financial Services CEO David Hoeft said. "You have to have the right talent in place."
"It's all about how you treat your employees," advised Dean Sipes, president of Sipes Asphalt Solutions.
Veterinarian Mike Graves, CEO of Pet Wellness Clinics, said, "You've got to hire really good staff," and he didn't just mean their talents dealing with pets.
"The biggest thing we've learned is, you've got to have people who like other people and like working with people and are nice and smiley and happy and enjoy coming to work," he said. "We can teach them a lot of what they need to know skill-set-wise, but it's hard to teach somebody how to be a nice person."
Nick Likens, president of Hoosier Logistics, the top company on this year's Fast 25 list, said business owners need to build their corporate culture the right way from the beginning. He said being fair with compensation plans has helped the business attract and retain its employees. Hoosier Logistics lost only three employees in its first four years, he said.
"It's creating that culture," Likens said. "You want to make sure it's a fun environment and everyone enjoys coming into the office and wants to be around their co-workers and enjoy what they do."
Scott Holley founded SBC Wealth Management in 1983, but said it wasn't until 1995, when he hired Chief Operating Officer Pat Morrow, that he had "a firm vision of who we were and how we wanted to grow."
"Our business is about people," Holley said. "When we keep their best interests first, ours tend to fall in line. As I try to teach our new folks, if we keep in mind that our main drive is to put together the pieces so that people can live for today and not worry about tomorrow, all the rest falls into place."
You want to hire passionate people.
"If you get to the point where you're coasting or you just feel OK, whatever business you're in, you're setting yourself up for no growth," said Dave Shepherd, chairman and CEO of Shepherd Insurance.
You want your employees to have pride in where they work.
"Our company is not just Mattingly," Mattingly Concrete Inc. President Will Mattingly said. "I tell our people that it could be their last name on the side of the truck, and that's the kind of pride they should take in it."
You want to empower your people.
"You have to let them make decisions," said Chad Peterman, president of Peterman Heating, Cooling & Plumbing. "I see a lot of small businesses in our industry struggling to grow. It's because of an owner who wants to make every single decision. You can't grow a business if you want to make every single decision."
The bottom line, said Dave Trodgen, president and CEO of Probo Medical, is that people matter.
"The way you treat your people goes back to what you stand for as an organization," he said. "We hire and promote around our core values, and sometimes we discipline and let people go around those core values. But we set out what we stood for as
an organization."
While this year's Fast 25 executives overwhelmingly stressed the importance of people, some had other significant lessons to impart.
Get things done. Charles Haywood, president of Mansfield-King, said that, before he got into business, he used to think there was some sort of arcane set of secrets to business success. There's not, he said.
"It's the ability to get things done. Chance and luck have something to do with it, but the simple ability to get things done is the key to success. A lot of businesses that seem successful don't get things done," he said. "They identify things that need to get done, but they don't accomplish them. We're very good at execution. When we say we're going to do something, we do it, and we get it done when we say
we will."
Have patience. Steve Nahmias, principal in Office360, learned that, in most cases, office supplies aren't a priority and the sales cycle can be long.
"If we can remain diligent and patient, typically we will eventually get an opportunity," he said. "And when we get a fair opportunity, we typically win."
Stay calm. Patrick Kennedy, president of 120-year-old Kennedy Tank & Manufacturing Co. Inc., noted that business is cyclical, so you have to be prepared for the downs.
"It's important to have a nest egg when things go south so you can weather the storms," he said. "Also, running a family business, you try not to get too up or too down. Otherwise, you go crazy. You go with the punches and try to be as proactive as possible. If you ride the roller coaster up and down continually, you need to get off of that, or that will drive you crazy."
HHS. "Remain humble, hungry and smart," Rehab Medical President Kevin Gearhardt advised. "If you keep those in front of you, as you deal with challenges or you deal with excitements, it allows you to stay grounded and stay focused on what you're trying to accomplish."
Trust your gut. Etica Group President and CEO Jessica Nickloy said that, when a situation arises, you have your gut feeling and you have your educated feeling.
"I've taken the approach to follow my gut a lot, and it's really worked out," she said. "Other people might think you're absolutely crazy—and I've had that said to me—but you have to be able to trust yourself. You just do."
Trust your product. Ali Murphy, the CEO of William Roam, trusts the value of her brand. "It's easy to second-guess and say, 'Maybe we shouldn't branch out or try that because it's not where we started,'" she said. "But the brand has its own life at this point. Trust and let it evolve. It's OK for the brand to grow. Be willing to try. What's the worst that can happen? It doesn't work? OK, you won't do it again."
Cash flow. Mike McCarty, CEO of Safe Hiring Solutions LLC: "We're in the problem-solving business. But you have to make sure someone is willing to pay for that solution. You need to come up with a solution that's affordable."•
Check out more of IBJ's ranking of Indy's fastest-growing companies.
Please enable JavaScript to view this content.