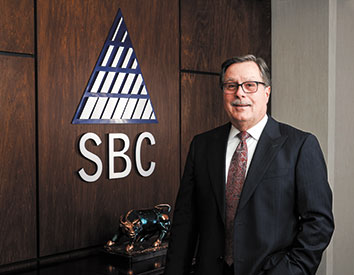 Revenue growth
FY 2016 to 2018: 37%
2018 revenue: $5.9 million
Deciding to grow: SBC Wealth Management CEO Scott Holley said he and his management team decided a decade ago that the company wasn't for sale, and they weren't interested in acquisitions, either. "We knew how to grow organically," he said, "and we have a belief that, to have relevance in the future, we've got to continue to grow." SBC's growth is from adding clients, Holley said, with the majority coming from referrals and niches the company has been part of for a couple of decades.
The typical client: Holley described SBC's client base of about 850 families as "middle America—upper-middle class, made up largely of management and executives from corporate America, with a few entrepreneurs thrown in there who may have sold their businesses." For years, SBC would present financial education programs for a handful of public companies around Indiana and southern Ohio, and that led to its client base of upper-middle-income people, Holley said.
Advice is needed: 401(k) plans came about in the early '80s and, by the '90s, Holley said, many companies began doing away with their defined-benefit pension plans. The focus was on 401(k) plans and cash-balance arrangements. "So you had middle management all the way up to executive-level folks who were retiring with, in some cases, significant pots of money but no income," Holley said. "We saw the need—as did, at the time, corporate America—to educate these folks on what they needed to prepare for while they were working."
Looking ahead: Holley started SBC in 1983 and has seen enormous changes. The company now employs a director of client events and social media, and it has rolled out its first client portal, which includes a smartphone app so clients can engage with SBC and see their financial picture. "In the next five to 10 years, there's going to be more emphasis on technology to deliver the services and the resources people want," Holley said.
The approach: Holley said SBC has a guiding principle: "If we can develop a strategy so that people can live for today and not worry about tomorrow, that's going to be the answer."•
Check out more of IBJ's ranking of Indy's fastest-growing companies.
Please enable JavaScript to view this content.