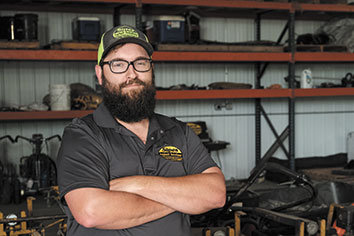 Revenue growth
FY 2016 to 2018: 187%
2018 revenue: $4.5 million
What it does: Sipes Asphalt Solutions handles "anything in a parking lot," including construction, maintenance, asphalt, concrete and sealcoating. "We try to be a one-stop shop in the parking lot industry," President Dean Sipes said. "Property managers, business owners, any customer can call in and we try to handle everything in house so they don't have to outsource it to two, three, four different companies."
The work: Visitors who parked in the lots at Lucas Oil Stadium and Lucas Oil Raceway in the last year have seen Sipes Asphalt Solutions' work. Dean Sipes' company did the sealcoating—a liquid treatment that goes over the top of asphalt to rejuvenate it—of the parking lots at both locations.
History: Sipes started the company in 2013. Initially, it was a mom-and-pop shop—he and two friends—in a garage. He had a background in paving and concrete and decided to go out on his own. Starting off, the company generated business largely through cold-calling, "hitting the streets and telling people who we are and what we do," Sipes said. "Now our growth is by word-of-mouth and reputation. It sounds simple, but it's one of those things where, if you do a good job and you do it with a smile and a good price, you typically pick up a little more every single year."
Evolving business: Today, Sipes is doing as much concrete as asphalt. "While not a separate company, we've rebranded to include Sipes Concrete Solutions as well," he said. "This helped with some of our growth last year. If people call us for asphalt, we typically handle their concrete as well. Now, however, if someone calls for concrete, we can also address their asphalt and develop
new relationships."
Continued growth: Sipes more than doubled its revenue in 2018, and Dean Sipes hopes to double it again this year. "The demand is booming, but the supply of good companies, workers, resources—it's small," he said. "So we're in demand
right now."•
Check out more of IBJ's ranking of Indy's fastest-growing companies.
Please enable JavaScript to view this content.