Should the Legislature change Indiana's abortion law during an upcoming special session?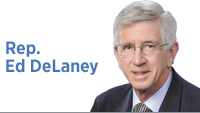 When I was a young man, I spent the better part of the year in a Jesuit seminary. The task at hand was for me to decide whether I wished to take vows of poverty, chastity and obedience and then study for the priesthood. Note that this was to be my decision, not one to be imposed on me.
Those three vows come to mind in a different context as I prepare for the Legislature's special session starting later this month. I hope we have a serious debate and decide what the proper role of the Legislature is. I fear that the majority will neglect its duty as to the use of funds entrusted to it, while acting as the decision maker for, even the " conscience" of, Hoosier women.
Poverty
The state of Indiana is plagued by poor health data and by large numbers of children receiving a poor education. The Legislature has long neglected public health, especially among the rural and urban poor. We rank near the bottom in funds devoted to health shortcomings like diabetes, smoking, high blood pressure and social diseases.
Too few young people are provided solid training and career guidance. Enrollment is in rapid decline at our state colleges and universities. Poverty or limited earnings are in the offing for many.
At the same time, our state has a surplus of some $5 billion to $7 billion. The governor is busy trying to scatter this money anyplace he is not responsible for, dribbling out small refunds to all. Options like increased street and road funding for our communities or lowered college tuition don't get considered.
Democrats like me will push for these alternatives. Our ideas will be rejected, largely without debate. Early reactions lead me to fear that even the recommendations from the Governor's Commission on Public Health, led by former Sen. Luke Kenley, will fall on deaf ears. The cupboard will be found empty as always.
Chastity
If abortion is severely restricted and contraception under attack, what are women to do? Are the health risks of pregnancy to be ignored? What of the costs of adding another child to a family under financial stress? How does a woman react to having chastity imposed on her rather than encouraging her to make personal, moral decisions?
James Bopp of Terre Haute is a leader in "pro-life" circles. He has proposed detailed legislation permitting an abortion only to protect the life of the mother. That would be the sole exception. In case the local prosecutor chooses not to act to enforce criminal sanctions on banned abortions, Todd Rokita as attorney general would be empowered to act. Cleverly, Bopp would hold doctors liable but not the patient. What does that say as to moral responsibility?
I fear the Republican supermajority will be dragged into Bopp's program. Personal decisions will be replaced by criminal prosecutions. Doctors will need to fear patients with pregnancy problems.
Obedience
It is the reestablishment of criminal sanctions that reveals the hidden agenda: Criminalize conduct that for 50 years was thought to be protected. Replace the Roe analysis that gave the state a role only later in pregnancy with one that puts the state in charge from day one, if not earlier. Above all, replace the individual conscience with a statutory construct.
Women need no longer decide for themselves and their families. The supermajority has taken on that responsibility. Did we not once call that the worst sort of paternalism?•
__________
DeLaney, an Indianapolis attorney, is a Democrat representing the 86th District in the Indiana House of Representatives.

Click here for more Forefront columns.
Please enable JavaScript to view this content.