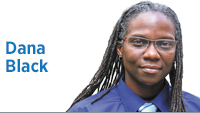 I'm trying to understand when the exact moment happened. You see, my mama always taught me it was immature to disparage people and call them out by their names. That lesson was from a woman who was born dirt poor in Lake County, Mississippi, in 1929.
It seems those days are long gone, as we have elected officials playing the dozens with each other—in public. I'm just waiting for the "Yo mama" jokes, because that is the only thing missing.
Although I'm talking about name-calling—which might not seem significant—it is a clear reflection of the leadership guiding this nation, and it is pathetic.
Look, I'm not unacquainted with human behavior. I know there are people in our society who can be openly bigoted and disgusting with the words they use to describe other American citizens. There used to be an unspoken rule that leaders in the community were to exude grace and show some type of decorum in public. If someone was behaving abhorrently, party leaders would shut them down so as to not bring added attention to that bad behavior.
From where I sit, the line has not just been crossed, it has been completely erased. That's coupled with the fact that there is a lack of accountability and leadership in the Republican Party when it comes to racist, Islamophobic comments from members of the party attacking fellow Americans.
Why is Rep. Lauren Boebert—who labeled another congresswoman a "terrorist"—on what appears to be a comedy tour telling lies about other congressional members? If you or I said the same types of things about any one of our colleagues, we would be dragged into the HR office and disciplined up to and including termination. Yet, the Republican Party says nothing and ignores her hurtful and harmful rhetoric. Boebert demonstrates regularly her lack of a worldview and is a hindrance to moving our nation through this pandemic and economic recovery.
Unfortunately, these types of hurled attacks are not limited to Republicans vs. Democrats. Nope, leave it to Rep. Marjorie Taylor Greene to publicly insult other Republicans. After Rep. Nancy Mace became one of only a few Republicans to show any backbone in condemning Boebert's comments, Greene called her "trash." These childish games are not just distractions from the real work that needs to be completed, they are indicative of the thought process of the people who are writing policies on behalf of the American people. That makes me question whether this is the Twilight Zone.
Which brings me to Rep. Kevin McCarthy, who thinks he should be speaker of the House, the third person in the U.S. chain of command, yet he can't even rein in members of his own party. How is he going to manage difficult negotiations when he can't even stop a brannigan started by members of his caucus? Why would we want him when he can't lead people out of a wet paper sack?
In an interview, Axios co-founder Mike Allen asked Republican Sen. Josh Hawley to "paint a picture" of what being a man means. Hawley said, "Well, a man is a father, a man is a husband, a man is somebody who takes responsibility." I assume his answer isn't gender-exclusive but would also apply to womanhood and personhood, accounting for the marital and parental statuses. So when is someone in that party going to take responsibility and stop the madness?•
__________
Black is former deputy chairwoman for engagement for the Indiana Democratic Party and a former candidate for the Indiana House.

Click here for more Forefront columns.
Please enable JavaScript to view this content.