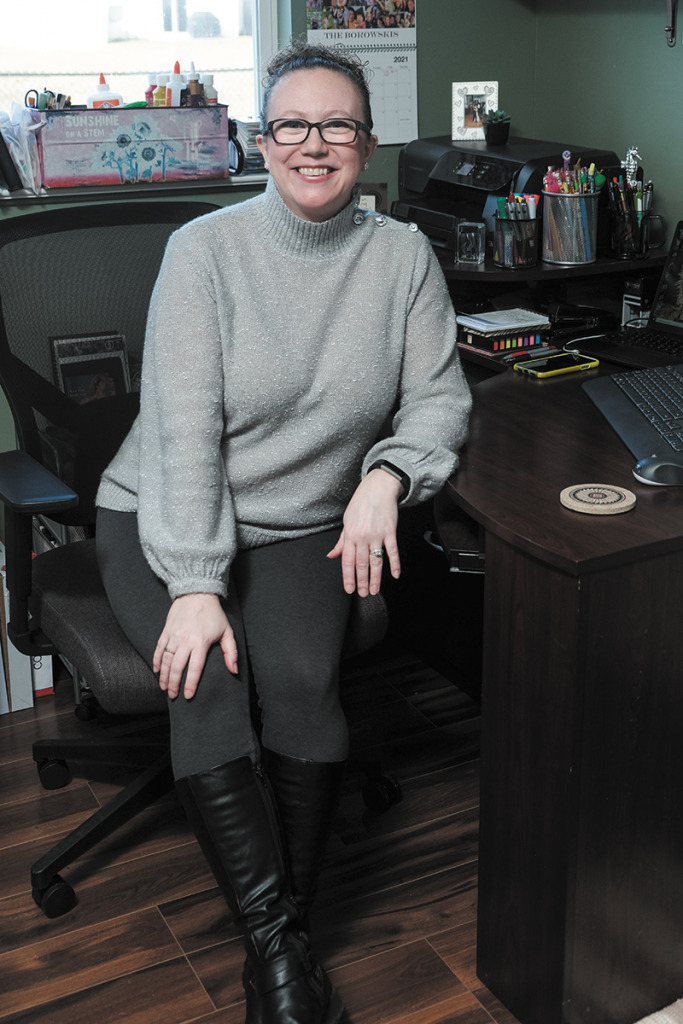 Lisette Woloszyk watched things go from bad to worse in March, as cancellations for the city's hotels racked up alongside COVID-19 cases.
But she and her colleagues at the JW Marriott, where she worked as assistant director of event planning, held out hope the crisis would pass—or at least wouldn't damn the hospitality industry.
"Every day, things changed, and there were so many different emotions that happened in such a very short period of time," she said. "We went from thinking like, 'OK, this is just going to be a couple of cancellations—we're going to be fine,' to, 'OK, well, we're going have to cut everybody down to a four-day work week.'"
Woloszyk worked for Merrillville-based White Lodging, the JW's management company, for 13 years, helping run several big events, including Gen Con and the Indianapolis Prize gala for the Indianapolis Zoo. She also managed the New York Giants' stay at the Marriott Indianapolis Downtown during their 2012 Super Bowl trip.
She and her colleagues hoped furloughs might last just a few weeks. But then the hotel's international interns began going back to their home countries, signaling a major shift.
The hotel shut down March 23, with all staff aside from top management put on leave the same day.
"I think we all just were in shock, to be honest," Woloszyk said. "I mean, there we were, the biggest hotel in Indiana—always running at a very high occupancy, always very busy with events and conferences and galas—told we were going to [close] the hotel because we didn't have enough business to support us."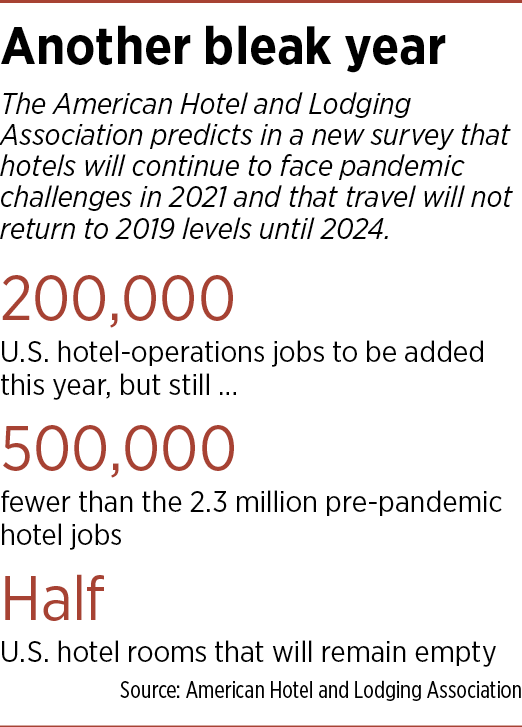 Only a handful of prominent downtown properties fully shuttered like the JW did, but most hotels across the city were running at razor-thin occupancies, with hemorrhaging wallets.
Woloszyk's husband became the family's sole breadwinner, although the JW still provided health insurance and other benefits to furloughed employees.
Out of work, Woloszyk turned her focus toward her children, whose schools had shifted to virtual instruction.
"I threw myself into that [role] and just said, 'OK, you know, I'm not working, so I'm going to be this teacher for my kids.' So, I made a very structured day of it, and we did a lot of arts-and-crafts projects. I was really trying to just focus on being supportive for my family."
The JW finally reopened July 9. But despite an occupancy boost from several big youth basketball tournaments and small conventions, the hotel in August eliminated the jobs held by Woloszyk and dozens of her colleagues. She said White Lodging had limited options, and she still has strong relationships with hotel personnel. The company "did a really good job," she said, of managing through the early days of the pandemic so it could reopen.
"I think so many of us kind of held on to hope that we would be brought back," she said. "Unfortunately, business levels, although they were starting to increase, were nowhere near where they used to be."
Woloszyk said she waited until December to look for a new job, to help her children ease back into an in-person learning environment. Since early February, she's worked a full-time, remote job as an account manager for Iowa-based Shorts Travel Management Co. She said she worked through her contacts in the event management industry, including a former employee, to secure the position—one that's a unique career twist.
"When I was with White Lodging, I was always the event manager, and would run things from the hotel side," she said. "Now, I'm helping clients plan their events, and I'm working with hotels to set up contracts and ensure their events run smoothly. It's just flipping that coin over."•
Please enable JavaScript to view this content.