Q: I just bought a property that has a small pond on it. I thought the pond was covered in algae. I was told that it is covered in duckweed. The duckweed is apparently protecting the fish and frogs from herons and other fish-eating birds. Even though I would like to keep the animals, I don't like the look of the duckweed. Any suggestions?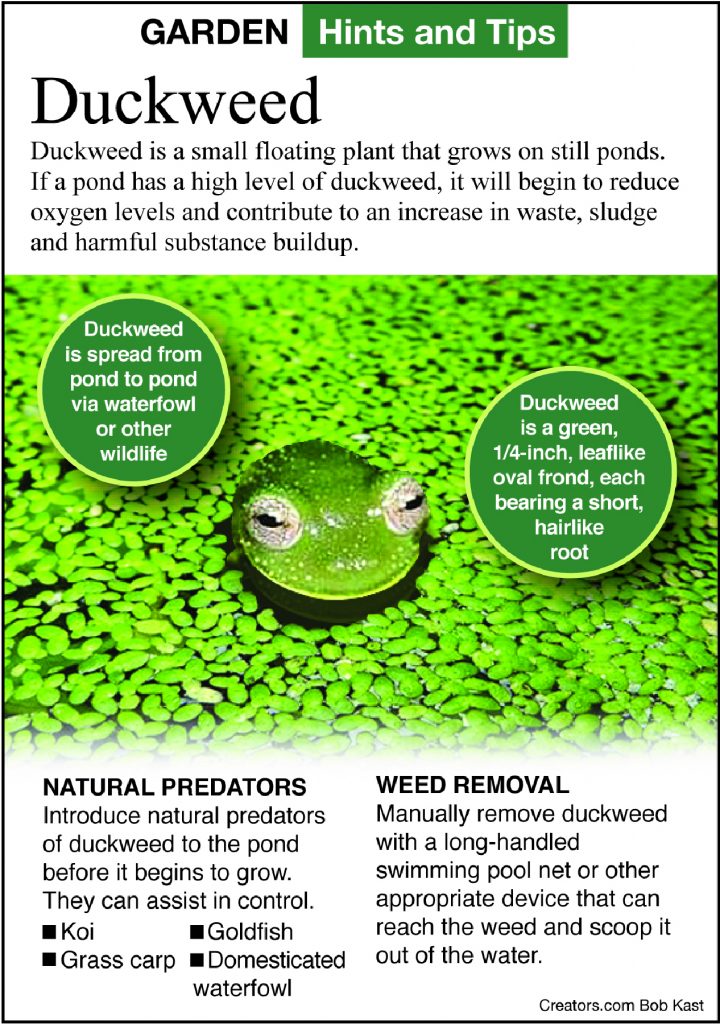 A: Let's look at duckweed to see if I can make it more palatable to you.
Duckweeds are very small, floating perennial plants that are found worldwide. There are about 20 species in three genera. In most species, each plant has a very short or nonexistent stem. In the genus Lemna, there is usually one leaf and one root. In the genus Spirodela, there are three leaves that are green on top and red on the bottom and multiple roots. In the Wolffia genus, there are just individual leaves that are the size of a grain of sand and no roots. All of the species occasionally have flowers, making them the world's smallest flowering plants. And, of course, they also produce the world's smallest fruit. Isn't that cool? You are growing some of the world's smallest flowering plants.
Duckweeds sprout new plants that break off the original plant in just a day or two, making them very fast growers. They can double the size of the colony every few days. They get into ponds when people bring in new plants that have them stuck on the pots. They can also be on ducks and other aquatic animals that move from one pond to another.
In the fall, duckweed plants produce vegetative buds called turions that sink to the bottom of the pond for the winter. The turions float back to the surface in the spring.
There are many good qualities of duckweed that may not apply to an individual pond. For instance, duckweed can be used to treat municipal wastewater. It can be used on farms to treat manure ponds from chicken waste or mammal waste. The duckweed can then be used as high-protein cattle or tilapia feed. The dried duckweed can be used as a biofuel with higher output and less input than corn used as a biofuel. If harvested out of the water, duckweed can purify water by lowering nitrate and phosphate levels. Is there any way you can use the duckweed on the property?
Duckweed colonies provide shelter for many aquatic animals, including small fish, frogs, turtles and crayfish. The plants grow close enough to prevent mosquitoes from laying eggs, thus preventing many deadly diseases like malaria, yellow fever, West Nile virus and Zika virus.
Duckweed on a pond helps prevent algae that causes bad-tasting water. It also reduces water evaporation out of ponds helping to conserve water.
Now for the bad side of the ledger. If the duckweed covers the surface of the pond, it can block gas exchange with the atmosphere. This can cause problems for fish and other aquatic animals that need oxygen in the water. But the primary reason people don't like duckweed is that they mistake it for algae and don't like the looks of it floating on the pond.
So, how do you control duckweed? On a small, backyard pond, repeated netting can keep duckweed under control. You can use a drop of dish soap to help move the plants along. Bacterial products added to pond filtration systems can compete with duckweed for nutrients and may keep duckweed under control. Water garden and koi ponds with skimmers as part of the filtration system can filter out a lot of duckweed.
On larger farm ponds, homemade skimmers and water hoses can push the duckweed along to an outlet point.
Aquatic herbicides can be used with care if you follow the label directions. Duckweed consumes a lot of nutrients. If it dies in the pond, it releases the nutrients back into the water. Decay organisms feasting on the dead duckweed use oxygen and can reduce the oxygen level in the pond below the level needed for fish and other animals. Any remaining duckweed will also consume the nutrients and regrow quickly.
On larger ponds, you will most likely need to use several of these methods together to gain control of the duckweed.
Email questions to Jeff Rugg at info@greenerview.com. To find out more about Jeff Rugg and read features by other Creators Syndicate writers and cartoonists, visit the Creators Syndicate website at www.creators.com.
Please enable JavaScript to view this content.