Q: I have a problem in my lawn. Worms make it so bumpy that I can hardly walk in my yard without twisting my ankle. Any suggestions?
A: The bumps in the lawn are made of worm castings (poop). Most of the time, the castings are small piles that are not a problem, but they can be large enough to make walking in a lawn uncomfortable. We picture lawns as places you can go barefoot and play a game of croquet with the balls rolling smoothly across the grass, but a worm casting problem can ruin these ideas pretty fast.
Depending on which worms you are talking about, there may be benefits to the worms on your lawn, but the benefits may not outweigh the problems. Some worms can tunnel down into the soil and allow air and water to reach the roots of plants. Some worms consume organic matter and turn it into worm matter and castings. The castings contain chemicals that can be used by plants and other organisms.
A closer look at these benefits shows that the tunnels are only a benefit if the soil is rather poor to begin with and air and water have a hard time moving within it. Good topsoil with lots of organic matter will be able to allow air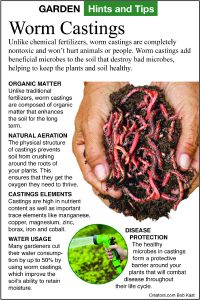 and water to move and not need worms. A wide variety of other animals and microorganisms consume organic matter and release chemicals that plants can use. Worms are not necessary for this breakdown of matter into chemicals.
Is the worm poop beneficial? You will read everywhere that it is made of concentrated nutrients and that it makes an excellent organic fertilizer. I looked at the label of a bag that said it was pure worm castings. It also said in the nutrient label on the package that it has a 1-0-0 fertilizer ratio. That means that the pure castings in the bag are only 1% nitrogen and have no phosphorus or potassium. The label did not list any micronutrients. That is not a concentrated or an excellent organic fertilizer.
There are no native earthworms in the parts of North America that were once covered in glaciers. Those areas were eventually covered in prairies and forests that grew successfully without worms. Worms are not necessary for a healthy landscape unless you have really bad topsoil that the worms might be able to tunnel some holes into. Adding compost full of microorganisms and doing core aerations on a regular basis will work as well or better than worms.
Worms become a problem in a lawn when there are too many large castings. This usually occurs in the spring, when the soil is waterlogged. This is also the time of year that worms mate and are near the surface. They leave a lot more castings on the surface than at other times of year, when they spend more time deeper underground.
How do you get rid worms in a lawn? As far as I know, there are no products currently available to get rid of worms. In the past, some products for killing insects or for fertilizing a lawn have had the side effect of killing worms and other organisms in the soil, but they have been replaced with products that are more eco-friendly. You might find a product that says that it could harm the worm population, but it would be illegal and contrary to label directions to use it that way.
It might be helpful to keep the lawn drier than the worms prefer by cutting back on any irrigation, but in the spring and fall, rain will keep the soil wet.
If you can't get rid of the worms, how do you get rid of the castings? A roller will smash them down, but who can roll the lawn every week to try to keep up with the worms? Eventually, you will also need to do a core aeration to reduce the compaction the rolling creates. If the lawn is dry enough, you can rake or sweep the castings to break them down and spread them around.
Another thing to look at is how well the lawn is growing. If the grass crowns are lifting up with not much soil between them, a top dressing of topsoil and organic matter to level out the lawn may be necessary.
Email questions to Jeff Rugg at info@greenerview.com.
Please enable JavaScript to view this content.