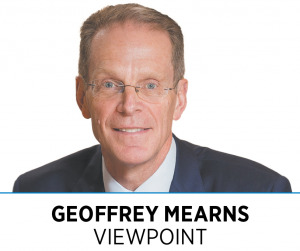 In 1951, my father became the first person in our family to earn a college degree. The education he received changed his life and the trajectory of our entire family.
My father's story is an example of the transformative power of higher education—and it is an inspiration for me.
But in Indiana, we are not making sufficient progress toward our education-attainment goals. If we don't address this important issue, our failure will have negative consequences for Hoosiers for many generations.
In June, the Indiana Commission for Higher Education released data that showed a significant drop in the number of Hoosier high school graduates pursuing a college education—down 12 percentage points in five years.
The impact of this trend is clear: A workforce with fewer working-age adults with at least some higher education might prompt employers to move their good jobs elsewhere. Those Hoosiers with education and experience might be lured to better opportunities in other states.
Earlier this month, ICHE conducted a meeting on our beautiful campus at Ball State University. I was grateful to learn that our state leaders understand the urgency with which we must address workforce preparedness and the value of higher education.
I was also grateful to have the opportunity to share with ICHE the steps our university is taking to help students recognize opportunities for employment in Indiana. After all, more than 75% of our freshmen come from Indiana and every year more than 70% of our graduates decide to work in Indiana after earning their undergraduate degrees.
We want our students to be intentional about their educational experience, connecting classes and extracurricular activities with workforce outcomes that help them prepare for fulfilling careers.
Ball State also has a track record of engaging our industry partners to bolster our students' educational experience and better serve our state. Our university has several initiatives in this area:
◗ A new Office of Industry Engagement. We have hired a new director for industry engagement, who is helping employers attract Ball State students to their region to live and work.
◗ The Indiana Connection Lounge. Opening this fall, our Indiana Connection Lounge will allow employers and organizations from across the state to be on our campus for a day to help students considering jobs in those areas to envision what their life could be like.
◗ Partnership with Ascend. We are working with Ascend Indiana, the talent initiative of the Central Indiana Corporate Partnership, to connect our students with Indiana career opportunities that match their skill sets and interests.
◗ Mentoring. Partnerships among our Alumni Association, Career Center and academic programs engage our more than 121,000 alumni across the state to help our students succeed. As these relationships develop, students will learn more about professional opportunities in Indiana.
◗ Grants and programming. We are seeking funding from the Lilly Endowment through its Indiana Youth Programs on Campus initiative, an extraordinary philanthropic investment that will help Indiana colleges and universities develop on-campus programs for Hoosier school-age children.
More than seven decades after my father earned his first college degree, I still firmly believe in the transformative power of higher education. I am encouraged by the next steps being taken—by state leaders and those on our very own campus—to put Indiana's best foot forward.
But we must accelerate and expand this effort with greater urgency. The future vitality of Indiana is at stake.•
__________
Mearns is president of Ball State University.
Please enable JavaScript to view this content.