Weekday mornings at Providence Cristo Rey High School can be a bit more hectic than at many schools.
The small Catholic institution, housed inside an old IPS grade school building about a mile west of the Indianapolis Zoo, in the neighborhood of Hawthorne, receives its roughly 200 students via bus each morning. But on every day except Friday, about a quarter of those—after eating breakfast and attending a morning meeting—climb right back aboard those buses and head for their day jobs.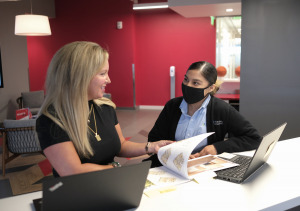 The school has made arrangements with some 90 local companies and charitable institutions, ranging from Eli Lilly and Co. to Citizens Energy Group to Sullivan Hardware, to take on their students (ages 14 to 18) as participants in a unique program. For one day a week, the kids work (and learn) at companies as close as a few minutes away, or as far as Carmel.
The idea is to give the school's students, 97% of whom are minorities and all of whom come from economically disadvantaged backgrounds, a chance to acquire work experience, professional connections and a better understanding of
their options.
"We had a freshman go to work today at a company, and she was saying how she met the CEO and the CFO," said Cindy Thompson, executive director of corporate work study for Providence Cristo. "She went to her very first meeting and she was actually excited about that."
The local program is part of the Cristo Rey Network, a collection of 38 schools across the United States that all emphasize work experience. Since its inception in 1966, it's produced some 23,100 graduates.
"Students are treated like adults at the work site," Thompson said. "They're one of the team and they really appreciate that. I think it helps build their confidence."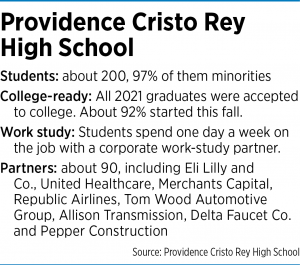 At the beginning of the school year, freshmen go through a week-long training camp to prepare them for work. Then they're dispatched to their assignments. Each class spends one day a week on the job: seniors on Monday, juniors on Tuesday, sophomores on Wednesday and freshmen on Thursday.
While some students might switch jobs after their first year because they couldn't get the gig they wanted as freshmen, many stay with the same company throughout their four-year high school career. Thompson said about 90% stay with their first jobs because they form close relationships with their mentors and see success there.
"Everyone gets a career mentor, and a lot of places will have another person that's designated to help oversee the student," Thompson said. "Answer any questions, give them support, maybe take them to lunch once a month just to get to know them and make them feel comfortable."
Mutual benefits
This year's mentors at the Indianapolis office of Chicago-based Cushman & Wakefield are vice chair Hannah Ott and senior research analyst Maggie Tillotson. Other branches of Cushman & Wakefield, a global commercial real estate services provider, have taken in students from other schools in the Cristo Rey Network. But this is the Indianapolis office's first year.
"Maggie had her intern in yesterday and I had mine today," Ott said. "What we're planning to do is, we have seven different functions on our team that take you through the entire commercial real estate transaction. They're going to learn a commercial real estate transaction from start to finish."
What the kids get out of the experience are fairly obvious—early exposure to the work world and a chance to develop useful business contacts.
Florgisel Garcia, a junior who is interning at Cushman & Wakefield, said she thinks exposure to the real estate industry could help her in a future career in business.
She said her experience at other companies over the past two years also have improved her communication skills.
"I was a shy girl," Garcia said. "Not anymore."
Tillotson said the program's benefits to companies range from the concrete (developing potential employees, encouraging diversity) to the esoteric.
"It really reminds us what matters, and that we can use our ordinary, everyday jobs to make an impact on somebody else," Ott said. "That's huge."
Thompson reckons the school retains 80% to 85% of its corporate sponsors each year, though some drop out for reasons ranging from financial difficulties to a change in leadership.
"We always look for more [sponsors] because we're growing our school," Thompson said. "Every year, our enrollment increases a little bit, and we're pretty tight in our current school. We would love more partners, but we don't have a lot of room for more students" at the school's current location.
Some corporate sponsors have stayed with the program more than a decade.
UHOne, a division of UnitedHealthcare, has participated for 15 years, said CEO John Frank. The interns gain "real-work experience in different areas of the company," he said, and "meet with UHOne leaders to discuss post-high-school job and education goals and opportunities and anything else these students want to talk about.
"Our executives get as much out of the experience as the students."
The school's first week of training camp culminates in a job fair, in which work-study companies looking for new participants send someone to talk with students. The kids go from rep to rep, seeking a match.
"It's almost like speed dating," Thompson said. "After it's over, they give us a sheet of the companies they're interested in. And then the corporate sponsors tell us who they're interested in hiring. And then my team and I match up job skills and requests and do the best job we can to place a student somewhere where they'll be a good fit."
Some companies are more popular than others. For instance, the zoo always sees a rush of applicants, many of whom don't make the cut. But Thompson said that's a valuable learning experience.
"There might be one opening and 15 kids who want to work there," she said. "They'll go to the job fair and interview with the zoo, but only one will be selected. I always tell them, 'That's real life. How many adults want to work at Lilly, but there are maybe 20 jobs and 300 applicants?' It's the same thing."
Talent development
On the surface, shepherding a high school student through a year-long internship doesn't sound like a plum assignment. But the sponsors say it carries benefits for both the company and the executive in charge of the kids.
Judd Feldman, president of insurance provider AssuredPartners of Indiana, is also a board member at the high school. He listed the usual feel-good reasons for a business participating in the program. But he also said it's good for the companies. For instance, it exposes management to new potential talent pools and makes new areas of the community aware of the company—and vice versa. But there's more than that.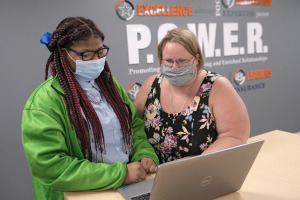 "I really believe this affords emerging leaders within an organization the opportunity to take these students under their wing," Feldman said. "It's a really good opportunity for an emerging leader, in my opinion.
"We are all looking to develop talent," he said. "And we're all looking to attract talent to our respective industries. It's becoming more and more of an initiative across many, many industries."
Which isn't to say that signing up new firms for the work-study program is always a slam dunk.
"Getting companies to participate is an easy sell, but a hard close," Thompson said. "Everybody sees the value of helping kids by exposing them to opportunities they hadn't thought about before. But then it comes down to, 'What would a 14-year-old really do in my office?' That's when it gets a little bit harder."
Thompson and her team help solve that problem by writing up a customized job description for a theoretical student at the candidate business. They also consult with other sponsor companies in the same field, to find out what they do with their kids all day.
"They can always call that other company and say, 'We're in the same boat. What do you do?'"
One typical task for the interns is data entry—scanning and filing documents. Also entry-level administrative duties. But those jobs can vary widely, based on the company.
"We've got students who work in the customer service area at hospitals," Thompson said. "One student helps with food and nutrition at a hospital. We have kids who have worked in labs over at Lilly."
Making it happen
Coordinating all of this is no walk in the park.
"You're sending 13-, 14-, 15-, 16-, 17- and 18-year-olds out into the business community," said school President Tyler Mayer. "Just the logistical issues include transportation, insurance, permissions forms, all kinds of stuff."
There's also the task of making sure the kids understand what's expected of them. Everything from making sure phones are tucked away unless needed for something important, to making eye contact and not mumbling when speaking.
"They go through an extensive amount of training to be ready to go to the workplace," Mayer said. "And it's not like you do training for two weeks and they're done. It's ongoing."
Often, however, the kids are their own best ambassadors when it comes to attracting corporate mentors.
"I went to one of their events and heard some of the students speak," said Mike Dury, president and CEO of Merchants Capital. "I was just incredibly touched by how combining education with the corporate community in Indianapolis allowed students to really flourish. The model just seemed to work for me."
Merchants, like many corporate sponsors, typically shepherds four students through its offices at a time.
"We have mentors for the kids that connect with them and go get coffee with them and talk about school or life or anything like that," Dury said. "We're very intentional about how we're managing, to make sure they're having a good experience. I serve as a mentor for one of the students, and I stay involved with the kids.
"I just think that's what we're here to do as leaders of businesses here in Indianapolis."
He said the students are exposed to numerous aspects of what the company does, from insurance compliance to low-income housing projects.
"They'll work with an asset manager and review the progress of projects under construction, to see how they're being built," Dury said. "We'll actually take them to the site. And they'll sit with our marketing department and learn about what the marketing team does."
Working on soft skills
The company not only shows the kids what they do, but also trains them in the use of "soft skills." Things like how to prepare for a job interview, how to develop a network and how to comport oneself in an office setting.
"You're talking about high school students from some of the poorest parts of the city who haven't had the option of choosing these other paths," Dury said. "I see this as an investment—not only monetary, but in time and energy. An investment in our future, by allowing these kids to be something different."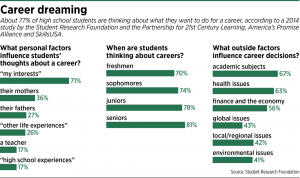 "It's really gratifying to see them come as freshmen," he added. "They're incredibly intimidated, as I would be if I were in their shoes. But by the time they leave, they're looking people in the eye, and they're comfortable and have more confidence."
As for students, the biggest benefit might simply be a widening of their horizons.
"This is a real game changer for our kids, because it gives them an opportunity to be exposed to careers they would never be exposed to," Thompson said.
"It gives them confidence they can't gain in the classroom."
Not to mention valuable connections.
"They've developed relationships with leaders across our company who tell them, 'Have you ever thought about doing this?'" Dury said. "They would never even have known that opportunity existed but for this corporate work-study program."
Over the years, Feldman's firm has taken anywhere from two to four students each year. This year, it's hosting three and "donating" a fourth to a company that's among the insurer's clients.
"Our goal would be to add one more new corporate work-study partner and have them see what we see in this program," he said.
"Perhaps they can increase their participation level and start doing the mentorships on their own. We can learn how to make the experience more rewarding for students, grow the network and help build the brand."•
Please enable JavaScript to view this content.