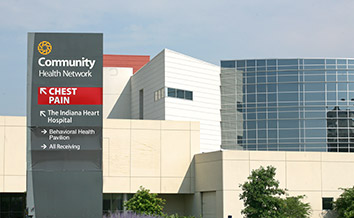 Community Health Network said income from operations fell 76% last year, even as the number of admissions, emergency-room visits, physician visits and outpatient surgeries all increased.
The Indianapolis-based hospital system said in a filing Monday that income from operations was $32.5 million, down sharply from $140.2 million a year earlier.
It attributed the drop to higher operating expenses, primarily salaries, benefits and supplies. Those items rose faster than patient revenue, which finished the year at $2.9 billion, up 4% from 2021.
Another big setback, a loss of $196.7 million on investments, was largely due to a market downturn. When that was included, along with some other minor gains and losses, the network finished the year with a loss of $160.9 million.
The increase in employee costs was driven by an 8.2% increase in the average hourly rate, a 3.2% increase in full-time equivalents due to increase patient volumes, an 8.5% increase in overtime wages, a 98.9% increase in temporary staff wages, a 22.6% increase in staff orientation costs and increased salaries due to various premium pay adjustments, sign-on bonuses and other costs, the network said.
The increase in supply costs was driven by a combination of increased volumes combined with increased costs of supplies. Items purchased included drugs, lab and testing supplies, and implants. Of the 7% increase is supplies, nearly one-third was related to increased drug prices, Community said.
Community Health operates six hospitals in central Indiana with a total of 1,231 staffed beds. It is the third-largest hospital system in the Indianapolis area by number of beds, behind only Ascension St. Vincent and Indiana University Health.
Patient volumes increased almost across the board in 2022, including admissions, (up 1.7%) adjusted patient days (up 4.9%), emergency-room visits (up 4.6%), outpatient surgeries (up 4.1%), physician visits in a clinic (up 10.6%), and virtual appointments (up 7.8%).
"The improvement in volumes as compared to 2021 was experienced at most hospitals and other service locations," Community said in its filing.
Only a few categories fell or stayed even, including deliveries (down 2.1%) and inpatient surgeries (flat).
Last year, Community Health received $52.7 million in federal Cares Ace Provider Relief Funds, up from $28.1 million in 2021.
Please enable JavaScript to view this content.