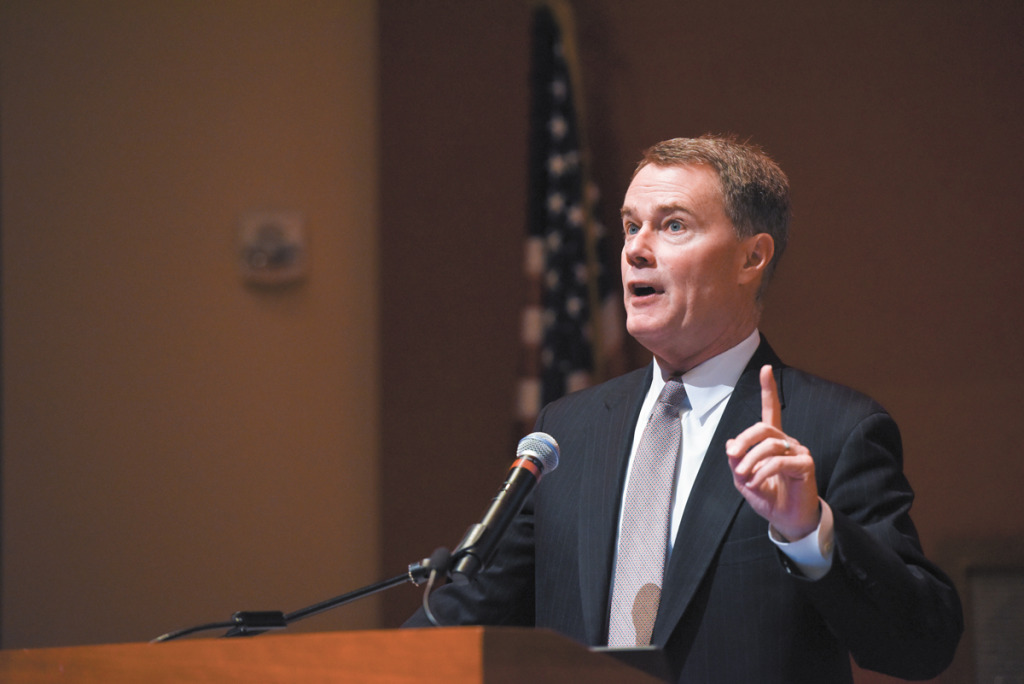 Indianapolis Mayor Joe Hogsett is bullish on downtown, despite problems that include an increase in panhandling and homelessness, the pandemic that has kept conventions and office workers away, and recent riots and crimes along the Central Canal.
The mayor, who is in the first year of his second term, acknowledged the challenges—and even some naivete when it came to the riots. But Hogsett, a Democrat, said he's confident in the ability of residents, the business community and leaders to address them.
"The thing about Indianapolis is, no matter what we have ever been handed, we've been able to handle," he said. "That is part of our DNA, and I remain optimistic about Indianapolis' resiliency."
Hogsett's comments came during a Zoom conversation with IBJ's Editorial Board. Seven IBJ representatives asked Hogsett questions: Nate Feltman, co-owner and CEO; Bob Schloss, co-owner; Greg Morris, publisher; Greg Andrews, editor; Lesley Weidenbener, managing editor; Tom Harton, contributing editor; and Samm Quinn, city government and urban affairs reporter.
The following is an edited and shortened transcript of the conversation, with some questions abbreviated for space.
Are you concerned about downtown long term? And what can your administration do to turn things around?
The question is a legitimate one, and I would differentiate the administration's approach by bifurcating short-term challenges and then what the long term looks like, if that can be reasonably assessed. We have been focused almost exclusively on providing downtown and businesses throughout the community with the type of assistance that they need in the short term, because they are so definitely challenged.
I do fundamentally believe that the time will come when the downtown is fully refueled and rockets forward. I am passionately optimistic about that.
[But] the downtown's fuel is people, and right now, we're a little bit low in the gas tank in terms of people coming downtown. And as you know and appreciate, businesses throughout the community have shared with me that they're simply going to encourage their employees to stay home for maybe the duration of this year, which presents an even greater challenge to what the city is doing.
That's why we then engaged in the PPP efforts to provide support for businesses in partnership with the Indy Chamber. That's why we announced a couple of weeks ago our commitment to 501(c)(3) nonprofits for PPP. That's why we have engaged with Indy Chamber in our rapid-response loan funds for particularly smaller businesses and minority-owned businesses throughout the community, but particularly those downtown.
[We made] the announcement a week or so ago about our marketing campaign to … encourage people to come back downtown. That's not the answer, admittedly. It's a Band-Aid, but I do think it's an important message to be sending to the community—that we are open, that our downtown remains vibrant despite the challenges, and that in the short term, we can get through these next six months.
I wish I could wave a magic wand and tell all employers to send all their employees back to work downtown, but that's up to them, and we'll just do the best we can with what we have to work with in the interim, hoping that eventually protocols are found and a vaccine may be discovered that returns us to some better sense of normalcy.
Do you think there will inevitably be some closings? … Or can the city help those companies stay open during this six- or eight-month additional span when there's just not going to be people around?
The answer to your question is yes, and yes. I mean, we'll continue to do everything that we can as a city to help existing restaurants, existing small businesses … that really make our downtown a unique place.
But the answer is also yes. I'm sure that there probably will be, unfortunately, some permanent change and closings. Some restaurants have already shuttered, at least, for the time being and may ultimately never reopen. That's the reality of the metamorphosis of the change that this COVID challenge has brought, but we will continue to work with all existing businesses to help them through these tough times.
The thing about Indianapolis is, no matter what we have ever been handed, we've been able to handle. That is part of our DNA, and I remain optimistic about Indianapolis' resiliency.
A lot of the programs that you mentioned are aimed at getting companies through several months, when obviously they're going to have to get through a lot longer. And one piece of downtown feeds into another. Couldn't this really be an unraveling of the convention business, if there aren't nearly the number of attractions to draw people here?
It's not lost on us that this has been a very difficult year for Visit Indy and for the Capital Improvement Board, but I think it's worthy of underscoring that, even in light of the cancellations that we have experienced from our biggest conventions like Gen Con, like FFA … in both of those cases, they extended the commitment that they have to the CIB and to the city for additional two-year visits. So, I guess in answer to your question: We remain concerned about the health and well-being of our hospitality industry, because it employs 80,000 people.
But I also believe that the collaboration and the cooperation that we enjoy with our partners downtown, whether it be Visit Indy or the Capital Improvement Board … I have reason to believe that we are well prepared. Whether it be the commitment that we want to make with the Pan Am Plaza redevelopment and an additional hotel space, we are thinking big and we are thinking long term rather than recede and hide.
And it's easier said right now than done, but I want to remain aggressive in terms of the future. And I think that we do hospitality and convention business in Indianapolis as well as any other city our size, and maybe even many bigger [cities], and I don't see that changing.
On the panhandling front, your hands are tied to a certain extent, but one thing downtown residents have noticed are large groups of—I don't know if they're homeless—people gathering at City Market and on South Street. What is the city doing to battle that?
We have more people out on the streets than we have experienced before. And that's because [of COVID-19]—whether it's the Reuben Engagement Center being closed, whether it's Horizon House having a positive coronavirus diagnosis that has closed it, and many of the social service partners that we work with [being closed]. And some shelters have, whether they've been closed or not, not been at the capacity that they would normally be were it not for COVID-19.
So … what are we doing? Well, the council just recently appropriated $2 million [for] rehousing in hotels for those who are currently without housing. We hope to use that to reopen the Reuben Engagement Center.
Obviously, we continue to expand our commitment to the Pathways-to-Employment [program] that the council considered and appropriated monies for last year. That's getting unhoused individuals into employment in the downtown—the kind of training that they need. We're putting them to work to clean the downtown. And that is a program that has worked in other communities, and I think it is working here, although it's in its infancy. And then ultimately providing our commitment to permanent, supportive housing for those individuals who find themselves homeless.
Looking back on the second evening of rioting and looting [on May 31] … would you have done anything differently? And were there stand-down orders issued to the IMPD?
I'm profoundly disheartened by what our city experienced. I would say that there was no stand-down orders issued to IMPD. Certainly not on Saturday night. Actually, the allegations that I've heard was the stand-down order as it is alleged to have been made was on the Friday night activity. I mean, we were all kind of taken aback and I'll be contrite in that regard. Friday night surprised us—IMPD, I mean. And I came into the office … and worked assiduously all day Saturday, because we had reason to believe that peaceful protests were going to continue.
That has been a delicate balance that we have been attempting to strike. How do we protect peaceful protesters who have legitimate concerns about this national conversation that we're engaged in while at the same time discourage any kind of crime or act of violence, looting, vandalism, and the like?
And on Saturday, I met with many individuals, advocacy groups, the Black Lives Matter representatives. … And my message was very straightforward to all these groups: We will protect you in your peaceful protests. If you want to come downtown at 4 o'clock, and if you want to walk around downtown, IMPD will do everything that it can to make sure that your peaceful protests are protected. Maybe in retrospect, this sounds naive. In fact it is, I guess, given what happened.
But my message to them was, come downtown at 4 o'clock and protest but go home when the sun goes down. And they all agreed to do that, and we saw what happened. And then of course … we started implementing curfews, and I think that those had, at the time, a profound effect.
Also, I asked for an independent, third-party review to be conducted about the issues that occurred on Friday and Saturday night. And I am very pleased [about] the expertise of those who I have asked to independently review what happened, why it happened, how we responded, how we failed to respond. I mean, when you've got the candle power of Deborah Daniels, former assistant attorney general of the United States. When you've got Myra Selby, former justice of the Indiana Supreme Court. And then I also asked Sean Huddleston, the reasonably new president of Martin University.
If there was an incident that caused protests today … does the city have a new approach for responding?
I think the reforms that we are in the process of implementing will have a profound impact. In terms of responding to peaceful protests, I'm not going to say that we have a fundamentally different approach. But, for example, the creation of our new use-of-force policy, and the fact that we are in the process of standing up a use-of-force review board in which civilians participate. That's never been done in the city of Indianapolis. And I think that's a fundamentally important step.
The commitment that we've made to implement body cams, so that all of our police officers are protected and our residents are protected by video evidence of how things transpired. I think that's an important step that the city is long overdue in taking. Frankly, the training that we're doing in our Police Academy now on de-escalation techniques and implicit bias training, I think those will profoundly impact the way IMPD and its officers are able to respond and react to those types of circumstances.
That aggression and violence stemmed significantly from outrage over issues of inequality. How do you rebuild downtown in a way that increases opportunity for more Black-owned businesses, and that makes downtown a place where not just affluent young professionals can live, but people from a wider income range?
I will tell you our announcement last fall in partnership with the Indy Chamber for our inclusive growth strategy I think will go a long way toward providing opportunity where opportunity has not historically existed. We're incentivizing good wages, we're incentivizing child care … we're incentivizing transportation needs that have for too long been overlooked. And it's in the commitment that we made in the educational space as well, whether that be the Indy Achieves program that we announced last year … to provide more post-secondary educational opportunity for Marion County residents.
It's the disparity study that the city engaged last year, which is a great tool to help us address those racial inequities that have historically existed. It's almost a road map as to how we can improve, not just the downtown economic development and opportunity, but economic opportunity throughout the entire community.
There is increasing violence that's occurring—or at least the impression is that it's occurring—downtown. Does the city have the funding available to do something about it?
Let me speak specifically about the canal, because that has been a problem area. I'm pleased to say that IMPD has started offering two new off-duty overnight shifts from 10:30 p.m. to 5 a.m. for added coverage and general presence in and around the canal. These are primarily bike and foot patrols, which will focus, not exclusively, but primarily on the canal play space and Walnut Street, which is where a lot of these issues have developed. The majority of the lights on the canal are functional; however, we are addressing current issues with lighting and are committed to doing what we can to make that, in the evenings, a safe and peaceful place to gather.
Throughout downtown, we are increasing the number of officers that are assigned to the downtown district. I just swore in yesterday a new class of 41 additional officers. We just graduated a class two weeks ago that I think was in the neighborhood of about 60 additional officers. So we continue to increase the number of patrol officers not just in the downtown area, but throughout the community because of the extraordinary level of gun violence that unfortunately Indianapolis has experienced over the last 10 to 15 years.
We used to say with, I think, a high degree of certainty that downtown is the safest neighborhood in all of Indianapolis. And that was true. We need to be committed to recapturing that sense of safety downtown.
I will say that, for the most part, it is an issue of perception, not necessarily reality.
What do you make of calls to defund the police?
I'm sensitive to the conversation, and I think that there are some legitimate concerns that are being expressed. In my estimation, funding is not one of them. We not only stood up a new class of 60 officers, but I swore in 41 more yesterday. So I guess I'm going the opposite direction, and I think that's the responsible thing to do. … The truth is, Mayor [Greg] Ballard didn't have the funding to continue to increase IMPD. And so we got to dangerously low levels of personnel.
I think when I took office, we had about 1,500 sworn police officers. We're now getting close to over 1,700. So, even with attrition and retirements, we've been able to increase the net overall number of police officers. So, we're going to continue to go in that direction because what that allows us to do is fundamentally change the way we do police.
What Mayor Ballard and Public Safety Director [Troy] Riggs had to do, because the numbers were so low in those economically uncertain times, they moved away from what we are returning to—and that is community-based, beat-oriented policing. And what Troy, I think, did remarkably well, but it was challenging, was move us to a zone-based policing approach.
And the fundamental difference between the two is, if you have enough officers to return to the community-based, beat-oriented policing, a police officer on his or her daily shift is responsible for about a square mile or maybe a mile-and-and-half square. In the zone-based approach, you were as a police officer in charge of policing a 12- to 15-square-mile zone, which meant that police officers rarely were outside of their cars, except when they were responding to a run.
If you could return IMPD to the community-based, beat-oriented policing approach that we have been dedicated to for now 4-1/2 years, you actually are going to have time as a beat officer to get out of your car, to go into homes and residences, to go into retail outlets, to get to know the neighbors there. Which not only I think is proactive in terms of the policing model that you're implementing, but it also goes a long way toward improving police-community relations. When police officers get to know their neighbors and the neighbors know who their police officers are.•
Please enable JavaScript to view this content.