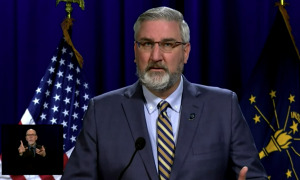 Indiana Gov. Eric Holcomb has joined 21 other governors in opposing how proposed pandemic relief aid would be allocated to states under President Joe Biden's $1.9 trillion stimulus plan.
The governors, led by Republican South Carolina Gov. Henry McMaster, issued a statement over the weekend criticizing Biden's plan to allocate most of the aid to states based on the unemployment rate, rather than total population.
The stimulus package, which has passed the U.S. House and is expected to be debated in the U.S. Senate this week, includes $350 billion in direct aid for state and local governments. But unlike previous pandemic-related financial aid sent to states over the past year, most of the funding would be allocated based on unemployment rates. States with higher unemployment rates would receive a bigger share of the money.
Indiana's unemployment rate was 4.3% in December after peaking at 16.9% in April.
More than 30 states, including Indiana, would receive less funding under this formula than if the aid allocation was based on population, according to the office of Rep. Jason Smith of Missouri, the top Republican on the U.S. House Budget Committee.
According to the projections from Smith's office, Indiana would receive $881 million less than it would if the allocations were based on population.
The statement from the governors says the formula "punishes states that took a measured approach to the pandemic and entered the crisis with healthy state budgets and strong economies."
"A state's ability to keep businesses open and people employed should not be a penalizing factor when distributing funds," the statement says. "If Congress is going to provide aid to states, it should be on an equitable population basis."
All but one governor who signed onto the statement is a Republican. The Indiana Democratic Party accused Holcomb of opposing the stimulus package because Biden is a Democrat.
"Governor Holcomb himself said the state is in a strong position, so why is the governor wasting time playing partisan political games when there's so much work to get done for our families?" Lauren Ganapini, executive director of the Indiana Democratic Party, said in a written statement. "Hoosiers want to see action, and they want to trust that their governor won't invoke partisanship when it's time to put the future of Indiana before political rhetoric. So far, Holcomb isn't passing the test."
Please enable JavaScript to view this content.