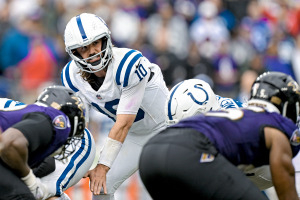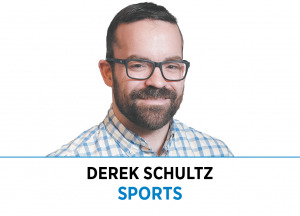 Just like on a snowy March night nearly 40 years ago, Indianapolis stole something in Baltimore.
It may have just been a regular season win instead of an entire football franchise, but unlike the infamous Mayflower truck parade across I-70 in 1984, this caper was in broad daylight. The "any given Sunday" nature of the NFL can sometimes spit out a result like this one—Indy's 22-19 road win over the AFC North-leading Ravens, where most of the game's best and most important plays came from a backup running back (Zack Moss), a kicker (Matt Gay) and a guy appearing in his first ever NFL game (JuJu Brents).
After backup quarterback Gardner Minshew stepped out of the back of his own endzone late in the fourth quarter, things looked bleak. But Kwity Paye's game-saving sack of former MVP Lamar Jackson, the best catch of Michael Pittman Jr.'s career and a few uncalled penalties (sorry not sorry, Baltimore!) later, the Colts emerged with a surprising yet wholly satisfying victory.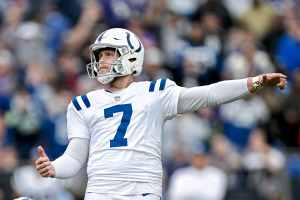 Maybe Gay's record-setting field goal bombs, Moss's grittiness and Minshew pulling a Dan Orlovsky will fade from Colts' fan memories a decade or two from now, but Sunday's win likely won't—especially if it leads to something even more unexpected: playoff contention for the 2023 Colts.
Maybe this is an overreaction to a game the Colts should have and would have lost if one of a dozen different plays went differently. Perhaps the side effects of chugging an entire gallon of Colts' Optimism Ecto Cooler will lead me to regret this column days or weeks from now. However, unlike one-off flukes like last year's gift-wrapped win against eventual Super Bowl champion Kansas City or the 2016 win in Lambeau, the hallmarks of Sunday's robbery in Baltimore can be sustainable for Indianapolis. If the defensive front can be dominant enough, if the offense can be gritty enough and if the critical plays can go in Indy's favor more often than not, the first three games can be a reason to believe in this year's Colts. Here are a few reasons why:
The front seven
Led by the All-Pro level defensive tackle tandem of Grover Stewart and DeForest Buckner, the Colts' front has controlled the line of scrimmage in the first three games. They're currently second in the league in sacks as a blossoming Kwity Paye and an opportunistic Samson Ebukam have taken advantage of the attention bestowed upon the interior of the line. Behind them, Zaire Franklin is becoming a star and EJ Speed a consistent playmaker, lessening the sting of a diminished Shaquille Leonard within the linebacking corps.
The defensive front kept the Colts in the Jacksonville game, never allowed the Texans a chance to come up for air and gave the offense the nine lives it needed to finally put away the Ravens. Since the days of Dwight Freeney and Robert Mathis, the Colts have repeatedly failed to muster anything more than a mediocre pass rush, but this early season sample has shown a lot of promise in that area.
The offensive line
What's that? A unit that looked like the worst position group in the league for the first half of last year has risen from the dead? It looks like a large chunk of the 2022 was an outlier for Indy's much-maligned offensive line, which welcomed back the same cast of characters, save for Will Fries, who has done a great job in plugging the gaping hole at right guard.
After a baptism by fire as a rookie, Bernhard Raimann has settled down and is holding his own. He's the fifth-rated offensive tackle in the NFL in pass blocking by Pro Football Focus. Ryan Kelly and Quenton Nelson, the Colts' first selections in the 2016 and 2018 drafts, both have returned to Pro Bowl form early this season, even as Kelly deals with the concussion he suffered in Houston. The offensive line was supposed to be the foundational pillar of the Colts' rebuild when Chris Ballard took over in 2017. It crumbled last year, but it definitely doesn't feel like the basement is sinking any longer.
Offensive upside
Even with the line solidifying, this is still a unit that lacks true playmakers. The good news is that Anthony Richardson has already flashed, and the Colts will get back their best playmaker in Jonathan Taylor for Week 5. Richardson was electric during the first two drives in Houston and looks far more ready to succeed as a starter than most thought going into his rookie season.
You would hope Taylor would return to the field desperately wanting to prove the doubters wrong, even if he's lost the public relations battle and whatever little leverage he had during a messy contract dispute. Meanwhile, Michael Pittman Jr. may not ever be a keep-you-up-at-night type wide receiver like Tyreek Hill or Justin Jefferson, but he consistently produces—and his sensational catch through near decapitation in overtime last week was exactly the type of play the Colts need him to make in big moments.
'House money'
Some of the best and most fulfilling Colts' seasons have come when not much was expected of them. In 2012, Indianapolis was dead last in most preseason power rankings but somehow turned in an 11-5 season. Andrew Luck's rookie campaign produced several memorable moments, including Reggie Wayne's orange gloves game against Green Bay and the walk-off winner to Donnie Avery in Detroit—beside the backdrop of Chuck Pagano's Leukemia battle and the team rallying behind interim head coach Bruce Arians.
One of the greatest in-season turnarounds in league history occurred six years later, when the 2018 team overcame a 1-5 start to rip off nine wins in 10 games and score a road playoff win over division champion Houston.
The talk of the Colts leading up to the 2023 season was not much different than for either of those teams. I had mentioned in a previous column the bar of expectations being so low that you couldn't tell if it was off the ground—so, each win feels like gravy. It's far easier to enjoy a season when you can't be disappointed (at least far less than you were with most of the 2019-22 teams), than it is when every game feels like a pressure-filled referendum on the embattled quarterback or head coach.
You can say "it's just three games" until you're Colts' blue in the face—and you'd be absolutely right! We haven't even turned our clocks back yet or put the Halloween decorations out. Yet, Sunday's early season win in Baltimore was the type of victory that can be built upon, and perhaps most importantly of all, it was a fun and entertaining afternoon of Colts football. That's something that has been rare and awfully tough to come by lately.
There is always danger in trying to make too much out of too little of a sample and trying to wish something into existence. Morgan Freeman famously warned Tim Robbins about this very thing. We know that the Colts are still a long way away from where they need to be, but for a franchise who has given Indianapolis so few reasons to believe in the post-Luck era, what's the harm in hoping again?•
__________
From Peyton Manning's peak with the Colts to the Pacers' most recent roster makeover, Schultz has talked about it all as a sports personality in Indianapolis for more than 15 years. Besides his written work with IBJ, he's active in podcasting and show hosting. You can follow him on X, formerly Twitter, @Schultz975.
Please enable JavaScript to view this content.