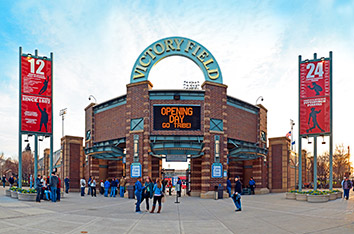 The Indianapolis Indians minor-league baseball team announced Tuesday it is reviewing its team name, amid pressure from some who view names tied to Native American culture as inappropriate.
The club said in a statement it "will be forming a committee to explore" its name and determine whether a change is necessary, based on dialogue with local organizations and community members.
We are prepared to collaborate with our community and appropriate stakeholders," the statement said. "We understand that our team name has not been endorsed by some but trust they understand the historic and respectful context in which it has been used over the years. We are committed to engage, listen and exchange ideas. "
The team did not say how long the process might last.
"We … feel strongly about the relationship we have with our fans, community and corporate partners," the statement said. "Knowing that the appropriateness of our team name is being questioned, we will be forming a committee to explore it while also gathering community input."
The Triple-A franchise has been called the Indians since its founding in 1902, as a derivation from the state's name. The organization has long used Native American iconography in its logo, and the team is widely referred to as "the tribe." It is one of several professional sports teams across the country with nicknames tied to Native American culture.
Other pro teams in recent weeks have signaled plans to reconsider or change their names—most prominently the Washington Redskins football team—following extensive pushback from activists and other individuals who do not believe names based around Native American culture (particularly those that could be viewed as disparaging) are appropriate. Some high schools and colleges are also exploring similar changes.
The team has encountered pushback before, including in the early 1990s over its Native American mascot named Rowdie. The team in 1993 replaced the mascot with a caricature of a bear by the same name.
But many, including officials with the American Indian Center of Indiana, still view the team's nickname as racist or tone-deaf.
Executive Director Carolina Castoreno-Santana, who is a member of the Lipan-Apache Tribe of Texas, told local media earlier this month that "all of the imagery that is tied to [the team name] reduces our people to a mascot and to an image that is in the past."
The Indians are the Triple-A affiliate of the Pittsburgh Pirates. The Indians are not playing this summer because the minor-league baseball season was canceled June 30.
Please enable JavaScript to view this content.