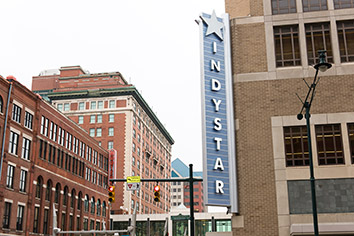 In its latest move to save money in a tumultous time in the newspaper industry, Gannett Co. is offering buyout packages to employees at hundreds of newspapers around the country, including The Indianapolis Star and eight other Indiana papers.
The newspaper giant on Monday sent notices to its newspapers laying out the terms of the buyout, and explaining the process.
The buyouts could help Gannett raise money to help pay off huge debts from its $1.4 billion combination with GateHouse Media. But it could also shrink newsrooms, perhaps sharply, following numerous rounds of buyouts, layoffs and furloughs in recent years.
"As we continue to transform our business for the future, we see changes in our business and how we work," the company said in a memo obtained by IBJ. "This program allows employees to consider their own journey, and provides flexibility for those who may wish to transition to a new role or phase of their life."
Katrice Hardy, executive editor of the Star, declined to comment to IBJ when asked about the size of the newsroom, and whether the buyouts might affect the paper's ability to report news.
As of August 2019, the Star newsroom had about 70 employees, down from 285 in 2000, when it was bought by Gannett. Most newspaper companies around the U.S. have cut their workforces in response to sharp declines in advertising revenue. During its last buyout two years ago, the Star lost six veteran journalists.
Under the latest buyouts, employees could walk away with one week of severance pay for each year of service, with a minimum of three weeks and maximum of 28 weeks, according to recent emails sent by the Indianapolis Newspaper Guild officers at the Star to newsroom members. The buyout also includes a $3,000 transition bonus and 30 days of outplacement services. Employees currently enrolled in medical, dental and vision would retain their benefits through the end of the year.
It's unclear how many buyouts Gannett will accept in this new round or how much money the company is trying to save. Those details are not spelled out in the memo, nor in any recent government filing. The buyouts are voluntary, but the company said there is no guarantee that if enough workers don't apply for the voluntary severance agreement (also known as VSO), it might be forced to take other steps.
"While it is hoped that the VSO will achieve the desired cost savings goals, in the event that a sufficient number of employees do not end up ultimately participating in the VSO, an involuntary reduction in force may occur," the confidential memo said.
Unlike previous Gannett buyouts, which required workers to meet certain criteria for age and years of service, this buyout is available to nearly all full-time Gannett workers, with no restrictions on age or service. Eligible employees only have to work at least 30 hours a week. Temporary workers, interns, and employees on a leave of absence, other than military leave, are ineligible.
The Star's newsroom is unionized, and has a contract that requires the company to bargain before offering buyouts to members. The Indianapolis Newspaper Guild's board agreed to take part.
"The Indianapolis Newspaper Guild has agreed to participate in the company's buyout offer, which includes more than a typical severance package through our contract," said Emily Hopkins, Guild president.
Earlier this year, during the COVID-19 pandemic, Gannett instituted a system of rotating weeklong furloughs for most employees, together with temporary pay reductions and suspension of its contributions to 401(k) plans, according to Poynter.org, a newspaper think tank based in St. Petersburg, Florida.
Gannett owns more than 250 daily newspapers and hundreds more weekly and community newspapers in 47 states, making it the largest newspaper company in the country.
In addition to the Star, Gannett owns the Evansville Courier & Press, Lafayette Journal & Courier, Muncie Star Press, Richmond Palladium-Item, South Bend Tribune, Bloomington Herald-Times, Martinsville Reporter and Mooresville Decatur-Times.
Please enable JavaScript to view this content.