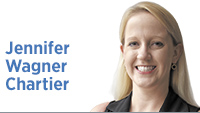 I recently read that New York City will soon have a pay-transparency law in place, and my first thought was, "Well, yeah, that makes sense, but when will we have something like that here in deep-red Indiana?" (Voice in my head: "Probably never.")
But then, later in the story, I saw that South Carolina—also a trifecta GOP state—is considering pay-transparency legislation, and it gave me a little glimmer of hope that Hoosier lawmakers might consider the issue in an upcoming session or here at the local level.
Pay transparency is the law of the land in a handful of states and cities, meaning employers must disclose salary ranges for posted positions. Some require full disclosure in the position listing while others require it upon request. Either way, applicants can be on surer footing when they go in for an interview and salary comes up in conversation.
It's worth noting also that at least 21 states ban pay-history questions during the application and interview process. Disclosure of pay history can result in further wage disparities for women and workers of color, who already earn less than their white male counterparts.
Last year's pay-equity report from the American Association of University Women found that, in 2020, women were paid 83 cents for every dollar paid to a man. Black women earned about 64 cents on the white male dollar; Black men earned roughly 75 cents.
Mind you, the Equal Pay Act, the federal law that bans sex-based wage discrimination, was signed in 1963. Y'all, we've clearly still got some work to do.
For those in the public sector, pay transparency is nothing new. In most states and major cities, you don't even need to leave home to find out what public employees make; it's usually posted online, sometimes in an easy-to-search database.
While some companies have voluntarily adopted pay transparency, a Salary.com survey of human resources professionals last year found that number to be just 35%.
A few years ago, there seemed to be more reluctance in the business community to disclose salary ranges for fear that employees would see others' pay and want to leave for greener pastures. That might still happen if employers publish salary ranges, but the premise feels more myopic than reality.
While the bottom line is the most important factor for most workers, it's not everything. Recent surveys have shown employees want more than pay; they're also looking for professional development, support from managers and a defined path forward in their careers.
Even if businesses don't tell employees or prospective employees what their paycheck could look like, transparency in the form of peer review is increasingly part of our everyday lives, and plenty of websites already exist where workers can share their experiences—including pay—at a particular company.
Whether they find it online or at the water cooler, it's clear employees are sharing information more than ever before. And if the snarky HR folks in my TikTok feed are any indication, all of that is playing a role in the Great Resignation as employers struggle to meet employees' needs and wants.
It's obvious the trend line is heading toward transparency. Perhaps, then, it's time for Hoosier policymakers—state or local—to formally level the playing field by embracing salary-range disclosure, a move that will lift the veil of salary secrecy and benefit those who've long been at a disadvantage when it comes to equal pay.•
__________
Wagner is a lifelong Indianapolis resident and owner of Mass Ave Public Relations. Send comments to ibjedit@ibj.com.

Click here for more Forefront columns.
Please enable JavaScript to view this content.