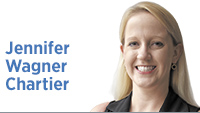 We're a rebellious lot, we Americans.
We got our start as a nation fighting with a government across the sea, and, if you look at recent national polling, you'll see we don't think much of our own government these days.
We're the strongest military power in the world, and we've proudly fought for freedom abroad while protecting those at home.
Unfortunately, we're at war right now with a tiny, spiky virus that gives zero hoots who's in charge or what borders it crosses. In the past few months, it has invaded our country and is perniciously spreading from one community to the next, killing thousands and grinding our economy to a halt.
This little virus is forcing us to reconcile our individual liberty—one of the things we prize so dearly as Americans—against our shared commitment to one another and the greater good of our society.
It's a balancing act that we have to get right, and no one is saying we can't continue to be skeptical of the government.
People in power have an incentive to stay there, and we've seen countless elected officials lie, cheat and steal to remain in charge. Even folks who don't cross legal lines often allow their personal ideologies to cloud their ability to govern unselfishly.
Did Gov. Eric Holcomb, who opposes abortion, specifically target abortion providers for shutdown in his executive order limiting non-essential medical procedures? If you looked at my Facebook timeline after that story broke, you'd have a very different opinion than if you read the text of the order.
Sadly, our news media—the people who have the ability to directly interrogate our leaders—continues to shrink, while our social media channels are overwhelmed by fake news generated to confuse and distract.
At our core, we do not want to be told what to do, but I believe we can be true to our rebellious nature while temporarily giving up a few of the rights we hold so dear.
Imagine this were the kind of war with bombs dropping from the sky, tearing homes and religious institutions and communities to pieces. We would see the damage, and we would likely comply with orders to leave targeted areas or to make those targets less visible. That might mean not attending church or staying away from large gathering spaces.
This bomb looks different—but might well prove more deadly than many of the historic conflicts involving our military. If we do not heed warnings based on science and math, many more among us will fall ill, and some will die.
A handful of politicians and faith leaders have said they don't mind dying to get our economy back on track.
And that's where individual liberty, the public good and the virus get crossways again: We have no idea who will live and who will die, and we'd be rightfully appalled if anyone told us they'd made a choice on our behalf that put us all at risk. There is no way to sacrifice only oneself for the greater good.
This is all very overwhelming. I also believe it's very real. But let's say you disagree. Just because you stay home today—yes, because someone told you to—doesn't mean you can't continue to question our elected officials and their actions.
This is still an election year, after all.•

Click here for more Forefront columns.
Please enable JavaScript to view this content.