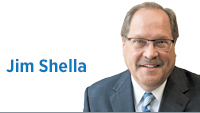 People want to vote. If the recent presidential election proves anything, that's it. I'm eager to see what the final turnout numbers are, but early indications point to a record.
I live in a neighborhood near the remote early voting site at St. Luke's United Methodist Church on 86th Street, and I drove by every day just to see how big the crowds were. The giant parking lot was full most days and the lot at another nearby church was also filled on at least one occasion. Cars were frequently lined up on 86th street waiting to get in. It looked like the state fair.
On one cold, rainy day, there was still a crowd. Social media posts indicated that people waited four hours and more to get a ballot in their hands.
That's crazy.
You could also call it voter suppression.
There's no reason it needs to be that difficult to vote in America.
Who should we blame?
Politicians. And by that I mean politicians in both parties. Republicans and Democrats alike have gamed the system to make it easier for their supporters to vote and tougher for supporters of the other side to help select our leaders.
Vote centers are relatively new here, and they were first employed in counties that were predominantly GOP. Democrats objected.
But when Democrats used them to their advantage in Marion County, Republicans were suddenly opposed to the idea.
I have a partisan friend who used to joke that he wanted to take vehicles with loudspeakers and drive through neighborhoods that support the opposing party announcing, "Don't forget to vote Wednesday!" Of course, the election is always on a Tuesday, and he was joking, but there are much more subtle ways to discourage voting. For example, in Indiana you have to register to vote 30 days in advance of an election. There is no reason for that other than to discourage voting. In some states, you can register at the polls on Election Day.
We could also make greater use of mail-in voting. In Indiana you have to cite a reason for requesting a ballot in the mail. It's still known as an absentee ballot. You have to affirm that you will be out of town on Election Day, have a disability, a transportation or work issue, or that you are over 65. Concern about exposure to the coronavirus did not qualify.
Other states rely almost entirely on mail-in ballots.
As an aside, I voted by mail this year because I could. I'm over 65. It was more convenient for me, even though I am healthy and have no limitations that would keep me from the polls on Election Day. I applied for the ballot, mailed it in and then checked a few days later to make sure it was received. You can do that on the voter portal at the Marion County Election Board website. Everyone should have that opportunity—and don't tell me about fraud. Donald Trump cried fraud as a method of voter suppression.
Indiana is in the bottom 10 for voter turnout (at least it was heading into 2020) and suppression is the reason.
Every voter who was in those long lines this fall should have killed the time by calling lawmakers and demanding immediate changes in the law.
Voting shouldn't have to be this difficult.•
__________
Shella hosted WFYI's "Indiana Week in Review" for 25 years and covered Indiana politics for WISH-TV for more than three decades. Send comments to ibjedit@ibj.com.

Click here for more Forefront columns.
Please enable JavaScript to view this content.