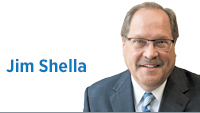 South Dakota Sen. John Thune has been under fire for comments he made about the efforts by Democrats in Washington to raise the federal minimum wage to $15. The Republican Thune expressed his opposition by pointing out that, when he was in high school, he made $6 an hour working in a restaurant. He called that "big time" for him and said the proposed increase in 2021 would be "harmful at a time when you're trying to get people back to work."
In particular, he expressed concern for small-business owners.
Critics point out that Thune was making $23 an hour by 2021 standards and the current minimum wage is just $7.25 an hour.
Let me express that my work history might make a better illustration of what's going on at the moment. Bear in mind that I grew up in a small town in southwestern Minnesota not far from where Thune was raised.
In 1971, I was about to enter my senior year in high school and had a job working for my father, who was an electrical contractor. I was on a small crew installing new streetlights on the main street of a town in southeastern Minnesota. We were 200 miles from home, returning only on the weekend. The job involved heavy labor that included breaking out sidewalks, digging trenches and setting light poles.
I made $1.50 an hour. That's below the minimum wage at the time (I was family), but not by much. The minimum wage in 1971 was $1.60. I was working alongside a college student who made minimum wage.
How much would that be in 2021 dollars? $10.33 for him and $9.69 for me.
That's right. The wages that I have long considered to be a pittance due a 17-year-old living at home were actually higher than the current minimum wage that often goes to people who are trying to pay a mortgage and raise a family, while coping with a pandemic.
So, how about a little more perspective?
The federal minimum wage has not been increased since 2009. A dollar today is worth just 82% of a 2009 dollar.
Also, the minimum-wage requirement applies only to companies with receipts of more than half a million dollars. A lot of small businesses are unaffected.
States have the ability to raise the minimum wage without guidance from the federal government and, in fact, Thune's native South Dakota has done that, increasing the minimum to more than $9 an hour. Indiana is one of 18 states that maintain a minimum identical to the federal requirement of $7.25. That's an argument in favor of leadership in Washington.
Of course, politics get in the way. Republicans oppose Democratic ideas just because they are Democratic ideas.
And there is irony in the fact that many Republicans fancy themselves suddenly as the party of the people (read Trump voters), yet they are still looking out for business interests first.
Also worth noting is the fact that the minimum-wage increase was likely taken out of the stimulus bill because it made it more difficult for moderate Democrats to support.
But the proposal will come back and, if there is no support for a $15 minimum wage, there should be support for something higher than $7.25, the equivalent of $1.12 in 1971. Even I deserved more than that.•
__________
Shella hosted WFYI's "Indiana Week in Review" for 25 years and covered Indiana politics for WISH-TV for more than three decades. Send comments to ibjedit@ibj.com.

Click here for more Forefront columns.
Please enable JavaScript to view this content.