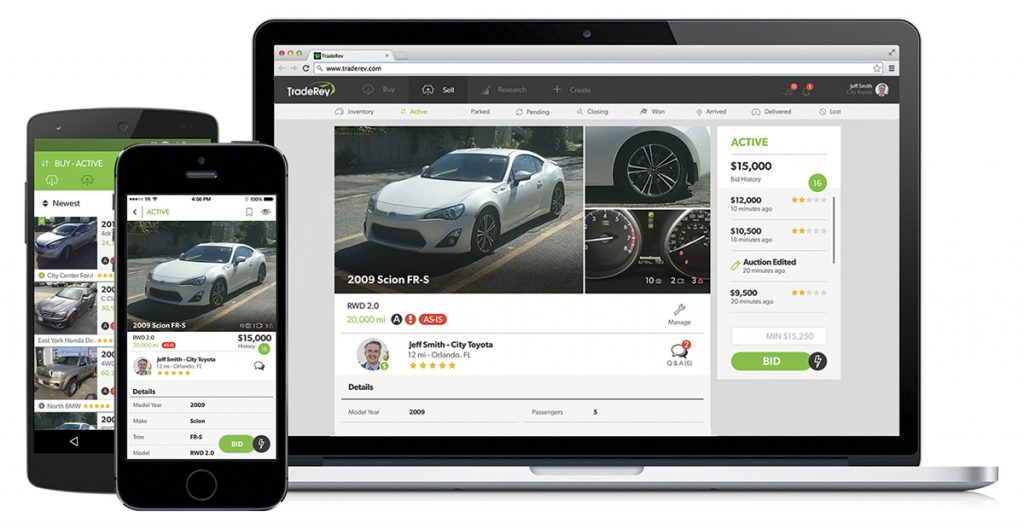 Auto auction giant KAR Global's bet on a phone app that facilitates dealer-to-dealer car sales has cost it a fortune over the past two years—so much so that KAR now is retooling its strategy for the fast-growing division.
Carmel-based KAR bought the business, TradeRev, for $80 million in stages from 2014 to 2017. TradeRev has accelerated growth, but losses have ballooned—from $53 million in 2018 to $72 million in 2019.
At the same time, the gap between it and the No. 1 player in the dealer-to-dealer app field—Buffalo, New York-based ACV Auctions—has widened.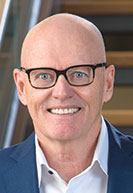 ACV says it sold 240,000 cars last year, nearly triple the number a year earlier. TradeRev, on the other hand, sold 157,000—up from 117,000 a year earlier but far short of its 200,000 goal.
Both firms are merely nibbling at what their executives believe is a huge market, with 5 million or more transactions annually.
"We are still in the early innings of the transformation of the dealer-to-dealer space, so rapid growth is possible," KAR CEO Jim Hallett said last August on a conference call with analysts. At the time, he was forecasting that the continued growth in sales volumes would allow TradeRev to reach profitability in 2021.
KAR still forecasts TradeRev's turning profitable in 2021, but not entirely driven by higher sales volumes. In January, KAR reduced costs—and increased efficiency—by combining the TradeRev sales team with the dealer consignment-sales team for its Adesa auction division and eliminating 70 sales jobs.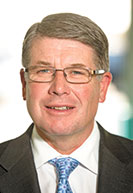 Last month, on a conference call with analysts, KAR executives said they expect TradeRev's losses to shrink $20 million this year—thanks in part to the sales-team consolidation and a decision to operate the business with greater fiscal discipline.
"When you talk about TradeRev, it was clearly too high of a cost model with all of the incentives and things that we have cut back," KAR Global Chief Financial Officer Eric Loughmiller said on the call. "And so we have slowed down in order to get the business model right-sized, so that we can have long-term profitable growth in the dealer-to-dealer segment."
KAR had said last year that TradeRev would have to sell 350,000 to 400,000 cars annually to break even. Company officials haven't said what the break-even point is with the new strategy.
TradeRev's 2019 performance was worse than KAR officials had forecast in July. At the time, the company expected to lose $60 million, $12 million less than it ended up reporting.
KAR also suffered on other fronts last year. For example, its High Tech Locksmiths division imploded, with KAR reporting millions of dollars in missing inventory and alleging the division's former CEO had intentionally undermined the business—allegations he denies. The problems, which have spurred a morass of litigation, cost KAR more than $10 million last year,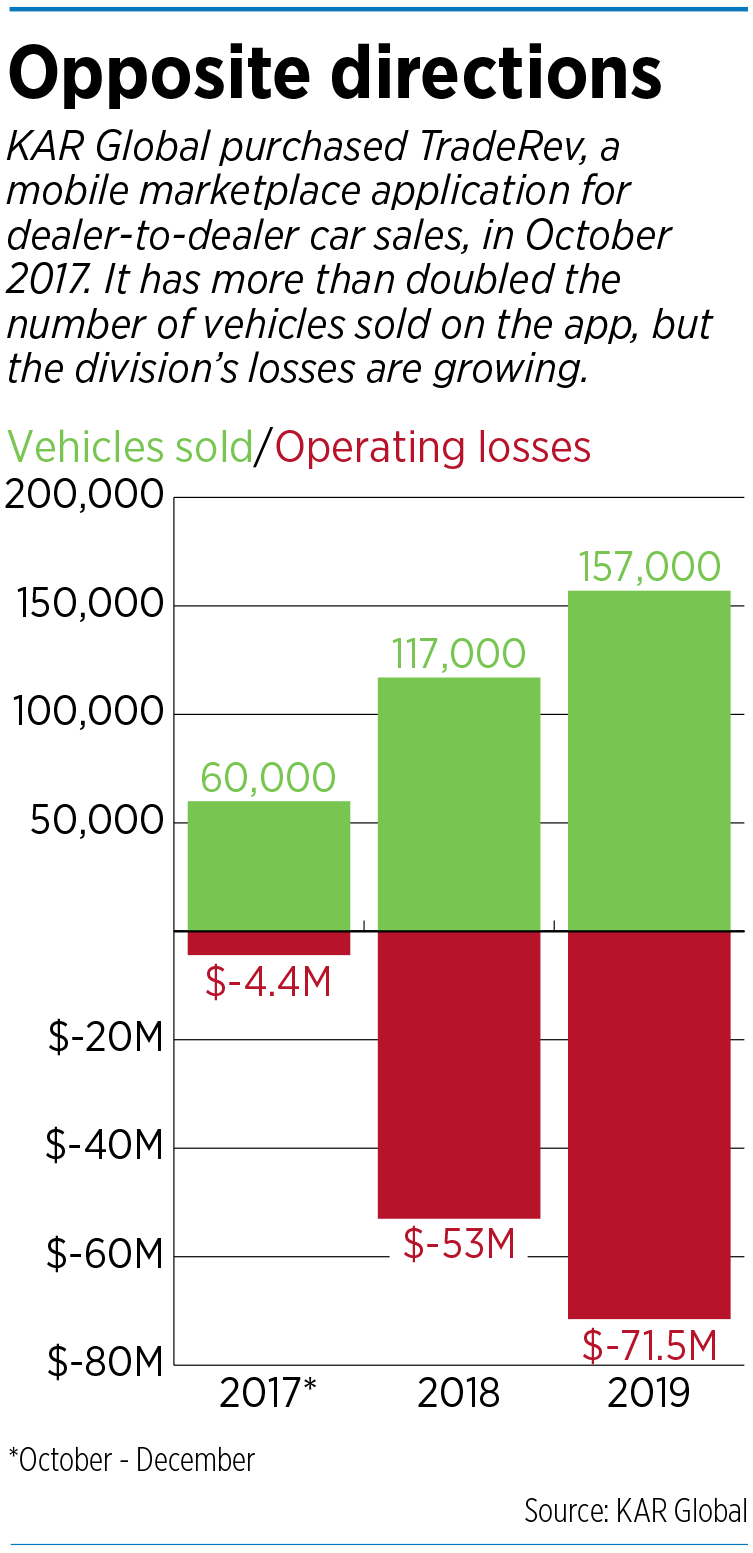 Factoring out a salvage-auction division that KAR spun off in June 2019, KAR last year earned $92.4 million on $2.8 billion in revenue. Excluding the salvage division, KAR in 2018 earned $117.6 million on $2.4 billion in revenue.
On the conference call last month, Hallett owned up to the disappointing numbers.
"Let me start by stating what may be the obvious: 2019 has been a challenging year. And I want our investors to know that we are accountable for these results and we also have a path forward and we will be accountable for that path forward. … I believe that KAR is well positioned to improve our performance in 2020 and beyond."
Startups battle
TradeRev launched in Toronto in 2009, five years before the founding of ACV Auctions—whose growth has been stoked by nearly $300 million in venture capital funding. ACV's latest round of funding, announced in November, values the business at more than $1 billion.
Last August, KAR sent a bullish signal about TradeRev by announcing it was investing $3.75 million to establish the company's headquarters in the Century Building at 36 S. Pennsylvania St. downtown.
But at the J.P. Morgan Auto Conference that same month, Hallett acknowledged his efforts to grow that business had not been hitch-free.
"I think what I have learned over the course of time with startups is, I think you have to have good technology. You don't have to have great technology. You don't have to have every bell and whistle you could possibly put together," he said.
"I think we focused on the technology a little bit too much, and I think our venture capital folks [at ACV] focused on their go-to market strategy and, quite frankly, they got a lead."
Even so, Hallett said at the time that TradeRev could come out on top.
"They have a platform, and their whole sales pitch is, 'Physical auctions are dead. Sell on our platform,'" Hallett said of ACV. But he said ACV lacks the ancillary services, such as transportation and inspections, or the deep relationships with a huge pool of potential buyers that KAR enjoys.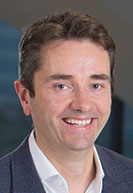 In September, KAR announced that Rebecca Polak, TradeRev's president as well as KAR's general counsel, was resigning and that she would be succeeded at TradeRev by co-founder Mark Endras.
In an interview with IBJ, KAR President Peter Kelly said investing in startups is rife with uncertainty.
"When you've got a startup business, it's hard to project what the growth is going to be. We've got an industry that is going through—and has been going through for many years—an online digital revolution."
At the same time, he said, he believed TradeRev was headed in the right direction.
"TradeRev has already achieved a couple [of performance goals] and has some time left to achieve the balance. We'll see how that pans out," Kelly said.
One reason for that optimism is TradeRev's new three-day-delivery guarantee, which it rolled out in January. Any vehicle bought on TradeRev within a 500-mile radius of the buying dealer will be delivered within three days or delivery is free.
Gunning for growth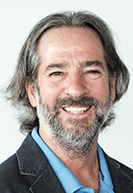 Todd Saxton, an associate professor of strategy and entrepreneurship at the IU Kelley School of Business, said what TradeRev is facing is common for startups that are "crossing the chasm"—making the leap from early adopters to broad adoption.
The phrase is a reference to an influential 1991 book by organizational theorist Geoffrey Moore titled "Crossing the Chasm: Marketing and Selling High-Tech Products to Mainstream Customers."
While KAR executives might be pained having to report TradeRev's steep losses to shareholders, Saxton said, "Ironically, sometimes the better a company is doing, the more it loses, and the more funding it needs in those early phases."
JPMorgan Chase analyst Ryan Brinkman said in a report that KAR's clout in the auto auction industry—it's the No. 2 player behind Atlanta-based Mannheim—could give it an advantage over the niche player ACV.
"Management expects TradeRev results to materially improve in coming years," the report said. "While visibility is low for investors at present, it is possible that KAR could parlay its strong position in other areas of the whole car market to win in this area also, with management arguing it is a more 'natural owner' of this service than its stand-alone software competitors."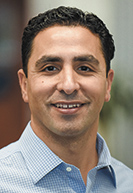 ACV Auctions CEO George Chamoun told IBJ the auto auction industry is so large that his firm does not have to corner the market to be successful.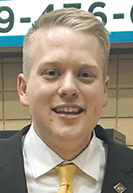 He noted that Americans buy 41 million used cars a year—more than double the 17 million new cars sold annually. If 11 million of the 41 million used cars are sold consumer to consumer, that still leaves 30 million funneled through dealers.
"There's a whole marketplace of activity going on within that 30 million," Chamoun said. "That's a really big part of our economy."
Jacob Schoon, sales manager at Hobson Chevrolet Buick GMC in Martinsville, said the dealer-to-dealer apps are increasing the ease with which dealers can sell cars—allowing someone in another state to look under the hood, for instance, or inspect other aspects of the vehicle.
"I think there is always going to be a need for a service like that," Schoon said.
So he said he uses both ACV Auctions and TradeRev—though he admits using ACV more.
"Honestly, it's because they send people down here once or twice a week even if we don't have vehicles," Schoon said. "They're always in our face, which isn't a bad thing. It's their consistency in coming to the dealership."•
Please enable JavaScript to view this content.