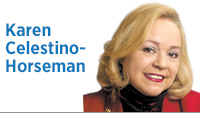 During the Senate confirmation hearing of Merrick Garland to serve as U.S. attorney general, Sen. John Neely Kennedy, R-Louisiana, asked Garland about the "concept of implicit bias" and whether that meant he was "a racist no matter what I do or what I think."
Garland responded: "The label racist is not one I would apply like that. Implicit bias just means every human being has biases. That's part of what it means to be a human being. The point of examining implicit biases is to bring our conscious mind up to our unconscious mind and to know when we are behaving in a stereotyped way. Everybody has stereotypes. It's not possible to go through life without working through stereotypes. Implicit biases are the ones we don't recognize. That doesn't make you a racist."
As human beings, we gravitate to what we know. When we encounter the unknown, our defenses unconsciously arise. If you were raised in a Black family and lived in a predominantly Black neighborhood and attended a predominantly Black school, your unconscious biases and stereotypes, as part of your unconscious defense system, will impact your interactions with those who are not Black. The same applies to white persons, brown persons, etc. As Garland said, everyone has stereotypes.
I watched a television show where an Asian-appearing man was ordering in a diner. The waitress, thinking she was acting out of kindness, offered to ask the cook if he could make an Asian dish. As it turns out, the "Asian" man had been born in America. The action by the waitress was a microaggression—the waitress's bias resulted in an action that left the customer feeling insulted.
You do not have to be of a particular race or ethnicity to experience microaggressions. If you are overweight, some people will assume you are lazy and will unconsciously decline to promote you for this reason. If you are over age 60, some people will assume you are not mentally astute and condescendingly (albeit unconsciously) explain that which is already known to you. If you are a Black man wearing a hoodie and a mask, the woman walking past you on the street might unconsciously hug her purse closer to her body.
Dealing with implicit bias requires us to examine the reasons we react in a particular manner and to question whether the assumptions we are making apply. For example, the waitress assumed that all Asian people prefer Asian food. If the waitress had questioned the validity of that assumption, she would have concluded that not all Asians want to eat only Asian food. In fact, if that customer wanted to eat only Asian food, he would not have chosen to eat at an American diner specializing in burgers and fries.
Acknowledging implicit bias does not mean acknowledging you are racist. It means you are willing to stop and think instead of acting immediately upon your assumptions. The Black man wearing a hoodie and a mask? Perhaps an employee running into the office to pick up work to take home. The overweight employee? Perhaps he/she eats out of loneliness and that same loneliness leads that person to spend extra time doing outstanding work. The over-60 individual? He/she did not grow up with computers, so that means a steeper learning curve, but it does not mean he/she is mentally challenged.
Think of examining implicit bias as part of life's journey to becoming a better human being.•
__________
Celestino-Horseman is an Indianapolis attorney. Send comments to ibjedit@ibj.com.

Click here for more Forefront columns.
Please enable JavaScript to view this content.