Lebanon Mayor Matt Gentry is preparing for his third term at a critical time for the Boone County city.
The Indiana Economic Development Corp.'s 9,000-acre LEAP Research and Innovation District is taking shape on the city's northwest side where Lebanon has annexed about 90% of the land needed for the development.
Indianapolis-based Eli Lilly and Co. broke ground early this year on a $3.7 billion manufacturing campus in the LEAP district that is expected to create 700 jobs.
New jobs at the LEAP district mean more people will live in Lebanon. The city has approved about 800 new housing units this year.
Construction is also underway on a 95-acre youth sports and hospitality district just south of the Interstate 65 exit at State Road 39. The development will be anchored by the $25 million Hickory Junction Fieldhouse. The $400 million complex developed by Noblesville-based Card & Associates Athletic Facilities will be focused on basketball, football and pickleball.
Meanwhile, several ongoing downtown redevelopment projects will bring more housing, restaurants and retail to Lebanon's core.
Gentry, 34, recently sat down with IBJ to discuss what's next for both Lebanon and him, going into what he said will be his final term.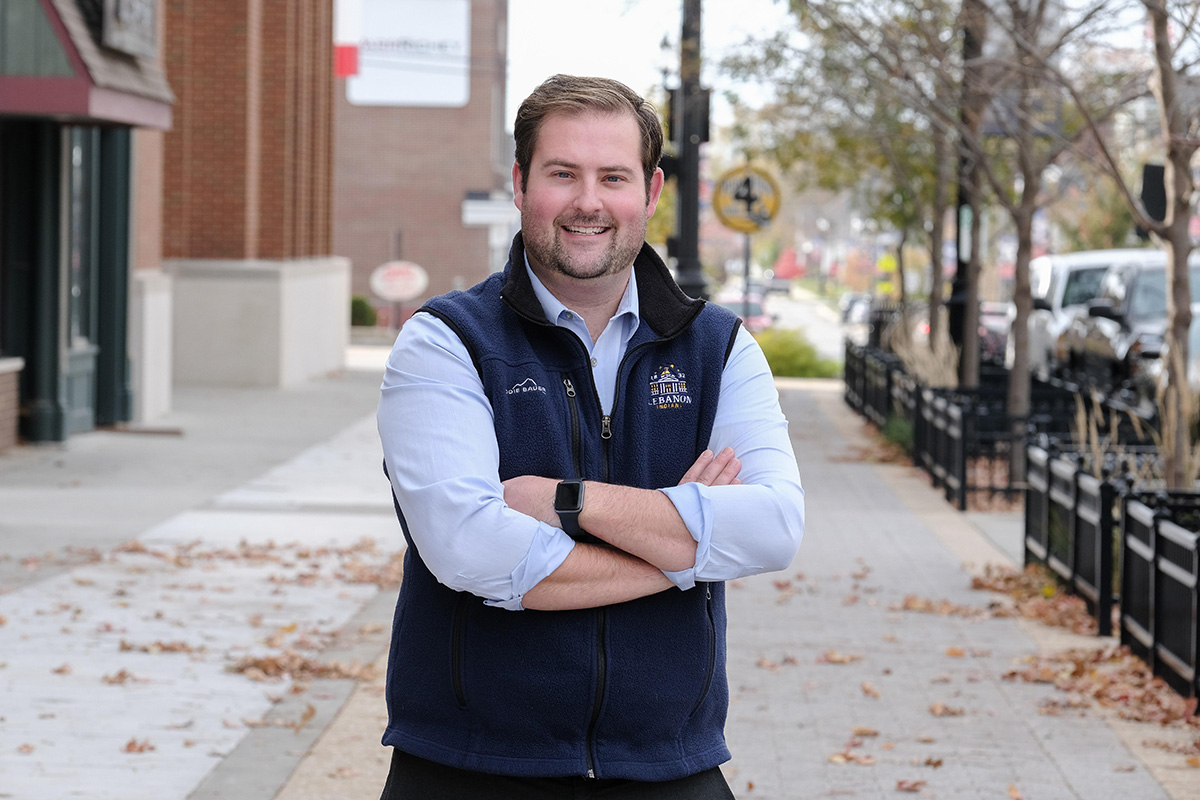 After you became mayor, you set out a bucket for people to put a quarter in whenever they said, "That's how it's always been done." Have you received many quarters lately?
I actually passed down my "that's how it's always been done" bucket to [Zionsville Mayor-elect] John Stehr. He was already joking he's hearing that a lot, and I was like, "Maybe you need this bucket more than I do." When I first came in, those first three months as mayor, I heard that all the time, and it drove me nuts, and that's why I did the bucket.
Once I kind of shifted some of the city employees and maybe part of the community in how we think about what the city does and how we do it, it stopped people from saying that, and I haven't heard it for years now.
How is Lebanon preparing for the growth that is expanding outward from Indianapolis?
We were on the railroad initially and we're on the interstate, so we've always been connected, but always a little bit on the outskirts. Obviously, as Indianapolis has grown, it's kind of come toward us, and so we've been able to see it coming. I think for a long time, Lebanon pushed it away, [and] we didn't want to be part of Indianapolis. But I think just where we are, just our location, it's more of an inevitability. So it's, how do we manage that change and manage that transition? That's going to be important.
When I'm doing that, we look at peer communities. We're looking at where Noblesville was 20 years ago. Places like Franklin, Greenfield, Danville to some extent as well, too. Different places like that that are county-seat communities that are older, that have history there. And then, how do you merge the new with the old is important.
How do you plan to maintain Lebanon's character while making it attractive to potential new residents who might work at the LEAP district or other businesses in town?
The goal of Lebanon is to build a great place to live for people of all walks of life. We want housing options at all different price points. We want great jobs available for people that they can support a family on. We want great parks, great trails, great connectivity. And that's all because people, when they're choosing somewhere to live these days, a lot of times, they choose where they want to live before they find a job.
We're rapidly changing, and how do we manage that? I think we focus by focusing on public spaces and downtown. … We want to keep this kind of community spirit and pride that you can know your neighbors. It still has small-town charm, small-town feel, but balancing that with amenities you might find in a bigger city that people want to have. The goal is to keep that small-town charm but balance it with forward-thinking development that ensures people have options for them.
What I think makes a community dynamic and thriving is a broad appeal to lots of people. You avoid some of the stereotypes and the negativity some communities sometimes get when they're only targeted at certain types of people or certain demographics or certain price points. If your firefighters and police officers can't afford to live in your community, that's another problem you have. So how do we keep this sustainable, consistent, smart growth that continues to provide opportunities for people of all walks of life?
The city has annexed about 90% of the land needed for the LEAP district. What is the next step for the city, and how is the city planning to capitalize from the innovation district?
We implemented the [planned unit development standards] for the LEAP district, so we've set the guardrails and set the rules for the development. Now, it's partnering with the state of Indiana to attract those types of users that are great fits for LEAP. LEAP is certainly a new concept for the state of Indiana. It's not new when you look nationwide, but it's certainly new here in Indiana. We're definitely learning our way and feeling our way through that process.
There's been a ton of interest in it. Obviously, Lilly's investment, that's the foundation of it. But that's just the beginning. LEAP will really start to hit its stride once the second and third announcements are happening.
Do you expect more announcements for LEAP in 2024?
I think we'll see announcements. I think we've come to a point where we're far enough along on some of the leads they've been getting. Lilly is that company that you want to have in your community, and they were an early investor, and that proves the concept. I think when you get the first one after Lilly that's maybe not from Indiana, then it starts being, "Wow, OK, what's happening here?"
I think this next announcement that we get here will really be important, and things will just start happening quickly. I think 2024 will be a pretty transformational year for LEAP and for Lebanon.

Water is a big issue, especially in the Western states. It's really a national issue that's come here, right? [The Indiana Economic Development Corp. is studying how to transport as much as 100 million gallons of water a day through a 52-mile pipeline from Tippecanoe County to the LEAP district. State officials say the water would also serve future needs in central Indiana. The plan has generated opposition.]
We [in Indiana] haven't really delved into [water problems] or focused on it because it hasn't really been a pain point. It's one of those things that, it's such a big issue out there that it's almost like people are afraid to do anything about it. The state tried to start the conversation, study it in stops and starts. But until you get a real reason, and this happens in government all the time, right until there's a problem you actually know you have to solve because it's a pain today, it's hard to get action.
[If it is] a problem down the road, it's so much easier to just kick it off to your kids and grandkids to deal with, and I just don't think that's fair. I applaud the IEDC for saying, "Hey, we know this is a problem. We think we can do a double bottom line here and solve two birds with one stone."
I understand the resistance and the frustration that people in the Tippecanoe County area have. But also you look at how many people are drawing off those aquifers on the river right now, and it's happening today. So there's a little bit of a reality check.
What challenges does social media present to you as a mayor that other mayors in the past didn't have to worry about?
Today on social media, everybody's an expert. The opinion of the mayor is equal to Joe Schmo off the street. On the one hand, social media is an equalizer for people, and it allows me to connect with people. But it also lowers the bar to entry to get out things that aren't true, spread rumors, try to make mountains out of molehills. All those things that are kind of the negative side of social media.
There's so much distrust in government, and they think your local city hall is like Washington, D.C. It's challenging when people apply national narratives or things like that to local-level stuff. This is my community, too. I go to the grocery store here, too. I live here, too. I care where this community goes, too. I'm not trying to just throw it away.
So, that's the struggle, I think, a little bit, just the way society is changing. It seems like every project now is all NIMBY[not in my back yard]-related. It's all, you know, "That cornfield behind me is changing, and now I'm mad about it." I think, as a society, we've become very selfish and focused on ourselves, and in a position as mayor, you have to take the bigger picture of the community.
Early on in office, you said mayors should be limited to two terms, and now you're preparing for your third. How has the experience of being mayor changed your perspective on how long one should serve?
To some level, I still do think that. I do feel like I'm a little bit on borrowed time here. I'm doing a third term, but with all the wrenches that COVID threw at the last term and the projects I wanted to complete were all of a sudden in the middle and not being done because of COVID and just where we are at the crucial crux of LEAP, these next four years are so critical for Lebanon, and throwing a new mayor into that role, honestly, wouldn't have been fair to them.
I think in four years from now, LEAP will be on its way, and Lebanon will be in an even better place than it is today. And I'll be happy to hand the reins over to the next one. Honestly, that mayor will probably reap all the benefits of LEAP, which is fine with me. The next four years for Lebanon really are kind of the turning point and are crucial for us. There aren't enough hours in the day and days of the week for me.
Do you know what you want to do after you finish being mayor?
People always joke with me like, what do you want to do after your next term? I'm like, I don't know what I want to be when I grow up yet. I've been doing this since I was 26. It'll be interesting for me to kind of have to readjust. But I look back on what we've done and what we've accomplished, and it's been all about the next generation and my kids. I know I can sleep great knowing I've left this community in a far better place than where I found it, and I'm happy to see that.•
Please enable JavaScript to view this content.