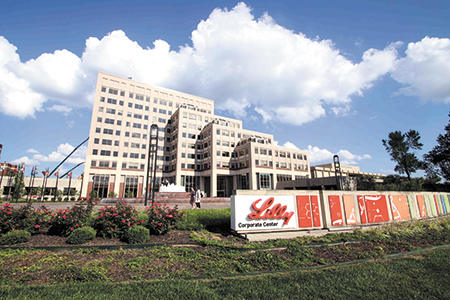 Eli Lilly and Co. announced Friday morning it plans to build a $2.5 billion factory in Germany to make injectable drugs, its latest move to meet the soaring demand for its medicines for diabetes and weight loss.
The Indianapolis-based drugmaker said the factory in Alzey, Rhineland-Palatinate, about 400 miles southwest of the German capital of Berlin, will employ up to 1,000 highly skilled workers such as engineers, operators and scientists, and will include automation and high-speed manufacturing lines.
Another 1,900 jobs will be created during construction, which is scheduled to begin in 2024, the company said. The site will be operational by 2027, the company said.
With the planned manufacturing facility in Alzey, Lilly will operate a total of six manufacturing sites in Europe, including one in nearby Fegersheim, France.
"Every investment into our manufacturing capacity around the world is a renewed commitment to patients today–and to those who may need our medicines tomorrow," Edgardo Hernandez, executive vice president and president, Lilly manufacturing operations, said in written remarks.
Lilly signaled last week that it was preparing to build more manufacturing capacity after U.S. regulators approved its new drug for weight-loss management called Zepbound. Analysts have said Zepbound could quickly turn into a blockbuster as millions of people look for a new way to reduce their weight. More than 40% of Americans are classified as obese.
The medicine, a once-weekly injectable, is widely expected to get approval in Europe as well. Last week, Europe's medicines regulator said its human medicines committee had recommended the drug be approved.
The drug, also known by its generic name, tirzepatide, has been sold under the brand name Mounjaro in the U.S. and Europe to treat type 2 diabetes.  For the first nine months of the year, Mounjaro sold $2.96 billion worldwide.
The drug has been shown in clinical trials to help people who are overweight lose at least a quarter of their body weight, or about 60 pounds on average, when combined with intensive diet and exercise.
The demand for Mounjaro has been so brisk that Lilly occasionally has been unable to meet demand. The company invested $450 million this year in its Research Triangle Park facility in North Carolina with additional drug filling, device assembly and packaging capacity for the company's incretin products, including Mounjaro. Incretins are a group of metabolic hormones that stimulate a decrease in blood glucose levels.
By the end of the year, Lilly will double its capacity to make incretin medicines, compared to a year ago, Ricks said last week. "You'll see more announcements in the future and more strategies."
Lilly has announced investments of more than $11 billion in its global manufacturing footprint in the past three years, including $3.7 billion at a new manufacturing site in Boone County. It has launched 21 new medicines since 2014 and said it expects to launch several more in the coming years.
The company has said Zepbound will be on U.S. pharmacy shelves shortly after Thanksgiving.
The investment in Germany is contingent upon finalization of government permitting and local approvals. Lilly also said it will invest up to $100 million to dramatically increase its footprint in Germany's early-stage biotech ecosystem. These investments will focus on biotech and the life sciences venture capital funds, designed to expand Lilly's incubator and accelerator ties to outside firms.
Please enable JavaScript to view this content.