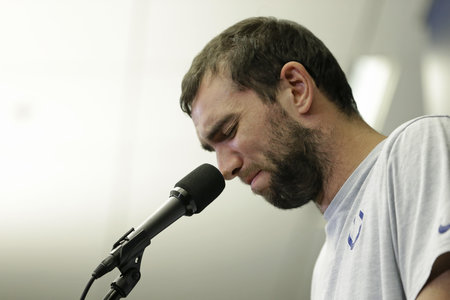 On the night the Earth stood still in Indianapolis—it's not often you see an entire city's jaw drop to the floor—there were moist eyes and breaking voices in the Colts interview room. But no simple or pat answers to explain this decision, made by a young man in pain.
There is much to wonder about, as Andrew Luck heads for the exit.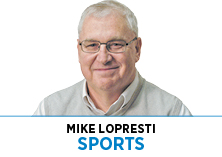 You wonder what the moment of truth really was—the restless night or the achy day when he decided football had become too much. You wonder what the results would be if you could take an MRI of his psyche. How a man could go from Comeback Player of the Year and the Pro Bowl to the retirement list in under seven months, at the age of 29. How a sore calf begat a sore ankle, which begat the last straw. In Saturday night's emotion-drenched press conference, Luck used descriptions such as joy and rewarding and fun to describing 2018. That was only last season. But he had come to make his farewell, certain the joy was gone.
You wonder if this is a big bay window into the cost of playing modern football. Luck called it the greatest team sport in the world, but the physical demands of the game had apparently chewed him up and spit him out, sapping his spirit to play before he was 30. He was worn down, he admitted, in the head and in the body. How much do we ask of those who play the game, and how much must they give? It made you look at Tom Brady, still stacking Super Bowl titles in his 40s, with a new layer of amazement. Luck is gone at 29. Brady has thrown 452 touchdown passes in the season and postseason since turning 29.
You wonder how Saturday night turned so surreal, the bombshell going off while Luck was down on the sidelines with his soon-to-be-former teammates, who were busy playing the Chicago Bears. It spread through Lucas Oil Stadium like a summer grass fire in California. Who says nothing important happens at preseason games? What did the Colts know, and when did they know it, and how did it become breaking news at such a bizarre time?
You wonder if the fools in the stands who booed Luck as he walked off the field are ashamed today. They should be. "I'll be honest," he said later. "It hurt." Indy crowds do not often have ugly moments, but this one was especially sickening.
You wonder if he meant it Saturday night. Standing at the microphone, calling it the hardest decision of his life, the composure that seldom wavered against NFL past rushes turned wobbly, as he tried to explain the journey that led to this. He thanked nearly every living, breathing soul in the Colts building. He seemed at peace, but then again, he said something about not being able to see the future. If a year from now, he is pain free and he picks up a football and it feels so right in his hand and his Sundays seem so empty, what happens then? Michael Jordan unretired twice. Or is the joy gone forever, playing a position where the x-ray machine is always one blown block away?
You wonder when the last time an athlete shocked the sports world like this with the screeching of the brakes on his career. Jordan Retirement I in 1993 perhaps, but you had the feeling the day he left that he'd be back. Magic Johnson comes to mind in 1992, when he announced he had tested HIV positive. For going out at the top of his game in the NFL, there was running back Jim Brown. For a star in his prime years, grown too weary from the constant pain to go on, pitcher Sandy Koufax. Both Brown and Koufax were 30. Johnson and Jordan returned. They never did.
You wonder why punches in the gut keep happening to Indianapolis this decade. Peyton Manning's Colts career cut short. Awful injuries to Paul George and Victor Oladipo. Now this. The other shoe keeps dropping, and they have so often been worn by the city's brightest stars.
You wonder if it has really been only seven years since the Colts parted with Manning, drafted Andrew Luck and settled back for another legendary and gilded quarterback career. More Super Bowls, for certain. More hardware for the horseshoe. Now that era is over, before it ever touched full potential. Before we ever found out what it could be.
You wonder where the Colts go from here, after this piano has been dropped on their heads 15 days before the season opener. The high command vowed good times are still ahead. The roster is too talented, and Jacoby Brissett is more than capable at quarterback. We'll see. The fact remains, it has been 24 years, nearly a quarter-century, since the Colts won a playoff game with a quarterback not named Manning or Luck.
You wonder about the gone-too-soon desolation a young man must feel, when he stands before the world and says, "The only way I see out is to no longer play football. … I haven't been able to live the life I want to live."
He called it coming to "proverbial fork in the road," and he decided to take the exit ramp less traveled. Not a lot of players go that direction at his age. In the end, you wonder if that is the biggest message of all from this drama—that here was an unusual athlete who understood there are other things he wanted out of life, understood it well enough to leave. He might love football, but it claims its victims, and he aims not to be one of them, no matter how much money must be left on the table. No, this was not your garden variety shocker. "I have a lot of clarity in this," he mentioned. He kept repeating that word. Clarity. Time will tell if such clarity is permanent.
A man's life, a franchise's future—we saw them change Saturday night. You wonder about what just happened, and what comes next.
Please enable JavaScript to view this content.