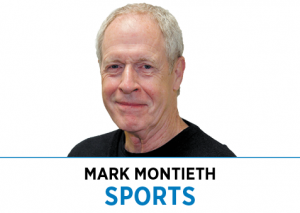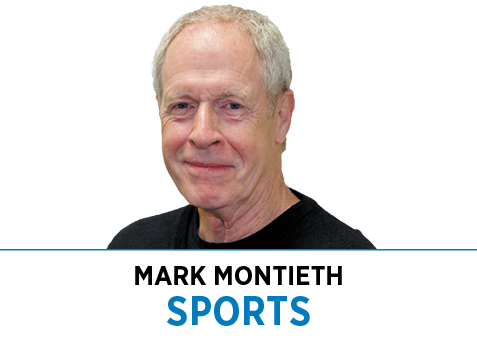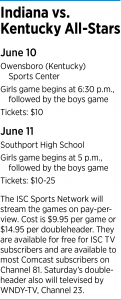 For nostalgic baby boomers, the annual series between high school basketball all-stars from Indiana and Kentucky evokes sepia-toned sadness. Like the once-proud state tournament, it appears to be a faded relic from a time long gone, sputtering along and choking on the modern world's exhaust fumes.
It's fair to wonder if this antique, which renews itself on Friday in Owensboro, Kentucky, and on Saturday at Southport High School, will soon run out of gas and be left on the side of the road. Attendance is about one-third of what it once was, the schedule of practices and games has been shrunk from two weeks to one and some players can't even fit that into their schedules.
None of this matters to Mike Broughton, the Indiana All-Star director. Well, it matters. He's the one tasked with fighting reality and sustaining a series that can never be what it once was. But he leans into the headwinds without blinking, steadfast in his commitment.
"We're going to keep it going as long as I'm around," he says. "I think it's that important."
Broughton, 66, has roots plunged deep into Indiana's basketball traditions. He was a standout player at Hebron High School and Indiana Wesleyan College, then coached varsity teams in the state for 21 years. His 1993 Jeffersonville High School squad won the state championship. He was on Barry Collier's coaching staff at Nebraska, then coached five seasons at Southern Nazarene University in Oklahoma, where his teams won two-thirds of their games and he was voted conference coach of the year.
The annual all-star series with Kentucky entered his radar at an early age. He attended his first one in 1969 when George McGinnis was Mr. Basketball. And while he wasn't good enough to play in it, he became good enough to coach in it, in 1996. He doesn't need to be told of the series' rich history or its current challenges. He only wishes more people were familiar with both and thus more motivated to support it with attendance and sponsorship.
First, the history part.
The first Indiana All-Star team, featuring Mr. Basketball George Crowe, the older brother of famed Attucks coach Ray Crowe, was formed in 1939. It played that year's state champion, Frankfort, in a game conceived by The Indianapolis Star as a fundraiser for the Blind Fund. It drew 5,212 fans at Butler Fieldhouse despite a heavy downpour the day of the game.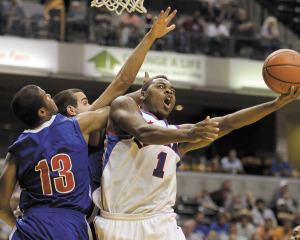 Another all-star team was selected the following year and played a team from Kentucky. While there was some conversation following that game about playing teams from other states in the future, Kentucky has remained the opponent ever since.
The game caught on gradually, first drawing more than 10,000 fans in 1945 and remaining above that threshold every year but one until 2001. It took what The Star called "one of the worst flash floods in history," one of "tropical fury," the previous day to limit the turnout to 9,372 in 1952.
The game in Indianapolis drew at least 14,000 fans at Butler's fieldhouse every year but one (1965) from 1959 through 1970. The fact the fieldhouse was not air conditioned in those days makes those attendance figures even more impressive. The Star used to print the rosters on handheld fans so fans could cool themselves off during the game.
Attendance took another jump when the game moved to a cooler and more comfortable place, Market Square Arena, in 1975. It drew 15,612 fans the first year there and a record 17,426 the following year. It probably was no coincidence that happened to be the first year a girls' game was included in the series.
Certain Mr. Basketballs have boosted attendance all by themselves. The game in Indianapolis sold out the first time for Oscar Robertson in 1956, when 14,578 fans filled Butler Fieldhouse despite "sweltering heat" and another 3,000 were turned away. The 1959 game attracted 14,628 for Jimmy Rayl, about 4,500 of whom came from his hometown, Kokomo. The all-time attendance record of 16,524 was achieved in 1990 when the most publicized high school player in state history, Damon Bailey, was Mr. Basketball.
None of the all-star games have drawn as many as 14,000 fans since then, however. Attendance dropped below 10,000 for just the second time since 1942 in 2001 and hasn't surpassed that threshold since. It got an occasional bump depending on the reputation of that year's Mr. Basketball, such as when 8,244 turned out for IU recruit Romeo Langford in 2018, then dropped back to 5,685 in 2019.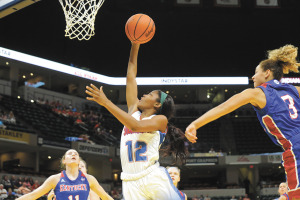 The pandemic forced cancellation of the games in 2020 and limited attendance to 3,500 fans last year because of the need to keep fans separated.
Why the drop-off from the days of sellouts in sweltering heat? Basically, the all-star series is no different than all the other live sporting events hoping to maintain a foothold on the public's conscience.
"People have a lot more to do today," Broughton says. "After 2000, social media blew up, you had Netflix, different things like that. It seems people started having a lot more stuff to do."
Thus, the challenges.
Saturday will bring the first "normal" game since 2019. It will be played for the second year at Southport because Gainbridge Fieldhouse is being renovated, but Pacers Sports and Entertainment, which offers its facility at a reduced cost, has indicated it will take back the games next year.
Such favors are crucial to the survival of the series. Southport has offered up its 7,000-seat facility for free, although the IBCA covers the cost of security, ticket personnel, ushers and the like. The Star, which relinquished management of the game to the Indiana Basketball Coaches Association in 2012, offers free advertising space in the newspaper. Energy Savings Group, the presenting sponsor, has donated $20,000 to help cover expenses.
Last year's games turned a profit of $15,000-$20,000, but some years, the series loses money. Broughton says he needs another sponsor similar to ESG to assure its future.
"In the next two or three years we're going to have to come up with a sponsor willing to throw in with us and keep the game alive for the sake of keeping it alive," he says.
Game directors have made several adjustments over the years for the sake of the financial health of the series. It began with one boys' game in Indianapolis. A game in Kentucky was added in 1955. From 1957 until 2007 the series was a two-week affair. The Indiana players were housed at a local hotel, were treated to various forms of evening entertainment and were even loaned courtesy cars. They also were put through rigorous practices, sometimes two a day.
That no longer makes sense. It's cost prohibitive given the attendance, and there simply isn't time for such an extended schedule in this era. High school graduation ceremonies offer a conflict, and most major college programs demand their incoming freshmen report to campus in June to begin workouts. That doesn't leave many open dates for the all-star series.
Starting in 2008, the games were moved to an earlier weekend in June and scheduled on back-to-back nights after one week of practice. Even then, some players haven't been able to squeeze it into their schedule. Lawrence Central's Tae Davis, one of the state's top seniors last season, originally signed to attend Louisville and was going to play in the game. Then he entered the transfer portal and signed with Seton Hall, where he will play with his older brother, Dre. They had to report to campus on May 30.
"The colleges make the final decision," Broughton says. "There's some tough situations."
Some fans argue for an updated business plan, believing interest in the series could be rekindled by subbing out Kentucky and playing a more formidable opponent. Indiana's boys' teams have won 27 of the previous 30 games and lead their overall series 101-44. The girls' teams lead their series 51-39 and had won every game since 2012 until splitting last year. Surely all-star teams from Ohio or Illinois would include more prominent recruits and offer better competition to make for more interesting games.
Broughton says the topic has been discussed and other states have shown interest in becoming part of the series, but he doesn't expect it to happen. The former players from the series and longtime fans, he says, want to maintain the tradition of playing Kentucky. Game officials from Kentucky, meanwhile, put in a serious effort to keep the series going on their end. Besides, there's no guarantee the games would mean anything to fans in a different state without 80 years of history behind them.
"We just need to play Kentucky," Broughton says. "Maybe if we played Illinois the game would be better. But it's still not Kentucky."
Rather than lament what has been lost, it's probably fairer to focus on what survives.
The series remains the only one of its kind in the country. Some states have North-South games and the like for their high school seniors, but all-star teams from neighboring states playing against one another to raise funds for charities remains a singular event. It's also the longest-running unsullied tradition in Indiana high school basketball now that the state tournament has been sliced into four pieces. It has encompassed the greatest names in the state's high school basketball history and produced some of its most memorable moments while linking today's players with the legends of the past.
"This is the last of the Indiana basketball traditions," Broughton says. "It's the only thing left."•
__________
Montieth, an Indianapolis native, is a longtime newspaper reporter and freelance writer.
Please enable JavaScript to view this content.