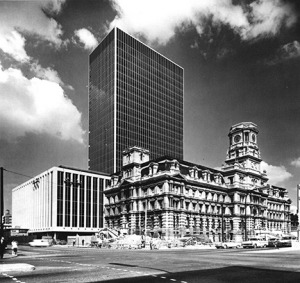 Pictured are the City-County Building and the Marion County Courthouse before it was demolished in June 1962. Marion County court employees had moved into the new City-County Building earlier that year, vacating the 86-year-old Baroque-style courthouse that was built in 1876 (the second Marion County courthouse). The Richard G. Lugar Plaza now sits where that courthouse once stood. Today's courthouse employees are preparing for another big move, as criminal-justice-related departments leave the City-County Building—their home for nearly 60 years—for the new Community Justice Campus.
Credits: Indiana Historical Society, historicindianapolis.com
Source: This photo is courtesy of the Indiana Historical Society. More images are available at images.indianahistory.org.
Please enable JavaScript to view this content.