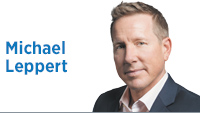 It is not a "coup." It is not "treason." It is the appropriate response to wrongdoing by President Trump that is so clear that the now famously damning whistleblower accusations have already been corroborated by President Trump himself.
The Ukraine telephone call and all of the related activities leading up to it provide legitimate reasons for impeachment. The growing incidents of obstruction pile high on top of it. This is so simple and easy for Americans to understand that the biggest risk to Democrats is to become distracted by all of the other impeachable temptations along the way.
This is nothing for anyone to celebrate. It is a crisis. President Trump has clearly committed an abuse of power and impeaching him is a fitting response. For those who worry about the gamut of political consequences for both parties next year, don't. This is more important than that. Governing usually is.
For Trump loyalists who initially appear to be standing by their man, it could be difficult to vote against articles of impeachment in the House or to convict him in the Senate if the issue remains as clear as it appears right now. What politician, of any party, really wants to say that soliciting foreign assistance to dig up dirt on a political opponent in an American election is acceptable behavior for any president?
The political temptations that these sad circumstances present are equally clear. Democrats might salivate for a sweeping fallout of support for their Republican rivals up and down ballots across the nation. Staying loyal to a historically unpopular president already had electoral risks (see 2018 midterm results). Trump's approval ratings on a state-by-state basis indicated his reelection bid was already in trouble.
With the added momentum of this impeachment inquiry, Democrats might fantasize another electoral year like 1974. Of course, that was a midterm election that happened three months after Richard Nixon resigned in a heap of charred Watergate ash.
Never has an American president been impeached and then stood for reelection afterward. President Andrew Johnson was not even nominated by the Republican Party after his impeachment and acquittal by one vote in 1868. Presidents Richard Nixon and Bill Clinton were both in their second terms when they faced what Trump does today. This scenario is actually the first of its kind in this regard.
There is no way to predict what voters' reaction to all of this will be in November of 2020. And that is one great reason for Democratic leaders of this inquiry and their campaign operations to not celebrate or fear any of this. All they should focus on is governing well.
The primary reason not to jubilate in this process is that what has happened is a historic blemish on our democracy. Our founders created a process specifically for constitutional transgressions like this and Speaker Nancy Pelosi initiated it on Sept. 24.
Johnson, Nixon and Clinton are forever enshrined in what should have been an exclusive hall of shame. Every new inductee to it merely makes that shame more common.
Governing is difficult. There are predictably difficult decisions that Congress makes. Declarations of war, the choice of using deadly force on people that members of Congress never met strikes me as on top of the difficult choices heap. Impeachment and conviction of a president might rank immediately next. It is the undoing of an election—the will of the people.
It isn't easy. It shouldn't be. Because of that, it is way more important to do this right than to use it for gain next November. Our leaders will do well by all of us to stay committed to that.•
__________
Leppert is an author and governmental affairs consultant in Indianapolis. He writes at MichaelLeppert.com. Send comments to ibjedit@ibj.com.

Click here for more Forefront columns.
Please enable JavaScript to view this content.