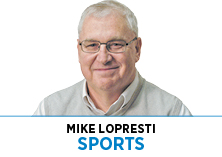 The NFL Draft has come and gone, and everyone sounded happy with their choices. Don't they always?
Once, wouldn't you like to see a general manager step in front of the microphone and say, "To be perfectly honestly, all the guys we really wanted were already taken. We did the best we could with Plan B, but we have no idea what's going to happen."
Then again, nobody ever really knows, and that includes Mel Kiper Jr. If they did, a quarterback named Giovanni Carmazzi would not have been taken in the 2000 draft 134 spots before Tom Brady.
Still, the new wave always reflects the hope of spring, so best to get to know the fresh faces, and not just for their statistics or 40 times or spot on the depth chart. Here is the unofficial Colts Draft Class of 2022 trivia quiz.
What selection was the only player drafted from his entire conference?
That'd be Yale defensive back Rodney Thomas II, the lone Ivy Leaguer to go in this draft, and that was in the seventh round to the Colts.
Thomas is only the sixth Yalie to be drafted in the past 40 years. But in something of an odd 2022 draft, Yale had as many players taken as did Miami and Florida State and one more than Texas or West Virginia.
Who didn't start a game until his fourth year in college?
That's defensive tackle Curtis Brooks, who paid his dues at Cincinnati. He got a couple of starts in 2019, became more of a factor in 2020 and fully blossomed in his sixth year at UC in 2021. COVID can bring strange quirks of fate. No pandemic, no extra season of eligibility, no chance for Brooks to bolster his draft stock to where the Colts took him in the sixth round.
Who caught his first college pass against Lake Erie College?
Tight end Drew Ogletree, back in 2016 when he was wide receiver at Division II Findlay College. That's in Findlay, Ohio, where the first Indianapolis 500 winner—Ray Harroun—grew up. Also Ben Roethlisberger. Ogletree transferred to Youngstown State and moved to tight end. Besides that, he was named Ohio Division III player of the year in high school—in basketball. With Mo Alie-Cox—who played basketball at Virginia Commonwealth University—still on the roster, the Colts tight ends are ready to take on all NFL comers in a pickup game of hoops.
Who went 89-3 his last two high school regular seasons—in wrestling?
Before Eric Johnson was a star at defensive tackle for Missouri State, he was a high school wrestling phenom in Illinois, taking second in the state at 220 pounds as a junior. He went 45-0 during the regular season as a senior but was upset in the state tournament. He was a little less renowned in football. Missouri State was his only scholarship offer. But he bulked up and became a terror. The 220-pound wrestler is now listed at 299 as a fifth-round Colts draft pick.
Johnson is an example of what online scouting service Tracking Football reported—that 88.9% of NFL draftees this year were multi-sport athletes in high school. Only 11% focused on one sport. Someone ought to tell all the parents and coaches trying to get a kid to specialize as a teenager.
Who is the first Colt to have served in the Austrian army?
Before starting his college career, offensive tackle Bernhard Raimann had to do his mandatory six-month basic training hitch in the Austrian military. Then it was off to Central Michigan. He hadn't played a lot of football. He was pretty much a soccer guy into his early teens, when he walked outside his house in Vienna one day and saw neighborhood kids throwing around a funny-looking ball he had never seen before. Next thing he knew, he was an exchange high school student in Michigan playing wide receiver.
He doesn't look much like a wide receiver now, having gained 90 pounds since coming to the USA as a college kid. Presumably, that hasn't all been because he moved to a country that has a McDonald's or pizza place on every other corner. Clearly, he did more at Central Michigan besides play football and eat. He was a double major in actuarial science and statistics.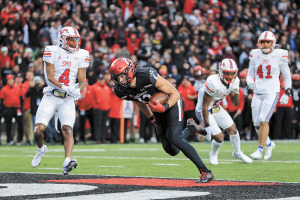 Who is the only Colt to have worked a co-op job at the micro and nanotechnology lab?
That's wide receiver Alec Pierce out of Cincinnati, and if he can be as accomplished here as he's been growing up, Matt Ryan is going to have a blast passing to this guy.
As a high schooler, he set a school triple-jump record and helped his volleyball team win the state championship. As a collegian at Cincinnati, he graduated from a five-year mechanical engineering program in 3-1/2 years. He also found time for 106 career receptions and to be named a captain of one of the nation's best teams last fall.
Who played drums in the church band?
That'd be Jelani Woods, the new tight end from Virginia. He learned to play the instrument not from any sheet music but by listening to the beat. Those talented hands also made him a very productive high school quarterback, throwing 26 touchdown passes in one season.
He went to Oklahoma State as a QB and redshirted in 2017, but when the Cowboys were preparing to play in the Camping World Bowl, Woods was asked to play tight end for the scout team. He was so good at the position, he was moved there the next season. Then came a transfer to Virginia, and now he's here. That day on the Oklahoma State scout team was like making a right turn to Indy.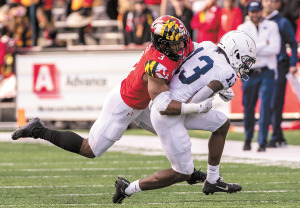 Who was college roommate with the son of an NFL head coach?
Safety Nick Cross was apparently a hot recruiting item coming out of high school in the Baltimore area, with nearly 40 scholarship offers. He decided to stay in-state and went to Maryland, where he roomed with Dino Tomlin, son of Pittsburgh Steelers coach Mike Tomlin.
He also reportedly is an accomplished saxophone player. Woods on the drums, Cross on the sax. If the Colts can find a double bass player in free agency, they'll have their own rookie jazz trio.
Who once played a high school basketball game with a head cut so severe, it needed multiple stitches afterward?
Introducing your next Colts starting quarterback, Matt Ryan. The latest, if you keep track of them as they go by. He's not a 2022 draft pick, but he's new, so let's include him on the quiz. Even if new is an unusual adjective to use for someone in the NFL who turns 37 next week. But he's tough enough to endure, as was shown a long time ago when he took an elbow to the face in that high school game and stayed on the court to score 15 points. Or when he played on a broken foot at Boston College.
Lots of intriguing new faces are now employed on West 56th Street, then. All bringing their backstories with them.•
__________
Lopresti is a lifelong resident of Richmond and a graduate of Ball State University. He was a columnist for USA Today and Gannett newspapersfor 31 years; he covered 34 Final Fours, 30 Super Bowls, 32 World Series and 16 Olympics. His column appears weekly. He can be reached at mjl5853@aol.com.
Please enable JavaScript to view this content.