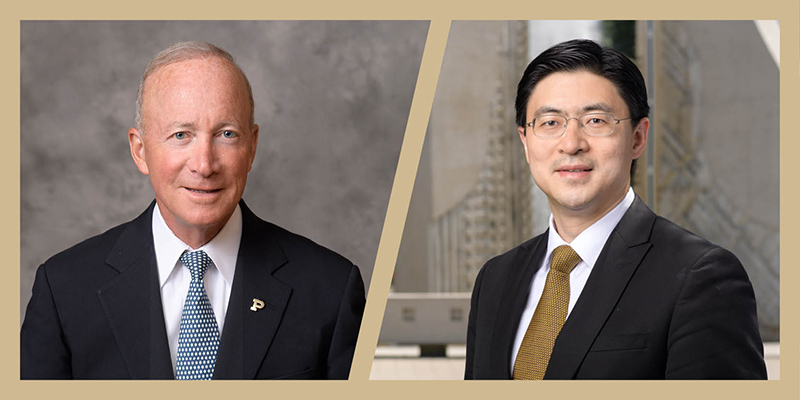 Former Indiana Gov. Mitch Daniels is stepping down as president of Purdue University after 10 years in the role, Purdue announced Friday.
Daniels, 73, will serve until Jan. 1, when he will be replaced by Mung Chiang, the university's dean of engineering and executive vice president for strategic initiatives, the school said. Chiang has been at Purdue for five years.
"The last decade has seen Purdue attain unprecedented levels of national recognition, reflected in record enrollments, academic rankings, and overall reputation," Board of Trustees Chairman Michael Berghoff said in a written statement about Daniels' tenure.
Speaking during Friday's board meeting, during which Chiang was elected, Berghoff said Daniels indicated last year that he was considering retirement in the near future. Daniels then told the board in April that he would retire at the end of the year, Berghoff said.
Daniels, who served as Indiana's governor from 2005 to 2013, became Purdue's 12th president in January 2013. Seven weeks into his presidency, he announced a two-year tuition freeze to address rising college costs. Tuition has been frozen at the school ever since.
"My partner and friend, President Daniels, is part of a generation of proud Boilermakers who take small steps and turn them into giant leaps," Indiana Gov. Eric Holcomb said Friday in written comments. "Purdue University always has been a world class institution with successful graduates spanning the globe, and Mitch has taken the university to even higher levels. During his 10 years at the helm, Mitch has delivered higher education at the highest proven value, from freezing tuition during his entire tenure, to creating a national online university, establishing a network of Indiana STEM charter schools, and making record investments in world-class research."
Purdue said Chiang has played a central role in establishing relationships with federal agencies in the national security and economic development sectors, and in recruiting companies to invest and create jobs in Purdue's Discovery Park District. Under Chiang, Purdue's engineering school has risen to its highest national rankings. U.S. News & World Report ranks the engineering program No. 4 among graduate programs, No. 3 for online programs and No. 8 for undergraduate education.
"Mung is the ideal choice to lead Purdue into its next 'giant leap,'" Berghoff  said. "The board could not be more confident in this selection, as we have had the opportunity to observe his performance across a broad range of duties for five years. He has displayed not only academic excellence but also administrative acumen, effective relationship-building with academic, governmental, and business partners, and the skills of public communications. He brings the entire package of talents and experience necessary to take our university further forward.
Chiang earned a bachelor's degree in electrical engineering and mathematics and master's and doctorate degrees in electrical engineering from Stanford University. He came to Purdue from Princeton University, where he was the first chairman of Princeton's Entrepreneurial Council. He holds 25 patents.
Berghoff said Mung had been offered the presidency of several other schools. "The board is grateful that his loyalty to Purdue kept him here and available as this time of transition arrived," he said.
Chiang offered high praise for Daniels, calling him "the most innovative president in America."
"President Daniels built Purdue into the most consequential public university in the United States," Chiang said. "Under Mitch's leadership, our university attained the strongest academic reputation, from record-breaking enrollment to all-time-high research excellence, from the Ever True campaign to the transformed campus."
Daniels did not directly address his decision to step down during the board meeting, but praised the choice of Chiang.
"We have here a person uniquely qualified to capitalize on the investments we've made over the last decade—hundreds of millions of dollars in people and facilities and connections and partnerships, much which I think his skill set is so ideally suited," Daniels said. "[Chiang] will, I promise you, take you places no one else could."
Please enable JavaScript to view this content.