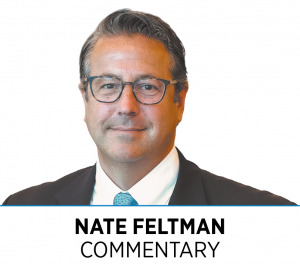 Week after week, another city in America is left to pick up the pieces after a mass shooting. Our city felt the pain last year at the FedEx ground facility near the airport. The latest mass shooting occurred this week at an Independence Day parade in Highland Park, an affluent Chicago suburb.
Like most Americans, I support the Second Amendment to the U.S. Constitution, which grants Americans the right to keep and bear arms. But I also believe in law and order and public safety. Today, our government's ability to ensure these ideals can coexist is in question.
Government today involves itself in many activities that bear little resemblance to the government our Founders envisioned. But the top priority of our government—federal, state and local—must be the protection of its people. Absent law and order, life, liberty and the pursuit of happiness, as outlined in the Declaration of Independence, becomes all but impossible.
A good friend of mine, Michael "Mickey" Levitan, recently shared the following personal story that resonated with me:
"As the biggest in my 10-year-old cohort at summer camp, I excelled athletically and was considered a leader. One day by the lake, two cabinmates began picking on another camper named Michael, teasing him for being overweight, backing him away from the group. As Michael retreated, he slipped on rocks and banged his head, necessitating an immediate visit to the infirmary for treatment.
"Later that afternoon, my counselor sat me down to get my side of the story. After I shared my account, he looked at me and said, 'This was your fault.' I countered that I had nothing to do with the bullying that led to Michael's fall and had been the one to help Michael to the infirmary. He said it again: 'This was your fault.'
"I revered this counselor and was devastated that he was blaming me when I wasn't involved. Tears began to fall. The counselor then began an inquiry that would change my life. 'Do those other kids not see you as a leader?' 'I guess they do,' I sniffled. 'Would they have listened to you if you told them to leave Michael alone? If they would have listened to you and you did nothing, this is your fault. You had the power to prevent this and did nothing.' This was my first glimmer of the enduring adage: With power comes responsibility."
As Mickey put it, every public official needs to heed the lessons ingrained in him by his camp counselor and apply it to public safety. What more sacred duty do our public officials have than to keep people safe? What are those who are entrusted with the enforcement of our laws doing each and every day to prevent weekly mass shootings that gun down children in schools, community members at worship, and shoppers at their local grocery store?
We have the resources and technology to identify the cowardly killers before they act, as there are usually warning signs. Preventing the mentally ill from obtaining and possessing firearms must be part of the solution. And first and foremost, law enforcement must be supported by prosecutors and other elected officials who should demand safety for their constituents.
Just as leaders mobilized and marshaled resources to defeat epidemics such as polio, smallpox, Ebola and COVID, we must do so again to solve the uniquely American gun violence problem. If our elected officials do not make public safety and law and order their top priority, they must be replaced by those who will.•
__________
Feltman is publisher of IBJ and CEO of IBJ Media. Send comments to nfeltman@ibj.com.
Please enable JavaScript to view this content.