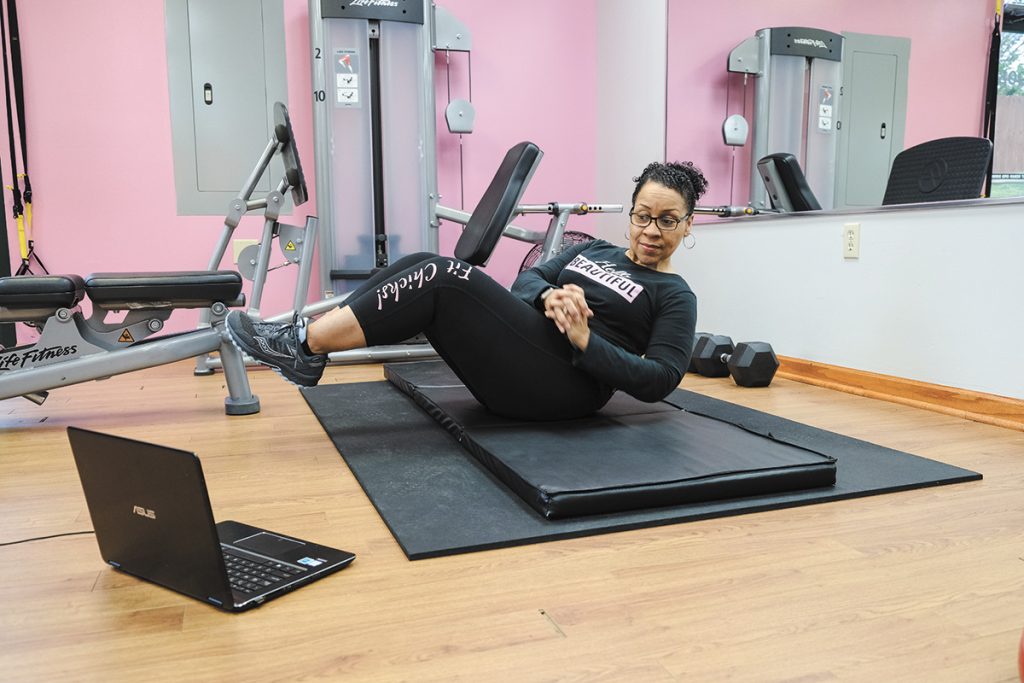 Gym owners who transitioned to virtual training sessions as a shutdown stopgap are now wondering when, or whether, members will return to their regular workout routines.
Since state and local officials ordered gyms and other nonessential businesses to close in mid-March to reduce the spread of COVID-19, fitness facilities have pumped up online offerings to keep members invested. They've also altered their physical layouts in the hope that those members will return when gyms are allowed to reopen in most of the state on May 24. Mayor Joe Hogsett has not set a date for when gyms in Indianapolis can reopen.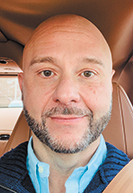 Gym owners face lingering uncertainty about the health risks of the traditional gym model, with its shared treadmills and sweaty saunas, as well as the ongoing disruption to an industry that values routine and repetition above all else.
"We may find that we have three dedicated individuals here to work out and 10 here to cancel" when the gym reopens, said Dan Klausner, co-owner of Carmel Total Fitness. "We don't know yet, but we're going to roll with the punches."
And it appears gym owners have reason to be concerned.
Just more than half of respondents in a national Morning Consult poll conducted May 8-10 found that 52% of adults said they were less likely to go to a gym, based on what they know about the coronavirus.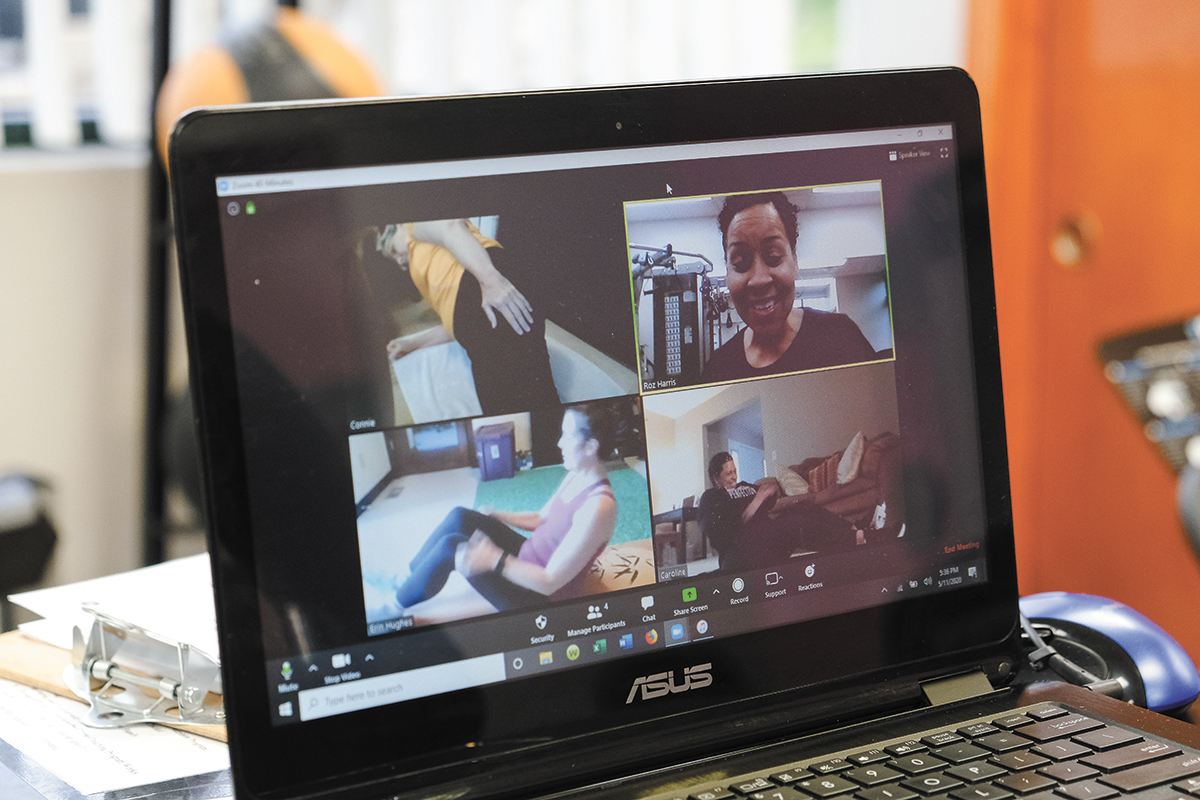 A survey by RunRepeat.com, an athletic-footwear-review website, found only about 50% of respondents planned to return to their gyms when they first reopen. The non-scientific survey, which included some 6,600 U.S.-based gym users, found 10% of respondents had already canceled their gym memberships and a quarter said they would consider doing so.
The survey found the numbers in Indiana to be similar, with 53% saying they would not immediately return to their gyms.
As of Tuesday, 38% of the YMCA of Greater Indianapolis' 35,000 household memberships had either been put on hold or canceled outright. Chief Operating Officer Gregg Hiland said most of those members are waiting to see what the not-for-profit's 12 fitness facilities in and around Marion County will look like on May 24, when they hope to reopen as part of Stage 3 in the state's reopening plan.
In the meantime, the 62% of members who continue to pay their dues are seeing the direct benefit of expanded virtual services.
Virtual expansion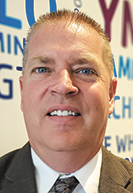 Late last year, the YMCA started providing its members with on-demand instructional workout videos through the international fitness company Les Mills. On the heels of the March shutdown, Hiland said, the YMCA expanded those offerings beyond exercise instruction to include cooking classes, family storytime programming, preschool instructional videos and volunteer devotionals.
"We track the interactions and how many households are taking advantage of the virtual programs we offer, and it's a pretty big percentage," Hiland said.
During the last two weeks of March, the YMCA's Facebook fans watched 58,000 minutes of newly created virtual programming. Its followers grew 289%, and view counts grew 1,500% over the previous two weeks.
Beyond those direct benefits, Hiland stressed that members who continue to pay their dues are also supporting the YMCA's work in the greater community.
"The Y is more than a building. We serve all different kinds of populations throughout the community that never even come to the Y," Hiland said. "Those members that have stuck with us through this, they're the ones that have allowed us to do other things like emergency child care, food distribution sites, blood drives and outreach to seniors."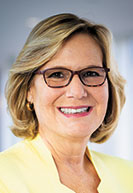 Kim Donahue, a senior marketing lecturer at IUPUI's Kelley School of Business, said gyms and fitness facilities have found a way to provide value no matter their clients' location.
"Now, one of the biggest decisions is how these companies will show the value of coming back in," Donahue said. "In this case, that's going to be connection, the human element and the equipment provided."
Catching on
Fit Chicks Owner Roz Harris is already accomplishing some of those goals through her personal training and nutrition studio's newest platform.
Harris said the studio's first 10 weeks of 2020 were the best she's seen in five years. Fit Chicks was on track to hit 75% of its monthly revenue target by mid-March when the shutdown happened.
Now, Harris has seen a 30% blow to revenue and she's not signed a new client in months. She's been able to keep only two of the studio's eight employees on the payroll as she works without pay to cover rent and launch a new facet of her business.
Fit Chicks started offering online classes through the web-conferencing platform Zoom on April 1. Harris said 35 of the studio's 95 clients joined immediately, and the sessions have grown in popularity. Now, Harris said, some of the 55 women who regularly tune in do so from outside the state.
A typical Fit Chicks Live session allows up to four clients at a time to log in and chat before the instructor starts broadcasting from the Fishers-based studio. Those members are then guided through 40 minutes of personalized training that accounts for their at-home equipment, individual injuries, goals and assignments.
There's even an accountability factor built in. Clients have just 30 minutes to perform their cardio after class before they have to check in by email.
Harris said the effort is paying off. She renewed five memberships on May 8.
"There's not one person that said, 'I need to quit; I want my money back,'" Harris said. "Not one."
Donahue said launching such a program might endanger physical operations, as members with reservations about returning to shared equipment might feel more comfortable at home. Now, she said, customers might expect both physical and online services.
That's a labor-intensive endeavor for many small-business owners, especially as they try to also contend with state-imposed health regulations.
Harris isn't worried, though.
She plans to keep Fit Chicks Live going and even expand it on June 1 to hour-long sessions, but she doesn't think the program will replace the in-person experience. About 15% of her clients have prohibitive technical problems, and almost everybody wants to get back to a focused environment, she said.
"They want to be able to come in," Harris said. "They want to get away from their distractions at home. They're struggling at home with e-learning. Their husband is at home. Their brother came to live with them. There's just no space in their lives."
'Personal aspect'
Carmel Total Fitness hasn't seen as much success with its online programming, but the gym's owners are confident they'll weather the current storm.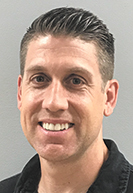 General Manager Scott Visser, a co-owner, said only a small percentage of the members who usually report to the gym are making the transition to online classes.
"The online aspect, it helps, but it will only help for so long," Visser said. "That personal aspect is so important in fitness. You can only do so much in front of a computer screen."
As a result, the gym's revenue is down more than 50%. Klausner said he's stopped collecting membership and trainer dues, and he's had to dip into the business's cash reserves to continue paying the mortgage on his 20,000-square-foot building.
"We've been in business for some time, and we've had significant reserves in place to absorb these lost revenues," Klausner said. "But from a business standpoint, if we don't see the customer base return, we will have to pivot and look to grow the online presence."
Donahue predicted that gyms will see a division in response when they reopen. She said members in their 20s and 30s don't face the same health risks as their elder counterparts, so they'll be more likely to return to the physical space sooner.
"Your older demographic will stay at home," she said.
Making videos easy to find on Facebook or YouTube can help gyms reach their older members, but it might also make it harder to continue monetizing those services. Even if gyms find a virtual subscription model that works, Donahue said, they could fall prey to the same account sharing that's plagued online video streaming services like Netflix.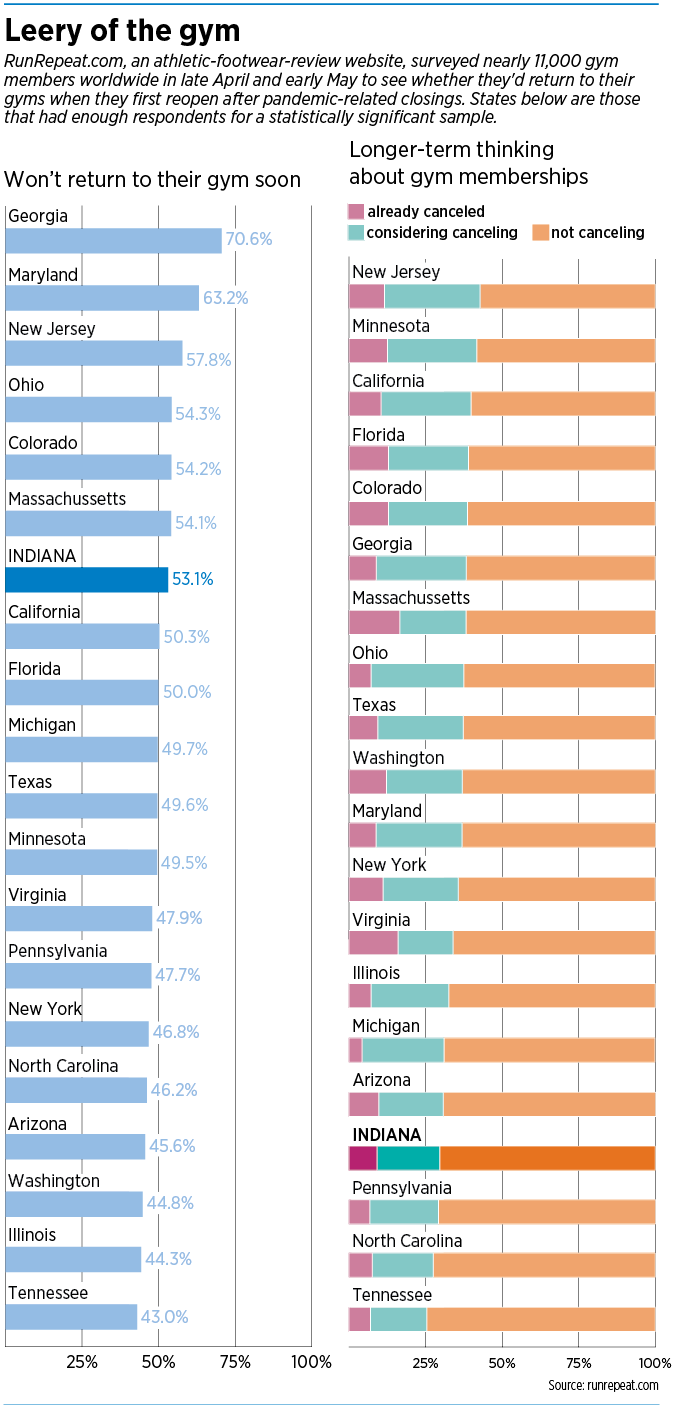 That's why, she said, the best solution for gyms is to prove the value of a return to physical locations. In a time of social distancing, she said, personal connection is the way to win people back.
"You can still have that conversation. It doesn't have to be close and it can be with a mask on, but eye contact and using their first name and speaking to them," Donahue said. "It's that kind of connection they want."
Physical operations
Right now, the YMCA of Greater Indianapolis and Carmel Total Fitness are preparing to reopen their physical locations on May 24.
When they do, every other machine in a row might be decommissioned to promote social distancing. Decals will be affixed to the floor of group instruction rooms to help members stay more than 6 feet apart, as called for by CDC guidelines. Members and staffers alike will be expected to increase the frequency with which they wipe down and disinfect equipment.
Hiland said YMCA employees will be required to wear masks and visitors will be encouraged to do the same. Guests will be greeted by desk attendees through an acrylic barrier. Signs and employees will ask if a member is experiencing any symptoms related to COVID-19. If members have a fever or a cough, Hiland said, they'll be asked to leave and stay away until those symptoms have cleared.
In addition, the YMCA will make its cleaning efforts more visible—rather than trying to keep them out of sight. During the initial phase of each building's reopening, parts of the facilities will be fogged throughout the day and the entire building will be fogged at night to kill any lingering viruses.
At Carmel Total Fitness, Visser said, guests won't be able to drink from the water fountains or use the sauna due to the high potential for contamination. Masks will be available for purchase behind the front desk.
Harris has her own plans for increased safety measures at Fit Chicks, but she'll have more time to put them in place than those other fitness facilities. She's planning a hybrid reopening through June that invites clients who weren't able to participate in the online classes to don a mask and come in for a Fit Chicks Live session.
Employees will be screened before work each day for symptoms, and the studio will continue to enforce a policy that sends anyone home who appears sick.
When Fit Chicks completely reopens on July 1, Harris said, she's planning to expand her hours to allow for additional cleaning, and to limit her studio to a maximum of 11 people at one time.
"If it's appropriate to take everybody's temperature, we will," she said.
Donahue said diehard gym members are already concerned with their health so will likely adhere to social distancing and gym rules about sanitizing and wiping down equipment.
"I would just be on the lookout for those who aren't, which would probably be the exception and not the rule," she said.•
Please enable JavaScript to view this content.