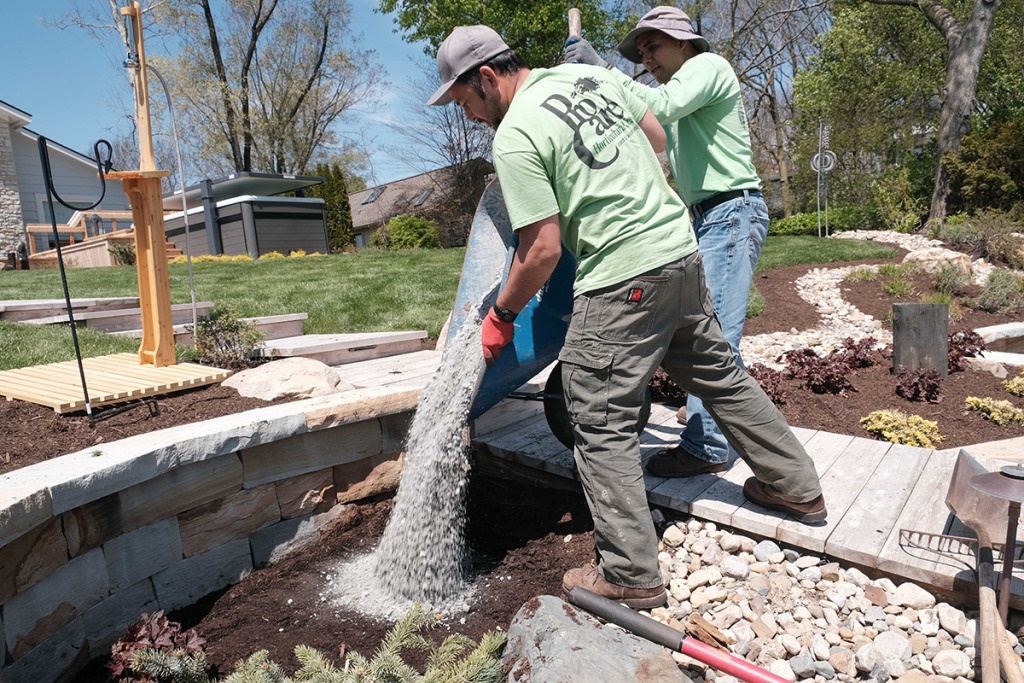 Homeowners looking to build the tranquil garden of their dreams might have to find their peace elsewhere. Local home and garden stores are continuing to struggle to meet the pandemic-fueled demand that began last spring.
Consumer interest in creating outdoor living spaces exploded during the lockdown and continued through the summer. Now, even with pandemic restrictions easing, local businesses say they continue to see increased demand for patio furniture, landscape design, plants and other outdoor goods.
As a result, the supply chain can't keep up, forcing retailers and service providers to make substitutions in products, forge new wholesale partnerships and even miss out on some sales by recommending customers wait until the situation is a little less volatile.
"I thought, because the pandemic is somewhat winding down and people are getting a little bit more back to normal, we'd also see a return to normal," said Pat Sullivan, owner of three central Indiana Sullivan's Hardware & Garden stores. "But we're not. Across the board, demand is outstripping supply."
The National Retail Federation, the world's largest retail trade association, reported that March sales for building materials and garden supply stores were up 32% from March 2020, even after that month was up 10% from March 2019.
Sullivan, who purchased what's now known as Allisonville Home & Garden by Sullivan early last year, said his sales last month were up 400% over March 2020's already-high figures.
But the increased business isn't all sunshine and daisies.
Sullivan was already dealing with higher costs due to tariffs on Chinese goods when one of his Ohio-based suppliers that can usually pump out a shipment of Adirondack chairs in two or three weeks told him it would take 14 weeks to send him another order. On top of the delay, Sullivan said, the supplier added a 7% surcharge midseason.
He wasn't alone in his frustration.
Scott Horvath, owner of the O'Malia's Living outdoor furniture store at 115 Medical Drive in Carmel, said one of his product manufacturers slapped a 32% price hike on products in March. In addition, O'Malia's received just half the outdoor heaters Horvath ordered earlier this year, and he's not expecting to get the grills he ordered until July, when the buying season for outdoor goods normally ends.
"That really hurts the retailer, so you have to look at other products," he said. "We've been fortunate through our buying groups to establish new and different relationships to bring in products that people find interesting."
For example, last year, when one of his patio furniture brands couldn't deliver the products he needed fast enough, Horvath flew down to Mississippi to check out another brand. When he saw that brand could meet his needs, he signed a $200,000 purchase order on the spot.
It's a move away from O'Malia's traditional operations. Horvath said his business used to be a place where employees would walk customers through a book with 500 patio umbrella colors and patterns, then place an order to be delivered shortly. But the pandemic has forced many stores to rethink their roles.
"Today, in the COVID world, we're much more of a buy-here-and-take-it-home type facility," he said. "I don't know if that will stay like that, but people want it now."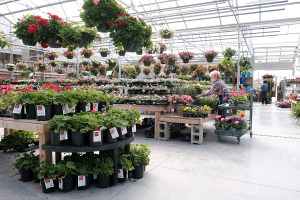 Global impacts
Although Indiana and the United States are seeing some respite from COVID-19 restrictions, home and garden stores' supply chains are part of a global system. Vaccination rates across borders aren't consistent, so some manufacturers are still operating at reduced capacity even as demand is skyrocketing.
Leah Flanagan, owner of The Forest Flower garden center at 3205 W. 71st St., said those factors are the reasons her customers are having to settle for second choices.
"The supply chain is completely jammed. Every step of the process is clogged," she said. "This isn't the year to want something specific—a specific plant or size. This is a year to say, 'Here's what you have. I'll choose from that.'"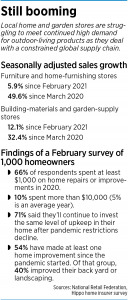 Part of the pressure this year comes from last year's unexpected demand. Flanagan said sales were off the charts—so much so that she sold some of this year's supply.
"We already started off with a shortage, and demand continues to be high," she said. "People are still at home, and one thought is that they started [gardening] last year and enjoyed it, so they want to do it again. There was already an uptick in demand, then the pandemic intensified that."
Inconsistency from her suppliers has also made each day a guessing game. Flanagan said she's had trouble getting the right size bags of soil she needs, terra cotta pots imported from Italy and Germany have been scarce, and she's not sure when she'll be able to restock her dwindling supply of watering cans.
There are just some things you can't get, she said, and what you can get tends to be at least 10% more expensive.
"It's every channel, every category—and there's no rhyme or reason to it," Flanagan said. "You can't think too much about it. You have to address the challenges that are there today, because the supply is so messed up and they can't even give you a ballpark most times."
Flanagan said she's already worrying about finding a Christmas tree supplier, but she's trying to take it one day at a time.
"I'm worried about it," she said. "It's May and it's my busiest time of the year, but it just stays in the back of my mind."
Landscaping delays
The grass isn't any greener on the service side of the industry.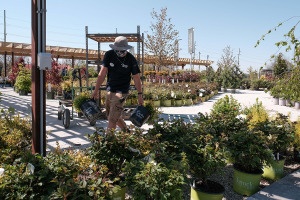 Lowell Rolsky, owner of Pro Care Horticultural Services at 9801 Commerce Drive in Carmel, said demand for the company's landscape architecture and design services is up—and there's no indication it will slow down anytime soon.
Normally, it might take six to eight weeks from the time a customer calls to the time a job is finished, Rolsky said. Now, he might not be able to take on a new job until late July or even August.
"Staying home has resonated with people, and they're saying, 'If I've got to be home, why not have something nice in the back yard, some points of interest I can elaborate on?'" he said.
Part of that demand is representative of a shift in Rolsky's customer base. During the pandemic, his normal near-retirement-age clientele has shifted to a much younger crowd.
"Now, we're dealing with customers in their late 20s and 30s that are investing in a home because they've decided this is where they want to be," he said. "More people are interested in spending more money at home than they ever thought they would, but when you get into other issues like the cost of lumber and some building material products … it becomes difficult to predict how much something might cost when the time to do the work happens."
Rolsky listed some of the same problems facing garden stores: Demand is high, homeowners' visions can be specific, and there's just not enough help to go around.
For now, he's encouraging customers who can to put off their projects for planning and cost-efficiency sake.
"We always try to tell customers that landscaping is like life: It's about compromise and sacrifice."•
Please enable JavaScript to view this content.