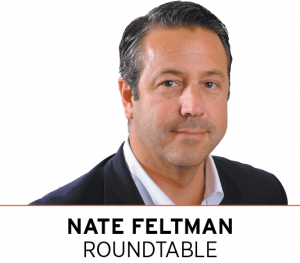 IBJ invited a group of community leaders who have been involved in sports and economic development throughout the past 40 years to talk about the city's sports strategy, how it developed and why it remains important.
Nate Feltman, co-owner and CEO of IBJ Media Co. and publisher of IBJ, moderated the conversation, which took place remotely using Zoom.
The entire conversation is in the video above. Here is a partial transcript of the conversation.
Nate Feltman: I'm going to start with a question regarding the history of our sports strategy. How intentional was it? What is your recollection of the early days?
Mark Miles: I think the strategy evolved. There were people, both in the private sector and in government, who believed that we had to make Indianapolis' downtown into a vibrant downtown. And there were a number of ideas about how to do that, and sports was certainly one of them.
And in the late '60s and early '70s, we were about to lose the only professional franchise we had, the ABA Pacers, which was playing—it's hard for people today to imagine—but they were playing at the Coliseum, the state fairgrounds. So private-sector folks, then Mayor [Richard] Lugar and others, came together to get the Pacers stabilized and moved downtown in what really was the first venue downtown, Market Square Arena, in 1974.

And then there was a tennis venue built [at IUPUI]. And then the Congress passed an act which created national governing bodies for each of the Olympic sports, and local folks rallied around an effort to bring many of their headquarters here, which was great because it allowed our community to get really close to some of the key sports. And then we realized, they have big events and big events are super because they bring other people's money here.
They spend their money in our hotels and our restaurants. It puts us on television, which gives us great branding opportunities for the city. And then things kind of exploded.
Susan Williams: I think the Pacers deal was critical. … And I also remember the debate around putting Market Square Arena downtown. That was huge, and Lugar caught a lot of flak about that. … What struck me was, the political will was so strong that people were able to take that flak and just move forward—unlike today. It was the same thing when [Mayor] Bill Hudnut decided to build a multipurpose venue with no football team and it was kind of a "build it and they will come" attitude. There was the political will to do that.
The other thing that I think is really important was, we picked sports as the centerpiece because it brings people together and it's exciting and so forth. But along with that, the community really invested heavily in arts and culture with the renovation of what's now the IRT and the Circle Theatre, the White River State Park, and that vision to get rid of that sort of wasteland down there and replace it with something wonderful. That gave the city not only the excitement of sports, but the quality of life.
Allison Melangton: Actually, I'm a product of the sports movement because I was living in Colorado in 1983 and I worked at the U.S. Olympic Committee in 1982 when Indianapolis hosted the National Sports Festival. And it was amazing because I'd never been to Indiana. And I kept hearing all of the talk about what Indianapolis was doing and how amazing it was, and if you really wanted a career as a young professional, in sports, you should move to Indianapolis. So that's what I did.
Mark mentioned … the national governing bodies of the various sports. They moved several, I think it was seven, at the same time to Indianapolis and I moved to Indiana sight unseen as a product of that and went to work at one of the national governing bodies. And I did that based on the reputation that Indianapolis was building. Sandy Knapp had come out, and I was at a U.S. Olympic Committee meeting when she laid out the plan for the National Sports Festival.
She was the founding leader of the Indiana Sports Corp. And she was a salesperson. She sold everybody that … it was going to be the best National Sports Festival in the history of the event, and it was. So, it was a great move on the city's [part], thinking ahead and getting ahead of all the other cities that were starting to think about it. We were the first sports commission in 1979 ever founded … [and] I think there's over 500 of them now.
John Thompson: I moved here in 1984. To be exact, Feb. 5—not for sports, but to join Mays Chemical with the idea of maybe three years later moving back to New York City and opening my own chemical distributorship. And I was quite struck immediately by the community and civic engagement here.
I was born and raised in Baltimore. I'm a Colts fan. … I called my mother and I said, "Mom, these people's elevator doesn't reach the top floor, because they built a football stadium and they don't have a team." I called her back about a month later and said, "Mom, it goes above the top floor. They have your team," because we had gotten the Colts and I realized right away that there was a sports strategy here that was differentiating from other communities and it was working.
The other part of that initial period for me in 1984 was, I got here and, right away, we're launching Circle City Classic … which, if you remember, in the early years—first five, six, seven years—Classics sold out the [Hoosier] Dome. We completely sold it out. And there were only eight Classics at that time in the country, historically black colleges playing football in Classic games. And so we were a big success that, like the sports corporation, set the model for the rest of the country.
By 2003 or so, there [were] 66 Classics in the country. And we started to see our attendance erode. … But our Classic is still alive and brings some cultural diversity to our sports strategy.
Feltman: Ryan … you were probably not born yet when that strategy started and so you're the youngest of the group here, but now you're in the prime pole position at the Sports Corp. … What is that competition like now?
Ryan Vaughn: Before I get to that, this panel gives me the opportunity to just say thank you for all these people that started working on this sports strategy so long ago. It's interesting to hear them talk about these key moments in the development and how it impacted my life growing up, sort of unconsciously realizing that there was a sports strategy. I mean, I learned how to swim with free community swim lessons at the newly opened IU Natatorium in 1982. I played in the youth soccer tournament around the Pan Am Games. All these special memories come rushing back. And of course, then, I didn't appreciate all the work and effort that went in to make it possible.
But the legacy is tremendous. … It's the thing that makes us the most special. I mean, the opportunities that we have today, hosting March Madness, hosting our eighth Final Four, attracting college football playoffs is really built on a reputation that started 40-plus years ago, of delivering high-quality events and actually making each of those events better.
And so one of the great joys I've had leading the Indiana Sports Corp. is sort of this conversation Allison and I had in the transition, which was, "Hey, there's a ton of people in this community that have invested a lot of time, energy, money and effort to make this successful. They're all here to support you. You're not alone. It's the leading strategy and the city. Just don't screw it up and don't be afraid to call us." And it's been true.
Feltman: John … how do you view the economic impact [of sports]?
Thompson: Sports has had a tremendous economic impact on the state, and it's come in so many varied directions. And the impact's been felt in virtually all 92 counties. I know for sure when we built the dome, and then subsequent to that, the work on the convention center and Bankers Life [Fieldhouse], 91 counties have participated in supplying goods and services to those facilities and sports organizations.
It would be tough to think of the restaurant, hotel and entertainment climate in Indiana without the energy and the facilities that sports has brought to the state. … Could you have a JW Marriott if you had no sports and all that sports has brought? And so you go from service contracts to those facilities and those teams, and you can see a huge impact there.
Vaughn: The idea of sports and our ability to attract major sporting events and conventions always makes those political conversations around economic development opportunities a lot easier. One of my first votes ever as a new city councilor was actually to authorize the issuance of debt for Lucas Oil Stadium. And the argument was less about Lucas Oil, [and more] about doubling the size of the convention center—what that could mean for bringing on board the JW Marriott. And you talk about the impact just those three buildings alone have had on our downtown—[it] is tremendous.
Our ability to do convention business literally almost doubled overnight. The size of the conventions we have, we can have multiple conventions at the same time. Because of the JW and because of Lucas Oil, we were able to do things like the Super Bowl.
Feltman: I want to go to Mark and Allison [about something] I think is special about our city, and that's volunteerism. … Mark, you recently in one of the IBJ interviews or discussions you had with us mentioned that the city over-delivers, and that's our secret sauce.
Miles: Yeah, it's phenomenal. … I'd start with the Olympic Sports Festival and National Sports Festival. I mean, that was really the thing that gave us all the idea and the organizational principle. And I think Sandy Knapp and Ted Boehm deserve all the credit for it. And maybe a little bit of Peter Ueberroth, because we stole some of what was done for the Olympic Games in Los Angeles, where you asked talented volunteers [whom] you could never hire; you could never get them to leave their day jobs, to take real management responsibilities for these big events. And then [have them] go attract and recruit everybody they could get to help.
And that still to this day works. The Sports Corp. staff has always been phenomenal, but they really have been there to coordinate and to facilitate the volunteer talent that comes together to do these major events. And that means two things in my mind: One, we've never really missed. You couldn't hire that kind of competence to pull off an event. And, two, everybody in town gets involved. And we've always tried to do that in a way that was as inclusive and diverse as possible in the process.
Melangton: In addition to that, this organizing, this special sauce and the civic engagement … part of it is the way we organize them … better than anybody else in the country. As Mark said, we got the right leaders in place that could make decisions. They were empowered to make decisions. And they rallied the troops across the entire city to get people to work together, hand in hand. No matter what your job was, or your background was, everybody worked hand in hand together.
And with the Pan American Games, I believe we had 30,000 volunteers. For the Super Bowl, we used 12,000 volunteers. And in the meantime, all these other events that we're doing—the NCAA Final Fours, the world championships, the Olympic trials—we're training all these volunteers in leadership roles and in individual shift roles to be the best they could possibly be.
Williams: We had a partner at Ice Miller that did all the logistics for transportation and it was year after year after year. We've got a volunteer that's done the referees and the officials for the Big Tens year after year after year. The officials come, [the volunteers] know these people, they're friendly with them, they're treated like royalty and that's important. And the coaches know a lot of our volunteers because they see them behind the scenes every year, every year, every year. So that's really, really huge.
We had an organizing committee for some event. I can't remember what it was. And the city of Boston was here watching because they had it next. It was probably a Final Four. And so we had these 6 a.m. meetings or seven o'clock, I can't remember. It was God-awful early. And everybody came together that had an important role that day to make sure to troubleshoot, so on and so forth. And this woman from Boston was just awestruck that the state police, the city police, the [Department of Public Works] people—all those people were in the room, eating doughnuts, slapping each other on the back and cooperating. And she said, "This would never happen in Boston. Never."
So we really can't say enough about just our local law enforcement, public safety, public-works people that are there every time and they really enjoy it. It's not begrudging. … They really enjoy it.
Feltman: Can we just keep going? Can we keep growing immensely in this area, or are we maxing out our potential?
Vaughn: We can do more. It's the Jim Morris saying, "Do more, do it better, do it together." There's always room for us to grow in that front. We do have an incredibly busy schedule, but candidly, we have a lot of capacity coming online, too, with new hotels going up. We can move from a city that hosts one event to multiple events simultaneously and really continue to drive that impact.
I also think one of the things that we've been really intentional about throughout the history, but particularly I would say the last few years, is viewing the economic impact and the brand-building and talent-attraction impact of sports beyond just the event. The event will always be our first and foremost focus, but we've done things in the last few years, like start a sports-tech accelerator and develop businesses and have them relocate to Indianapolis, and they're choosing to do so because of the partnerships we have with all of the professional sports and because of the events that we have.
There are ways beyond an event itself where you can be super-intentional about growing the impact sports has on our economy, on our talent attraction. There's ways to broaden the mission at the same time, continuing to deliver at a high level as it relates to events.•
Please enable JavaScript to view this content.