When the pandemic shut down college campuses and workplaces in 2020, it did the same for internships. Two years later, companies, students and professionals are still deciphering how to move forward with workplace changes, including the internship experience.
Gary Beaulieu, senior director of career and professional success at Butler University, said in an email that 30% of students at Butler with internship offers in 2020 had those rescinded; the remaining internships happened remotely.
Beaulieu said Butler's professional services team heard that interns felt cheated by the lack of in-person experience.
"Students expressed frustration that they couldn't learn about the culture of the organization or interact with others as much as they wanted," he said.
Since then, employers that still use a hybrid or remote-work style have struggled to offer interns flexibility that includes the immersive experiences they desire, he said.
"What is most important about changes in internships is that employers have really focused in on being able to share their culture with interns," Beaulieu said. "It's been the most challenging piece discussed by employers we work with."
Working from home is unpopular among interns nationally. According to an analysis by Glassdoor, a job search website, 70% of interns dislike remote work, compared with only 40% of part-time and full-time workers. In fact, working from home polls badly among young workers in general, who say they want face-to-face networking and mentoring.
Yet remote internships are still in demand.
Tori Smith, a junior at Ball State University, knew she wanted a remote internship so she could work from her hometown of Wakefield while still gaining career experience. But the market was full of other students looking for the same jobs.
"I was only looking at the remote options, which is—you know—difficult, because everyone else in the world was as well," Smith said.
She spent months searching on LinkedIn, Glassdoor and Indeed before finding her summer internship for a Virginia company. She does eventually want an in-person or hybrid position because of the interaction with co-workers they provide.
"I think, for me personally—obviously, I can't speak for everyone—but I really miss having that in-person communication," Smith said.
Kansas State University graduate and part-time Bloomington resident Erin Siegel uses hybrid work to hold down a job in Florida but travel back to Indiana frequently to be near family. Her college internships didn't go so smoothly, though.
In 2020, Siegel had accepted an internship position in Gainesville, Florida, with a political consulting firm but was sent home to work remotely. She later interned in media relations and government in Indianapolis, where she booked a long-term hotel to work with the internship's hybrid schedule and avoid commuting from Bloomington to Indianapolis.
While the internship set-ups weren't ideal, she said they still gave her the skills necessary to work in communications. Mentally, the combination of remote work and pandemic restrictions did have repercussions, she said.
"I do think there were some mental health effects," Siegel said in an email. "Just loneliness, isolation, depressive symptoms. No boundaries between work and home."
Because she's been able to work in-person in her current role, she has a familiarity with the workplace and her co-workers that makes remote work better than it was during her pandemic internships, Siegel said.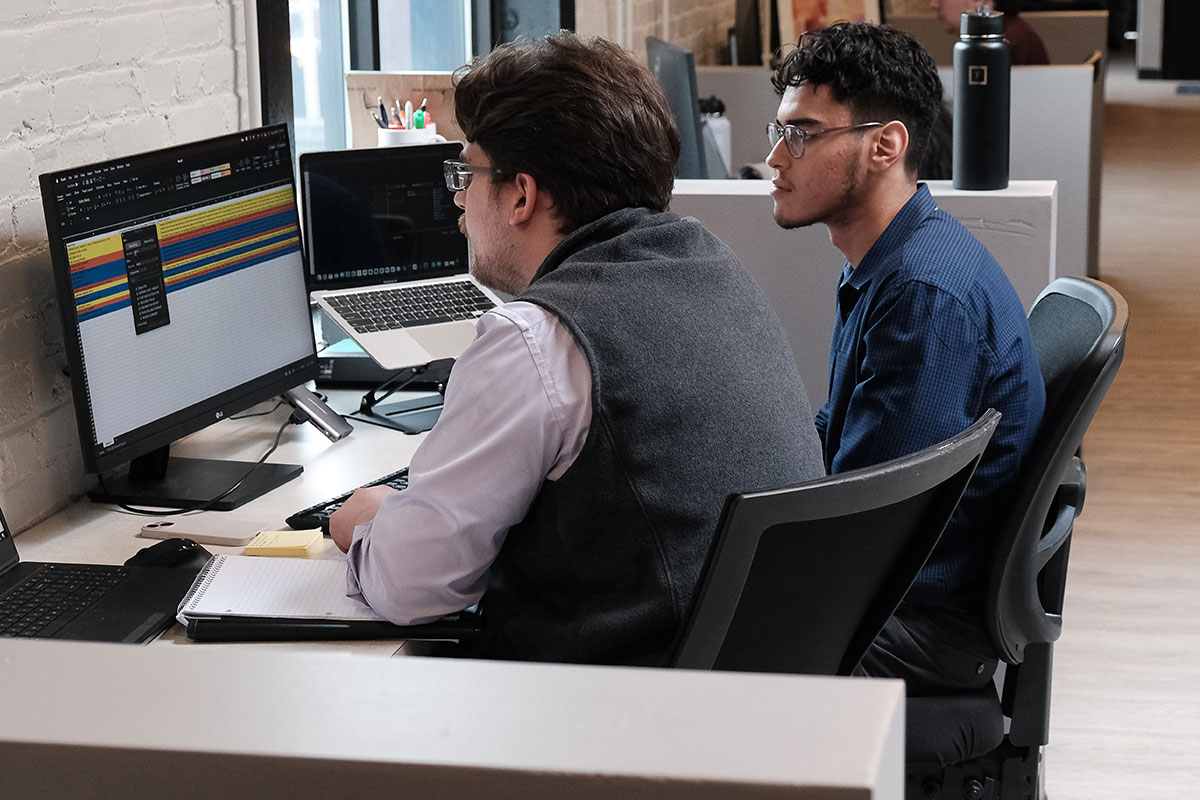 A recruitment tool
Kate Pangallo, director of talent partnerships for the Indy Chamber, said that, although companies are offering more full-time remote options in general, new hires are often given hybrid roles so they can create a sense of belonging and be immersed in the organization while still being offered more flexibility than the pre-pandemic norm.
For internships, many larger Indianapolis-area companies offer a variety of structures—some fully remote, some hybrid and some in-person—to help draw more students, Pangallo said.
Some companies don't have the resources to provide multiple options, though. Midsize and smaller companies are more likely to have remote-only or hybrid models, she said. Often through Zoom get-togethers and remote scavenger hunts, these companies try to create a community for the young adults they host.
Pangallo said that, because companies are increasingly fighting for talent, they should continue to invest in interns and find the structures that work for them.
"It's a great opportunity to recruit individuals from outside of the state or from schools that they may not have always been able to attract talent [from], and get [the students] involved within their organization and start to build that future pipeline," she said.
It remains to be seen how remote and hybrid internships will affect efforts to keep college-educated students in state, she said.
"If they're here in Indy, but they're working hybrid or remote, they're not experiencing that typical atmosphere that we've seen in the past that you would receive in an in-person environment," Pangallo said. "Will they feel as connected to the community of Indianapolis or Bloomington or wherever they are located? And what will that mean for retaining those folks or pursuing those folks to come and work there down the road?"
'Help bridge the gap'
TechPoint, a not-for-profit that seeks to grow Indianapolis' tech ecosystem, typically offers intern housing at local college campuses. Early in the pandemic, the group converted its full-time paid internship program, called Xtern, to remote work.
When students with other internships started losing them altogether, TechPoint wanted to offer a solution.
"As soon as the pandemic hit, a lot of students lost their internships because it just wasn't an option to be virtual," said TechPoint Talent Program Operations Manager Addy Monger. So, TechPoint created the SOS Challenge, now called The Pitch, which tasked interns with finding a problem in Indianapolis and solving it.
Monger said the program helps fill tech positions by introducing students to the area and showing them what a career could look like. This is helpful not only to students but to employers as well.
"There's a huge crisis right now, obviously, in Indiana, finding employees and stuff like that," Monger said. "So [employers] really want to connect with these students early on to kind of help bridge that gap so, when they do graduate, they're going to want to go and work with them."
Employers are dealing with a class of workers that might not have worked full-time, in-person gigs in two years, said TechPoint spokesperson Cheryl Reed. This means employers have to adapt.
TechPoint has seen the benefits of a hybrid program for its interns. Some students don't have reliable transportation, so opting to carpool a few days a week is easier than organizing rides for a 40-hour, in-person work week, said Moe Simmons, talent program operations coordinator.
This year, the program has 75 in-person The Pitch participants and 139 Xterns.
Another company bringing workers to Indianapolis, OneAmerica, recently touted its largest class of interns. The financial services company has 36 college students this summer working virtually and in person.
OneAmerica's program went virtual in 2020 and prioritized creating touchpoints for interns, said Robin DeProspero, senior director of talent acquisition.
"We have a relationship strategy that's critical for us, and so we really put that into place," DeProspero said. "We made sure that our interns had a mentor, that they had connecting points each day, each week."
Despite efforts to make remote work enjoyable, a survey last year revealed that most program participants would prefer to work in the office. This year, just three of the 36 interns work remotely full time; most work a hybrid schedule.
Last year, 80% of those eligible to be hired became full-time associates, DeProspero said.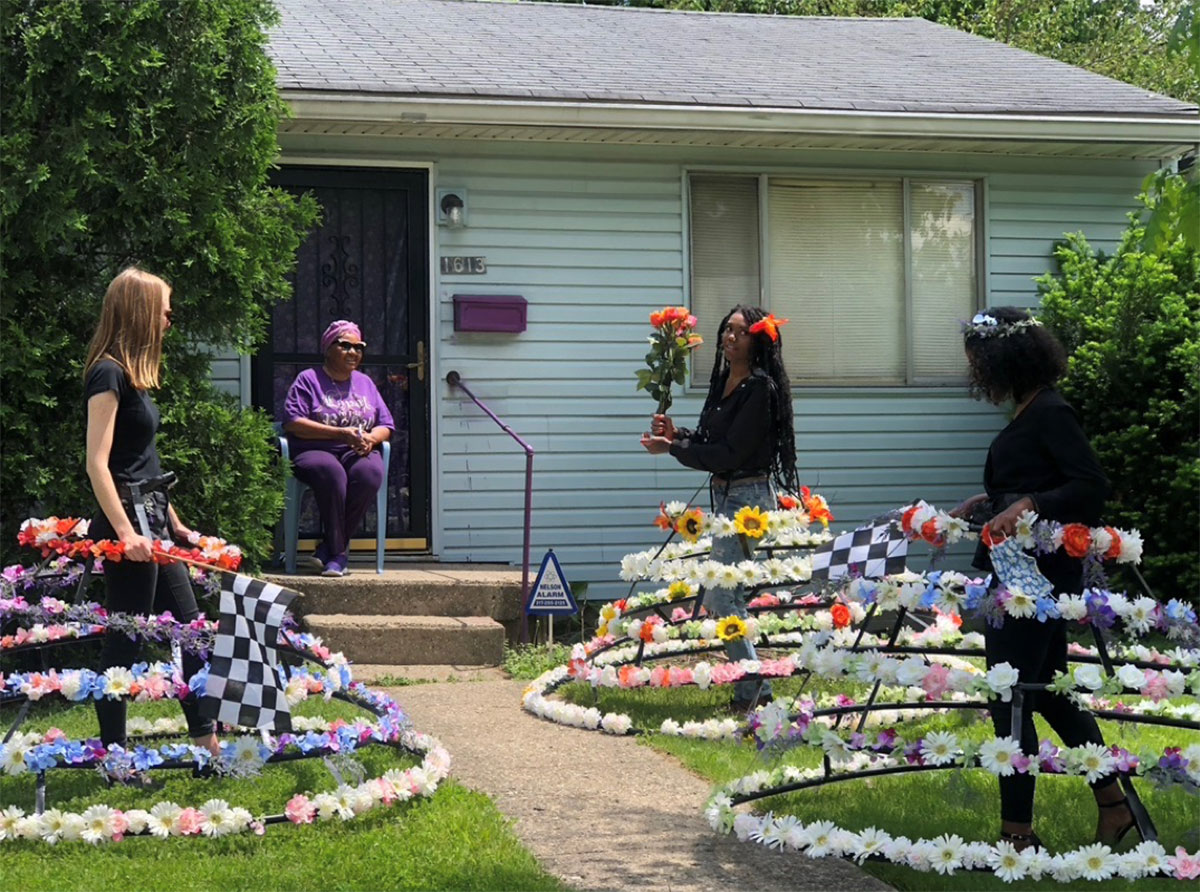 An atypical experience
Harrison Center for the Arts was one of the employers that had to get creative with its internships when the pandemic hit. The not-for-profit personalizes each position for about 35 interns a year. Some of those students were able to work from home during lockdown—making calendars and setting up online art sales, for instance—but many hands-on jobs required a redesign.
"Because everybody was afraid and nervous, we knew that art was needed more than ever," said Executive Director Joanna Beatty Taft. "And so, we felt like artists can be creative; artists can come up with ways to serve and be safe."
Harrison Center interns delivered scones via drones, brought flowers to neighbors while donning social-distance hoop sculptures and smashed a COVID-shaped pinata filled with masks and hand sanitizer.
The Harrison Center had a positive impact on Michael Lowery, a graduate of Herron High School. He created a gallery playlist and wrote music for a documentary during his internship.
"I remember just thinking to myself, I was like, 'Wow, I completed the song for the first time,'" Lowery said. "That was honestly like, on the verge—it was a lot of mixed emotions—like, I was on the verge of tears. I was excited. I was nervous."
The center's community and support helped him through the lockdown and civil unrest that followed the police killings of George Floyd and Breonna Taylor.
Although the lockdown proved difficult, Taft said it gave the center some of its greatest work.
"I would say that COVID taught us that constraints produce the best creativity," she said.•
Please enable JavaScript to view this content.