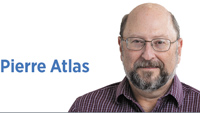 In my first column for IBJ in February 2019, I wrote that, "As a comparative political scientist who has examined both democratic and authoritarian regimes, I am well aware of the dangers of undermining the rules, norms and institutions of democracy. Democracy is a delicate fabric. If you start pulling at its threads, it could soon unravel."
What we are seeing today, weeks after Joe Biden's overwhelming victory on Nov. 3, is a president, his lawyers, conservative media and numerous elected Republicans all deliberately yanking at those threads.
According to Republican and Democratic secretaries of state, the 2020 elections were the freest and fairest in U.S. history. At the federal level, government agencies worked together seamlessly to inhibit foreign interference and assist with election security. But this factual reality has not stopped the Trump camp from peddling false charges and crazy conspiracy theories of widespread fraud, convincing millions of Trump voters that the election was "stolen."
Trump's lawyers have had their cases unceremoniously thrown out of court by state and federal judges (including Trump appointees) for lacking any evidence to back up their wild allegations. They cannot substantiate their claims of systemic fraud because it didn't happen. The Department of Homeland Security's Cybersecurity and Infrastructure Security Agency declared that, "There is no evidence that any voting system deleted or lost votes, changed votes, or was in any way compromised." Attorney General William Barr reached a similar conclusion. Trump responded by firing the cybersecurity director, Chris Krebs, and attacking Barr.
The day after Krebs went on CBS' "60 Minutes" refuting all charges of fraud, Trump campaign attorney Joseph DiGenova publicly called for Krebs' death. Krebs "should be drawn and quartered. Taken out at dawn and shot," he said. DiGenova later claimed that he was being sarcastic but, even if true, as a former U.S. attorney, he certainly knows that calling for someone's murder is nothing to joke about, especially in these tense times.
While elected Republicans have not publicly advocated violence, many are abetting Trump's delusions. Former Wisconsin GOP official Mark Becker, writing in The Bulwark on Dec. 2, described his telephone conversation with Wisconsin Sen. Ron Johnson as follows: "Sen. Johnson knows that Joe Biden won a free and fair election. He is refusing to admit it publicly and stoking conspiracies that undermine our democracy solely because it would be 'political suicide' to oppose Trump." It seems most Republicans in Congress are doing the same thing.
State GOP election officials around the country have been receiving death threats from angry Trump supporters. Gabriel Sterling, a voting systems manager for Georgia's Republican secretary of state, Brad Raffensperger, a target of death threats, recently declared before cameras: "Mr. President, you have not condemned these actions or this language. Senators, you have not condemned this language or these actions. … Stop inspiring people to commit potential acts of violence. Someone is going to get hurt. Someone is going to get shot. Someone is going to get killed."
Republican politicians are playing a dangerous game. Every time they give credence to Trump's false allegations of fraud or refuse to recognize Biden as president-elect, they pull at the delicate fabric of our democracy and might help to inspire mayhem.
I teach a class on terrorism, and my fear is that their inflammatory—and knowingly false—rhetoric could incite right-wing extremist groups or lone wolves to commit acts of political violence, hoping to overturn what they have been told is a "stolen election."•
__________
Atlas is a professor of political science and was the founding director of The Richard G. Lugar Franciscan Center for Global Studies at Marian University. Send comments to ibjedit@ibj.com.

Click here for more Forefront columns.
Please enable JavaScript to view this content.