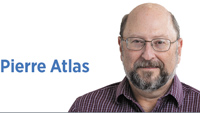 In my last IBJ column (Senators, your duty is to the Constitution, Nov. 22), written when it was clear that impeachment was coming, I said it was unlikely that 20 Republican senators would join with all Democrats to cast the 67 votes needed to convict and remove President Trump from office. Nevertheless, I wrote, "It should be remembered that senators swore an oath to support and defend the Constitution, not the president."
What I observed back then became the truism of the Senate impeachment trial: "Many Republican members of the legislative branch are acting as if their job is to protect the leader of the executive branch." This, I said, "is not what the Founders intended." I quoted from James Madison's Federalist No. 51 on the separation of powers and Alexander Hamilton's Federalist No. 65 on impeachment to make my case.
The impeachment trial and the Senate's two votes of acquittal are now in our rearview mirror. Did Trump's misconduct rise to a level requiring conviction and removal from office? That could have been a legitimate subject for debate, but no such principled debate took place on the Senate floor.
All but two Republicans voted against calling witnesses, such as former National Security Advisor John Bolton, who claims to have been a first-hand observer of Trump's Ukraine extortion scheme and thus could have verified the president's guilt. Instead, the Republican-controlled Senate refused to examine new and perhaps critical evidence, with most Republicans taking a "see-no-evil" approach and, incredulously, even suggesting that the president did nothing wrong.
Republican senators seized upon criminal law professor Alan Dershowitz's ludicrous argument that, so long as the president believes his own re-election is in his personal interest (and what president would not?), he can misuse the power of his office to accomplish that goal. The Dershowitz paradigm provides any future president with a legal rationale for despotism.
The 18th century parliamentarian and conservative philosopher Edmund Burke asserted that there are times when an elected representative has to act like a "trustee" and do what he knows to be right, even if that risks his re-election. Democratic Sen. Doug Jones of deep red Alabama did this with his vote to convict.
But in the end, only one Republican, the 2012 GOP presidential nominee Mitt Romney, voted to convict and remove the president (on the first count, abuse of power). None of the other Republicans had the courage to act as trustees, instead offering disingenuous excuses and placing loyalty to party and the president above their duty to the Constitution. Even principled Republicans voted to give Trump's egregious misbehavior a pass.
Can anyone say with a straight face that these Republicans would have voted "not guilty" had President Obama done the exact same things as Trump?
The American people, speaking through the Electoral College, will have the final say in November. If the Democrats are to defeat Trump, they will need to nominate a candidate able to garner a minimum of 270 electoral votes—which means winning some states that Hillary Clinton lost in 2016. If Trump is re-elected in a free and fair election, so be it. That's how our system works. But for me, as a political scientist, what worries me more than the re-election of an unchastised and unrepentant president with authoritarian instincts, is a Senate majority that—despite its many private misgivings—is unwilling to fulfill its constitutional duty to check and balance an abusive executive.
The Founders are spinning in their graves.•
__________
Atlas is a professor of political science and director of The Richard G. Lugar Franciscan Center for Global Studies at Marian University. Send comments to ibjedit@ibj.com.

Click here for more Forefront columns.
Please enable JavaScript to view this content.