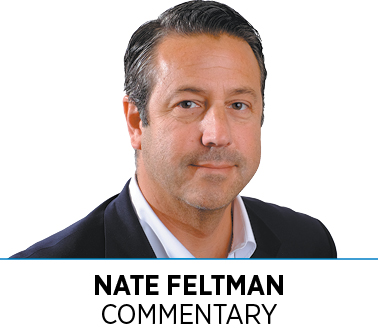 Four mini-columns this week in honor of America's July Fourth birthday:
Trump vs. Biden: Has there ever been a show like this? And the campaign really hasn't started.
At his first campaign rally since COVID-19 hit, Trump said he asked his staff to slow down coronavirus testing because, "when you do testing to that extent, you're going to find more people, you're going to find more cases." The next day, his press secretary, Kayleigh McEnany, said his comments were in jest. Trump followed McEnany's statement with, "I don't kid."
Meanwhile, every time Biden opens his mouth, he says something that seems to indicate he is not quite all there, like, "We have over 120 million dead from COVID." Who needs reality TV and "Saturday Night Live"? Assuming Biden is allowed to leave his basement, the debates will be can't-miss TV once again.
Weinzapfel vs. Rokita? Former mayor of Evansville Jonathan Weinzapfel narrowly defeated Karen Tallian to emerge from the Democratic State Convention as the party's attorney general candidate. Indiana Democrats view this race as an opportunity to begin to claw their way back into relevancy. If Weinzapfel is the next AG, he will have four years to campaign for governor.
Given sitting AG Curtis Hill's challenges, Democrats know they have a better shot at defeating him over the other Republicans who are challenging Hill at the Republican State Convention. Will GOP delegates follow the advice of Gov. Holcomb and State Republican Party Chairman Kyle Hupfer, who have called on Hill to step down, and vote for someone other than Hill, like former secretary of state and congressman Todd Rokita, who has a much better chance to beat Weinzapfel? We'll know July 10.
Downtown Indy vs. suburbs: If you live outside of Marion County, life seems to be returning to normal. Traffic is back and restaurants are bustling. Go downtown and little seems normal—no traffic, boarded-up buildings and few workers.
Do we think contracting COVID-19 is much more likely in the city center than in the doughnut counties? Or is there something more troubling afoot? If you are Carmel Mayor Brainard, Fishers Mayor Fadness or Noblesville Mayor Jensen, what ideas are percolating in your head right now? Maybe a convention center in Carmel? What about a zoo in Fishers? Perhaps an Indy Eleven stadium in Noblesville?
Conventional wisdom holds that the suburbs wouldn't be successful without a strong downtown (suburbs of what?). Will future work-from-home trends and a deteriorating downtown threaten downtown progress? It is past time for Indy city leaders to ring the alarm bell and develop a game plan for downtown's future.
The silent majority vs. radicals of both parties: If you are like me, you are feeling dazed, disheartened and distressed by events of the past four months. Pandemic, government-imposed shutdowns, experts that tell us how we should live, politicians and media that seem hell-bent on dividing us, the death of George Floyd, protests and the destruction of our downtown.
Unequal treatment of minorities, women and the poor isn't a partisan issue. We must strive for equality of opportunity and equality under the law. America (like all of us) isn't perfect, and it never will be. Just as we rose to the occasion and were brave enough to declare our independence from Great Britain in 1776, I am hopeful the silent majority will no longer be silent.
If we each lend a helping hand, mentor a disadvantaged youth, add minorities and women to our executive ranks and boards, and engage in thoughtful, uncomfortable conversations, we can build a stronger, more unified country.
Happy Independence Day.•
__________
Feltman is IBJ Media's CEO. Send comments to nfeltman@ibj.com.
Please enable JavaScript to view this content.