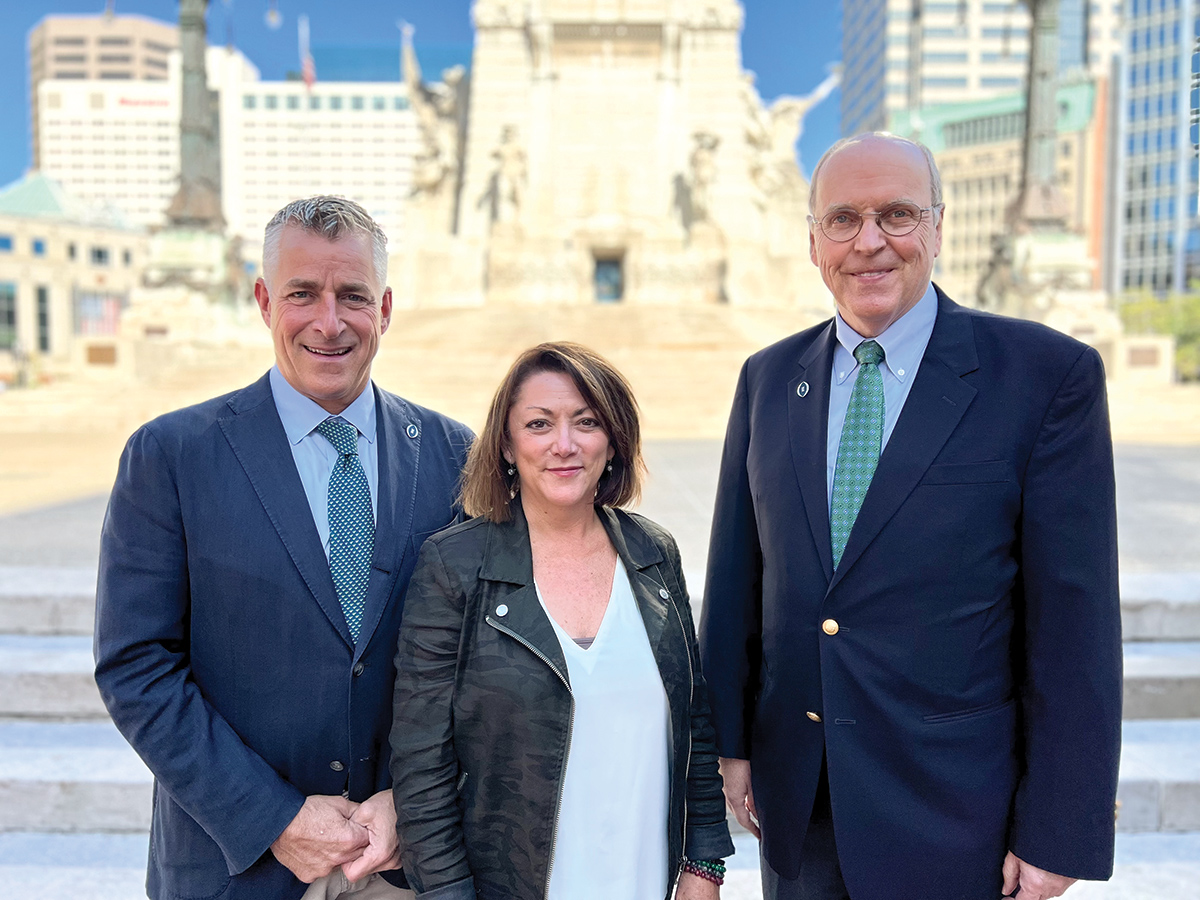 Indianapolis officials are gearing up to host the largest event the city's seen in months, when Lucas Oil Stadium plays host in January to the College Football Playoff National Championship.
The game, slated for Jan. 10, will feature the winners of two semifinal games that pair teams chosen by a selection committee that includes former players, coaches, academics, journalists and others.
The 2022 event will mark the first time a northern city has hosted a Division I football championship game and will be the largest event in Indianapolis since the city hosted the majority of the NCAA men's basketball tournament in March and April.
The championship—the eighth under the current structure—is expected to draw at least 100,000 people.
IBJ sat down this week with leaders of College Football Playoff Inc., the organization that runs the championship, and members of the local host committee to discuss the preparations underway to make the game a reality.
IBJ: Tell us about the College Football Playoff organization and why you picked Indianapolis to host the championship game.
Bill Hancock, president of College Football Playoff Inc.: We're a Dallas-based company managed by the conferences to handle postseason football—that's all we do, this one event. So, there are no layers between us and the conferences; certainly, we are friendly with the NCAA staff, but it's separate.
We decided several years ago, when we started, that we wanted to dip our toe into the northern tier of cities—and what better place to choose than Indianapolis? You have everything, all the criteria we look for. So, we're delighted to be coming here, and we have a great host committee to work with. We could play the game tomorrow.
IBJ: So where does the planning process stand right now for the championship?
Hancock: At the stadium, we're ready to play right now. We've been working for a couple [of] years on details of where the media workroom is, where the photography workroom is, what do we do with meeting spacing—all that stuff.
Susan Baughman, president of the Indianapolis Host Committee: Right now, our time is mostly spent on marketing and promoting the event, because we really want to get out there and let people know what's available to them so they get it on their calendar, and we can get them to come down.
People can sign up for the 5K [run], they can sign up to be a part of our university speaker series. We're calling out for volunteers to sign up—and they can actually pick their job. It's becoming very specific and very granular.
Mark Howell, chairman of the Indianapolis Host Committee: One thing in Indianapolis that I've seen is, you have the host committee, and you have the [College Football Playoff] team, but you also have the Indiana Sports Corp., Visit Indy, Downtown Indianapolis Inc., the Mayor's Office, the [Indiana Economic Development Corp.], the Statehouse, City-County Council. It's amazing. We all disagree on everything, except for pulling off a phenomenal event.
So, from public safety and coordinating with the city, to the support we get marketing and resourcing from the Sports Corp. and Visit Indy, it's amazing the way that all these groups work together.
IBJ: Bill, you mentioned that Indianapolis is really the first northern city that's been part of this event. How did you come to that decision to move ahead with Indianapolis?
Hancock: It was a part of a conscious decision to move the event to different parts of the country. We did decide that we are not ready to go to a northern-tier city outdoors. …
But early on, we said, 'Let's be more bold about this—let's go other places' [than where football bowl games are typically held], and we wound up going to Santa Clara, [California], and Indianapolis. It was a good decision.
IBJ: Could you walk us through how the team selection process works?
Hancock: About two weeks from now, on Nov. 1, our selection committee comprised of 13 people will meet for the first time.
It does a clean sheet of paper every week, and one thing we were determined to do is not be influenced by the preseason policies—which are silly, frankly. We wait until nine weeks into the season before we start, when all that's kind of washed down. And our first rankings never stay because there are still several more weeks of the season.
It's been a phenomenally exciting season so far, of course. And the main thing … is, we're so glad that we're back with fans in the stands. Such a big part of college football is the pageantry, and we lost that last year.
All the surveys show viewership was down because we had no pageantry, no bands, no big fan events or engagement.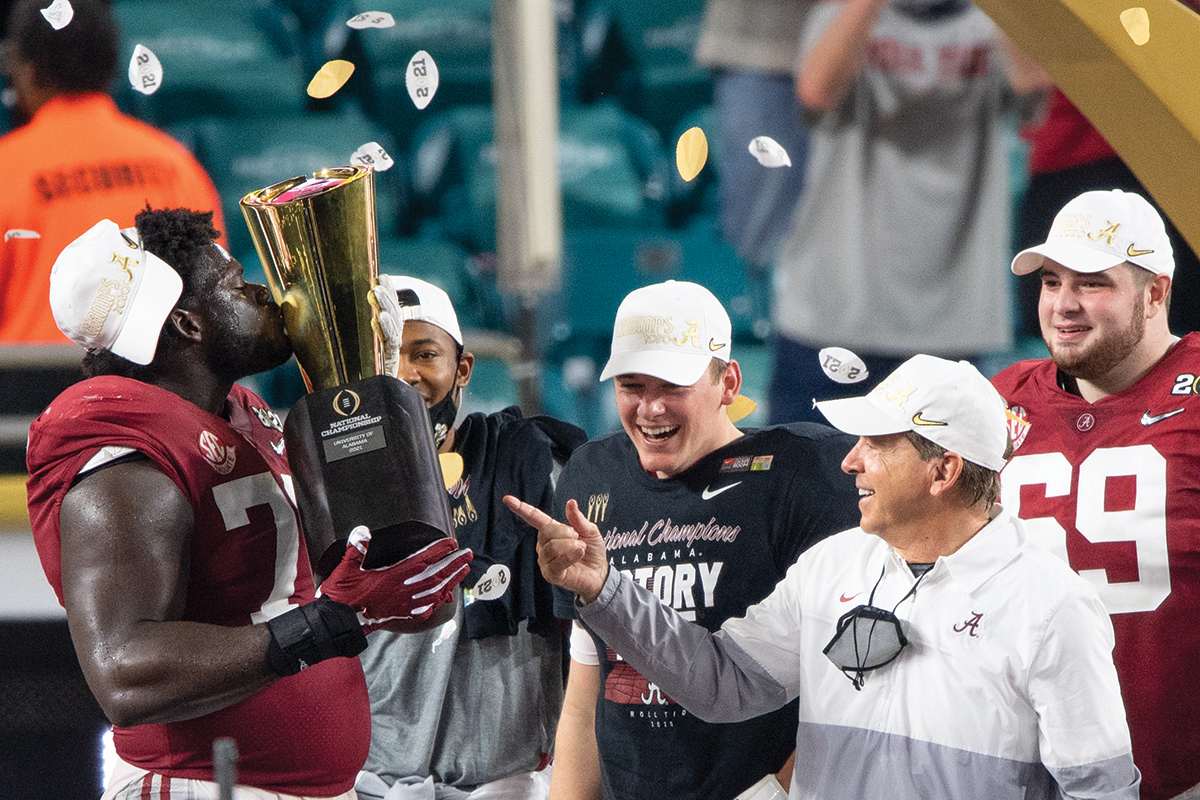 IBJ: Volunteers always play a big part when Indianapolis hosts an event, as we've seen with the NCAA Tournament and other big events. How many volunteers do you need for this event?
Baughman: Our system right now is set up for between 2,500 and 3,000 unique individuals volunteering—and I think that's probably where we're going to land. We're not 100% sure, because we're still developing some programs.
I think the reason why people continue to volunteer is that they enjoy giving back to the community—it seems less about exactly what the event is and more about being part of that bigger community and doing something to uplift what we have going on downtown.
I feel very confident we're going to reach those numbers, but we really want more people to sign up, and we love to see new volunteers coming in so they can continue that tradition going forward.
We've spent a lot of time thinking about trying to create a [volunteer] package that's interesting for a younger generation and to make sure they know that door is open for them to sign up and that we want them.
IBJ: Because of the pandemic, you couldn't follow the host city's tradition of attending last year's championship in Miami as you prepared for this year. How did you adapt to make sure this year is still successful?
Howell: I think there are three ways. One is … we were very fortunate that we took large teams of people to previous [CFP championship] events. The second is, we have full partnership with CFP and the CFP staff in Dallas [and] this is the eighth time that they've done it and so they provide a lot of guidance and expertise.
The third piece is, although this is a unique event, it's not so unique that we can't leverage all of the expertise and learnings that we already have in the city from past events. I don't think that we've run into any areas where we've lacked expertise or lacked access to resources that have made good decision-making difficult.
Baughman: We were very lucky that the CFP offered us that ability to take a group in those earlier years. … In a case like this, how helpful was it that we were able to take our biggest group two years out [to the game in New Orleans]?
In any case, we felt New Orleans was the most similar layout to Indianapolis in terms of lessons we might learn from them. I would say New Orleans and Atlanta tend to be more similar to Indianapolis from a layout perspective.
In our mind, not being able to read the future, we didn't know [the pandemic] was going to happen. The reason why we [went to New Orleans] was largely related to the layout.
But then also, we wanted our committee chairs to feel like they had enough understanding to lead their own committees, and if you wait too long to do that, they don't gain as much insight as they do when they get to walk through the process. It allows them to be even better and stronger leaders.
IBJ: You mentioned the importance of the layout of the city. How do you hope to capitalize on Indianapolis' compact downtown layout to make the most of the city during the weekend of events?
Baughman: I feel like, once you get downtown, whether you drive here from across the country or fly in, and you get to your hotel rooms, you're going to be able to really enjoy the event and the closeness of everything.
It [creates] that fan frenzy where you're walking around and you're chanting for your team and you're doing all those fun things … because you're in downtown Indianapolis the whole time.
We're going to use the Mile Square as our championship campus—all the fan events will happen within that, so people can literally just walk from place to place and won't have to drive a lot. I think that's a really exciting way to put on the event.
IBJ: Has the host committee been able to stick the event's budget? Did COVID-19 alter the financial picture?
Howell: As it relates to our hosting mandate, we raised all the money. None of our donors in any way changed their commitments to us, and the budget that we committed to several years ago as part of this is the budget that we've kept.
Baughman: The Indy Championship Fund was for the Final Four, the NBA All-Star Game—now delayed to 2024—and the College Football Playoff. Our piece of that was between $11 million and $15 million, in terms of cash and the in-kind and trade services.
We had to set that quite a long time ago, so it's kind of remarkable that it's been a budget that stood up over time. It also allows for doing some enhancements to the event outside of what we've promised to do.
Hancock: To that end, it's well documented that no other city has been led into a renaissance by sports to the extent that Indianapolis has—I think that is common knowledge. And yet one of the great things about Indianapolis is, it wasn't just the renaissance of the city, but it's been in continuing to have events come here. There are certain obligations that cities have to comply with in order to get events into the city, and Indianapolis continues [to do the things necessary] to support bringing events.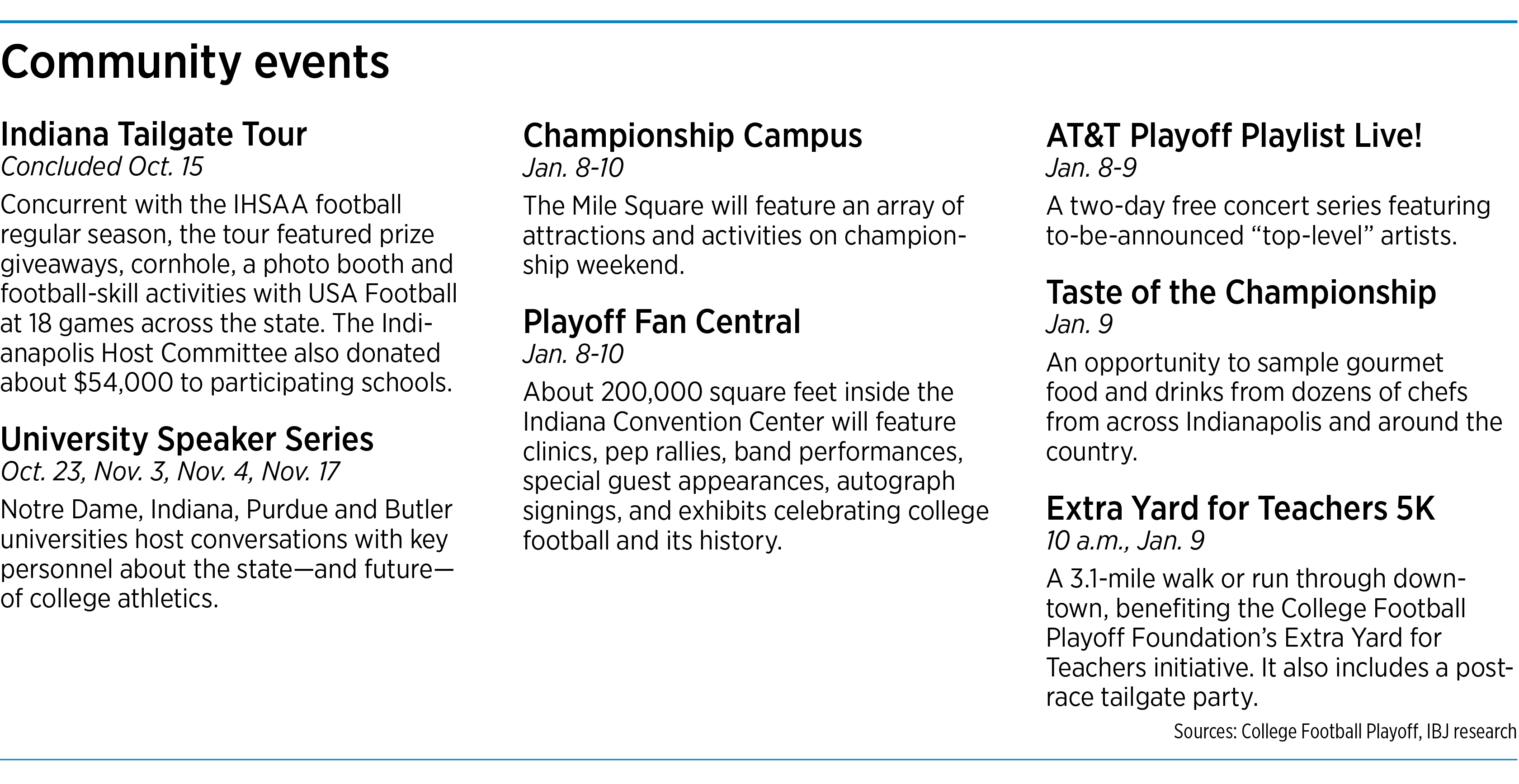 IBJ: Is there anything that Indianapolis is doing—a project or any of the events around this year's CFP—that stands out as different or maybe sets a new standard for what cities might do in the future?
Howell: One of our goals was [to] not make this just an Indianapolis or central Indiana event. We [want to] make it a statewide event and engage on a statewide basis.
We came up with the speaker series, where we'll visit [Indiana University], Purdue, Notre Dame and Butler. We have really strong keynotes and panelists and we've picked very relevant topics for each of the universities, and they're bringing lots of subject-matter expertise.
From a promotional perspective, we launched the Tailgate Tour, where we've been going to high schools since the start of football season to promote fan events around the state tied to the [CFP], so people feel like they're part of the championship.
But we're also there to honor teachers; this event's legacy initiative is all about teachers— professional development, rewards and recognition—to uplift teaching professionals.
Baughman: We've also got a lot of arts and cultural things going on; we have an announcement coming up about supporting local artists, both fringe-type performers as well as musical artists. I don't think those things are all necessarily "normal" for other cities to do, but we're really proud of those efforts and trying to create as many legacy programs for teachers as we can.
IBJ: What's the vision each of you have for this championship? How do you judge whether it's a successful event?
Hancock: I'm looking forward to the national college football community seeing the Indianapolis so many of us have gotten to know through the years.
Each team will get 20,000 tickets. So, a significant portion of the people in the stands will be passionate about one team or another. In order for us to call the event a success, most people will leave town and think, "Wow. I enjoyed the walkability, I enjoyed the state, I enjoyed the spirit of this event."
Howell: I'd like to get the teachers in central Indiana, the K-12 teachers, to genuinely feel that, because this event happened here, that they were recognized and rewarded and resourced in ways that they wouldn't have [been] otherwise.
I want everybody who's at the airport, leaving Indianapolis on that Tuesday, to be talking about what a great time they had and that they want to come back.
Lastly, I want as many people in Indiana as possible to come to Indianapolis for a concert or for the fan fest—I literally want to have 100,000 people who aren't going to the game to be able to say they participated in something.
Baughman: I think my underlying hope, and it touches so many different points of our planning, is that there is widespread, energetic participation in this event, across the board. And that energy lifts up our community, and that it's part of downtown's comeback.
Hancock: It's interesting that none of us mentioned execution. And I think that's because, not that we take it for granted, but we know it will be superb.
Howell: That's the one thing that's most in our control: the execution.
IBJ: Do you think downtown will be ready for an event like this?
Baughman: I really do. … I've seen great improvement in the downtown core, and I've been really optimistic and pleased to see how the conventions are coming in.
Sports was sort of the mainstay for the last year; we were able to continue to have sporting events in the [Indiana] Convention Center due to the cooperation between the city, state and county health department, along with the [Capital Improvement Board]. That was awesome because everyone continued to work in those areas and hone their skills. It's hard when you don't do something for a long time.
As best we can, we need to all draw together and put our best face on—[and] I do believe that's what every community organization and the government is going to try to do to help us be as ready as we possibly can be.
Howell: It's not going to sneak up on us. We're fortunate that, if you look at the slate, Gen Con was just here, FFA is coming, the Big Ten championship, the Catholic Youth Conference is coming. We're stair-stepping our way to January.•
Please enable JavaScript to view this content.