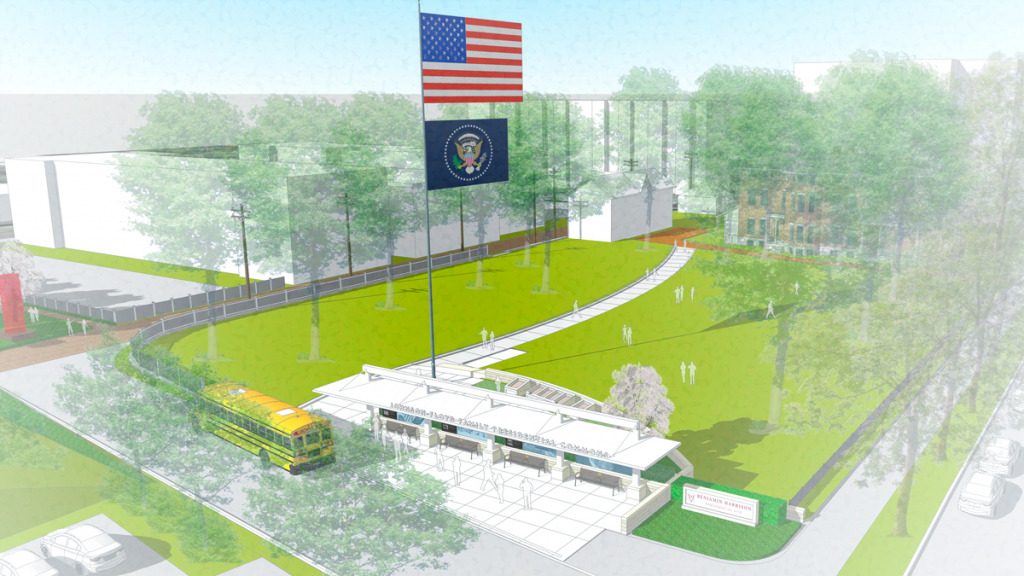 A $6 million renovation promises to bring new life and new technology to the Benjamin Harrison Presidential Site—and could help attract more visitors to its Old Northside location.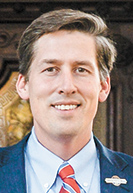 Plans for the two-acre site, where the 23rd president lived before and after his time at the White House, include the addition of a new commons area and portico with a drop-off site for buses, as well as a promenade and a pathway connecting Pennsylvania and Delaware streets.
The project, which also includes new way-finding signage and enhancements to exhibit spaces, will be funded by a $6 million Old Glory, New Vision capital campaign. Already, the site has raised $5.5 million, mostly from large, long-standing donors.
"We're trying to find a way that we can make a significant investment in this museum campus that further benefits the larger community," Charlie Hyde, CEO of the presidential site, told IBJ. "That's really the impetus behind this campaign. It will just allow us to entirely transform the visibility of the Benjamin Harrison Presidential Site within the community."
Harrison, born only five miles from Indiana in southern Ohio, is the only president elected from Indiana. He moved to Indianapolis in 1854 and became a celebrated Civil War general before serving as a U.S. senator from 1881-1887. He was elected president in 1889, serving until 1893.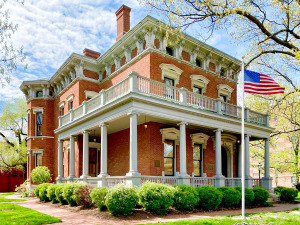 He and his wife, Caroline, bought the double lot on North Delaware Street in 1868 and started construction six years later on the 16-room, Italianate style house, in addition to a carriage house, brick drive and landscaping. The Harrisons spent $24,000 on the house and grounds and lived there with their two children, according to the presidential site's records.
Caroline Harrison died during Harrison's presidential term. When he returned to Indianapolis in 1893, Harrison added a new front porch to the house, along with electricity and updated plumbing.
Harrison died in the home in 1901. His second wife, Mary, and their daughter stayed in the house until 1913. She then turned the house into a rental.
The Arthur Jordan Foundation bought the house in 1937, using it for a music-school dormitory until 1951, when it opened the house for tours by appointment. In 1964, the U.S. Department of Interior named the home a national historic landmark. In 1966, the Jordan Foundation created the President Benjamin Harrison Foundation to maintain and operate the house. Daily tours began in 1974.
The last major work on the property took place 15 years ago, when the site spent $400,000 on repairs and renovations, including wallpaper, carpeting, medallion replacement, plaster work, brick walkway repair and tuck-pointing.
'A real gateway'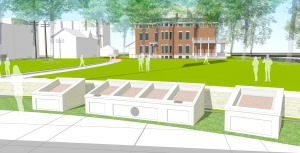 Much of the work this year will occur outside the house.
Among the projects is an area to be known as the Johnson-Floyd Family Presidential Commons, which will feature a wood and glass portico, Hyde said.
The commons, built atop the existing greenspace at Delaware, 12th and Talbott streets, will lead to a Citizenship Plaza that will showcase America's founding documents in limestone viewing cases, along with "The Book of History," which will celebrate every person naturalized as a citizen at the presidential site.
A new path, the Stan & Sandy Hurt Presidential Promenade, will lead visitors to the home. The promenade will feature homages to each of the nation's presidents, Hyde said.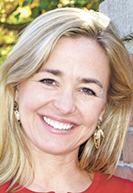 Keira Amstutz, president and CEO of Indiana Humanities, said she is eager to see the site's future enhancements in action—particularly those focused on programming for new citizens and children.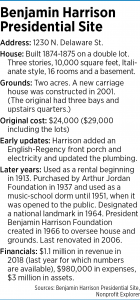 Already, about 30,000 people visit the site every year, including 17,000 schoolchildren. Hyde said he hopes the enhancements will give more people a reason to visit the museum.
And Amstutz said, "By expanding the footprint and creating a real gateway … it helps broaden the opportunities for them to host events, and to bring in additional groups and people, while also being a great partner in the neighborhood."
Hyde said the museum's Future Presidents of America program, a youth leadership academy for children ages 12 to 16, will also see enhanced programming, along with opportunities for "more transformative educational programs, and dynamic citizenship and civic engagement and education."
Hyde said each proposed project is focused on ensuring a proper balance of historical reverence and modern enhancements. The changes follow a 472-page Historic Structures report released in 2019, which outlined the status of the presidential site and created a guide for infrastructure improvements.
"That report really gave us a road map, as we were formulating what the capital campaign would consist of and what it would need to include … and what aspects we should be prioritizing," Hyde said. "For us, it was very much about diligence and thinking about the whole [renovation] effort holistically."
New signage will be placed throughout the city to highlight the presidential site, and a large flagpole on the new commons will fly the American and presidential flags. A "neighborway"—an enhanced walk and bike path—will connect Pennsylvania and Delaware streets, and further enhance a space that has recently been upgraded with the city's full rebuild of that stretch of Talbott Street.
Hyde said Interstate 65, which runs along the property's southern edge, has long served as a barrier to attracting visitors. The highway's embankment makes the site hard to see, he said. Hyde said the new flagpole could go a long way in addressing that challenge.
"If you're just driving up Delaware Street, you may not even be aware of what a strong community asset there is right here—one accessible to so many," he said. The signage "will heighten our visibility for visitors coming through Indiana, and through Indianapolis, along with area residents who are passing by."
'It is a delicate balance'

Curtis Sandberg, founder and president of Washington, D.C.-based cultural firm Apablasa Global Connections, said he is pleased to see the Harrison site looking for ways to enhance its property and programming. Sandberg was previously the director of the David M. Rubenstein National Center for White House History.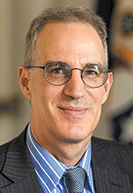 He said sites like the Harrison property provide a strong mix of modern learning and historical context about what life was like when Harrison was in office. Adding elements to that, he said, goes a long way in creating an immersive experience.
"It is a delicate balance, and I think [they] are finding it well," Sandberg said. "You'll walk away, I think, both with a sense of that time and also a value of what those things, those values mean today."
The presidential site is also regularly used as a voting site for Marion County residents—something Hyde said he hopes to continue for the foreseeable future.
Hyde said he considers the issues Harrison confronted to be topics the United States still must address today, making him a very "locally relevant and nationally significant" president to study.
Among those issues: voting rights for African Americans, the creation of a national forest system (something Theodore Roosevelt later amplified), and the signing of the Sherman Antitrust Act, which outlawed corporate monopolies. Harrison established relationships with Central America and made the U.S. a significant player in global trade.
He also called for the American flag to be flown in front of all schools and public buildings.
"We're giving that deeper sense of history and giving greater context for people to be able to draw from," Hyde said. "That's ours to share and to really explore and better understand with the next generation."
As part of the project, the house itself will also undergo some updates on its first, second and third levels, including additional interactive spaces and new exhibits. Hyde said specifics are still coming together for that portion of the campaign.
Of the $5.5 million raised so far, Lilly Endowment Inc. and the Arthur Jordan Foundation have each contributed about $1.5 million. The R.B. Annis Educational Foundation, Allen Whitehill Clowes Charitable Foundation Inc. and the Dorsey Foundation have also contributed unspecified amounts, as have dozens of individual donors.
Up to $75,000 of the remaining goal—for gifts of $50 to $5,000—will be eligible for matching, Hyde said.
Amstutz said she's eager to see what the presidential site becomes over the next several years.
"They're growing and reinventing the notion of what a presidential site can be," she said. "They're looking to engage people and they're looking to help us think about what public participation in American government looks like."•
Please enable JavaScript to view this content.