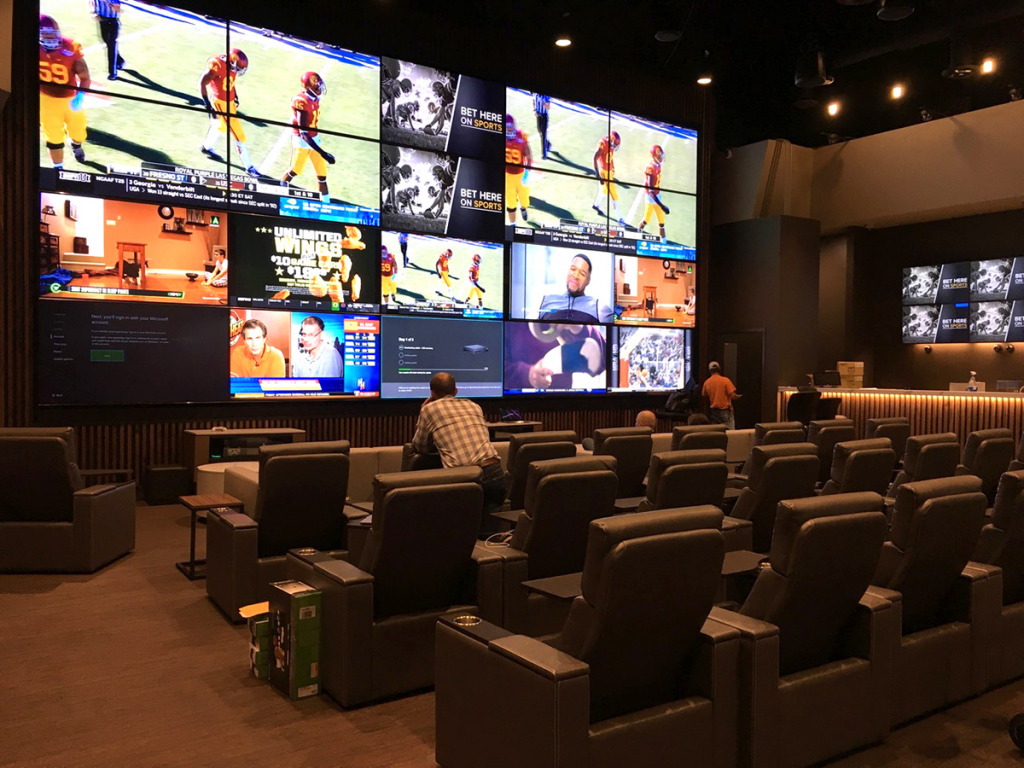 Millions of dollars in bets have been placed inside venues like Bankers Life Fieldhouse and Lucas Oil Stadium since mobile sports gambling was legalized in Indiana in 2019.
Now, teams like the Indianapolis Colts and Indiana Pacers are trying to earn some indirect revenue from sports betting, carving out areas in their facilities that cater directly to fans who want to follow their bets while taking in a game downtown.
Earlier this year, the Pacers introduced the PointsBet Hardwood Club, a sports bar constructed during the first phase of the $360 million renovations to the fieldhouse. It features dozens of tables and a massive TV screen capable of showing up to 64 games at once. One of the goals for the space, team officials say, is to give gambling-hungry fans a space of their own.
And this summer, the Colts plan to introduce up to three similar spaces throughout Lucas Oil Stadium, with at least one that will be open to all ticketholders and others with more exclusive access. All the spaces will be limited to fans age 21 and up.
So far, the teams have not sought to open actual betting venues at their arenas—and at least one key lawmaker is skeptical of the idea. But that's happening in other places.
A sportsbook is already open at Capital One Arena in Washington, D.C., where the Washington Wizards, Capitals and Mystics play. And last month, the Phoenix Suns and gambling company FanDuel announced plans to open an "on-site luxury sportsbook" inside Phoenix Suns Arena.
Suns CEO Jason Rowley called the announcement "a watershed moment for the Suns organization and our fans."
The Suns sports-betting lounge still needs approval from Arizona regulators, but it's allowed under legislation Arizona Gov. Doug Ducey signed into law last month.
Indiana law is not so sweeping. It authorizes only existing casinos to offer sports betting, which can occur in person or by phone. In central Indiana, gamblers can place bets on sporting events in person only at Winners Circle, a sportsbook in downtown Indianapolis that is temporarily closed, and at sportsbooks at racinos in Anderson and Shelbyville. However, bettors can create accounts to bet by phone anywhere in the state.
Maximizing the opportunity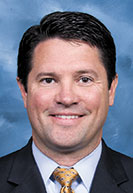 In Indiana, teams have not asked lawmakers to let them add sportsbooks at their arenas.
Instead, spaces like the Hardwood Club at Bankers Life create opportunities for fans to make the most of their mobile bets, without pushing the boundaries of the state's sports-betting laws, said Todd Taylor, a senior vice president and chief sales and marketing officer for the Pacers.
He said such spaces have become popular across the NBA, specifically in states that have already legalized sports betting in some fashion.
"To me, that's the type of environment that you're really creating, whether you're calling it a sportsbook or not," he said. "Now again, if the rules change and we can get a percentage of [bets], that's potentially a revenue stream."
The Colts aren't yet willing to share details about their mobile betting spaces, other than to confirm their plans don't call for full-fledged betting lounges.
"What you'll see from us probably won't be very dissimilar from what you see in other places," said Roger VanDerSnick, chief sales and marketing officer for the Colts. "But it won't be a [sportsbook] lounge" like what's being created in Arizona and Washington, D.C.
The Lucas Oil Stadium spaces will likely feature seating and several televisions, to give fans a way to monitor action from across the NFL and potentially other sports, while staying in tune with in-person action on the field, VanDerSnick said.
Plans could be presented as soon as this summer, he said, to the Capital Improvement Board of Marion County—which owns the stadium—with hopes of completing construction by the start of the NFL season in August. Construction costs would fall to the Colts and their sports-betting partners.
The new spaces could eventually be used throughout all Sunday afternoons, rather than just when the Colts play, VanDerSnick said. But to start, they'll be limited to game days.
There's good reason to try to capitalize on the popularity of sports wagering. Last year, Indiana's sportsbooks accepted $1.8 billion in bets—the vast majority of it, $1.5 billion, through online wagering, according to PlayIndiana.com, which tracks the numbers.
And that's expected to keep growing.
In March, as Indiana hosted the NCAA Men's Basketball Tournament, Indiana's sportsbooks accepted more than $300 million in wagering. More than $3 billion in bets have been placed in the two years since the state legalized sports gambling.
As a result, said Marc Ganis, a sports business expert based in Chicago, the move to create spaces for mobile gambling is likely to continue for several years.
"I believe we'll see more lounges and similar facilities for mobile betting—not necessarily to take the bets there, but as a place for those who want to be on their phones and bet from those," he said. "Mobile sports betting allows for that. All you need is your phone and a great internet connection."
Story continues below graphic.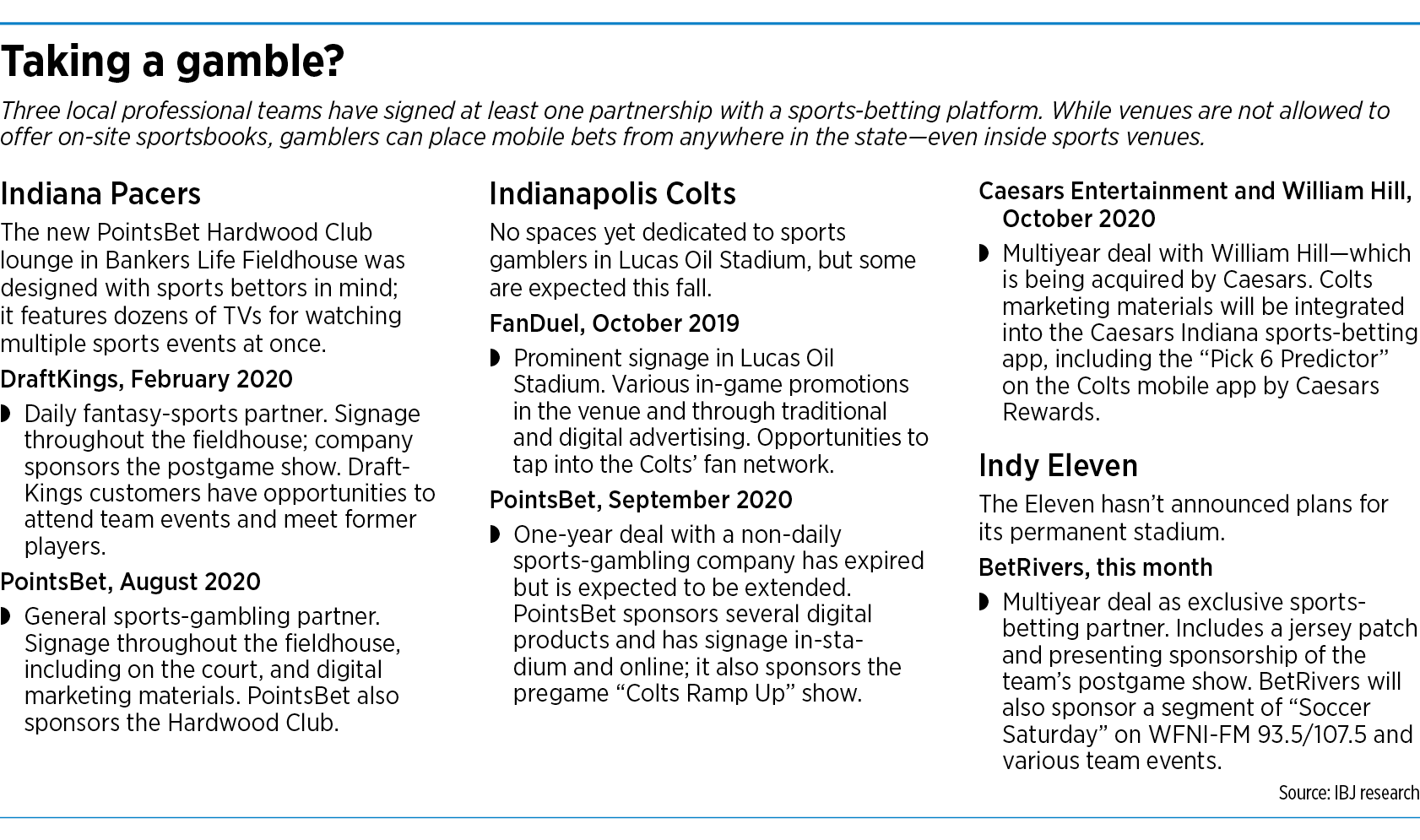 Betting partners
Earlier this month, the Indy Eleven became the third professional franchise in the city to announce a gambling partnership, inking an exclusive multiyear deal with BetRivers.
But the deal doesn't call for any specific spaces to be built out for bettors attending Indy Eleven games. Rather, it's focused on marketing materials and sponsorship of various components of the Eleven's media strategy, including a radio-show segment and sponsorship of the team's postgame show.
The Colts last season had deals with three partners—FanDuel, Caesars Entertainment/William Hill and PointsBet, all of whom they hope to partner with for the 2021 season. The deals are generally focused on signage and sponsorship of various digital media assets, along with some integration into specific betting platforms. But the Colts deals are also expected to be tied to the upcoming plans for new spaces at Lucas Oil Stadium.
VanDerSnick declined to share which partners would be involved in the spaces.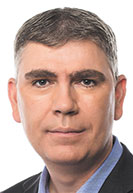 Greg Stremlaw, CEO of Indy Eleven, said the franchise has not yet considered whether it will create spaces for sports betting in its planned stadium. Currently, the team is playing at Michael A. Carroll Stadium at IUPUI, which is very traditional in its setup and does not have many gathering areas.
"Our focus has been on finding a credible partner in this space—this new space—and obviously this is an area that continues to evolve," Stremlaw said. "In terms of when new infrastructure and [spaces] are built, it would be premature for me to speculate as to what the gaming space may look like in another 24 or 36 months, because, just look at how things have changed since legalization occurred in 2019."
In its infancy
Ganis, who owns SportsCorp Ltd., an advisory firm for sports teams, said deals like those struck by local teams are typical in states that have legalized sports gambling. But he said the industry is still in its infancy.
He said most teams are just beginning to explore their options—and are doing so cautiously before creating large spaces, even if that's the end goal. Some local pro sports teams—like the Indy Fuel hockey team, the Indianapolis Indians and the Indiana Fever—have yet to sign deals with betting partners.
"We view it as a category," said VanDerSnick, of the Colts' various deals. "And our obligation is to deliver an appropriate investment for the category. That's going to be dependent on how much value we can show partners. Three [partners] in this space feels about right to me."
Neither the Pacers nor the Colts—nor any other professional sports franchise in the city, for that matter—is lobbying for an expansion of the sports-betting law to allow for sportsbooks in their own venues. None have indicated a desire to expand the rules, either.
Even if they were, the General Assembly seems to have little appetite for reworking the laws. To date, 27 U.S. states have legalized some form of sports betting, according to ESPN.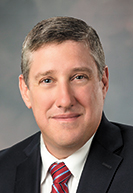 State Rep. Ben Smaltz, R-Auburn, is chairman of the House Public Policy Committee, which oversees sports-gambling legislation. He told IBJ he'd like to see pro teams in Indiana stay far away from creating quasi-sportsbooks in their venues and instead invest in infrastructure like 5G and enhanced Wi-Fi that will allow fans to stay in their seats and place bets.
"Right now, what I wonder is, if you already have the ability to bet on your mobile device in Indiana—and clearly that's allowed, if you have an account—I'm not sure what the benefit is of having a sports lounge," Smaltz said.
Lounges and spaces for betting fans to gather might open a can of worms for regulators, he said, because it could indicate a desire for more gambling opportunities on site. "Is it easing [into] full-on betting and casinos in sports arenas—is that the end game?"
Where's this headed?
Taylor, of the Indiana Pacers, told IBJ the decision to create spaces like the PointsBet Hardwood Club and the '67 Club planned for the opposite side of the concourse came after extensive listening sessions with fans and amid continued monitoring of what's being done in other arenas.
He said fans—including some who are avid sports bettors—have called for more spaces to gather and to experience games in different ways.
Taylor said younger fans have a short attention span for on-court play, and the revamped arena's new club levels will allow fans to network, creating opportunities to build the team's fan base.
"I think the wagering or gambling space is good for that," he said.
But Smaltz said such moves raise questions, especially if mobile sports betting becomes increasingly popular. Should venues have to pay an application fee to allow for spaces that promote betting? Who would have to pass gambling-industry background checks to work in those spaces? Should amateur sports be conducted in spaces that promote gambling? And should any gambling taxes be collected from the venues?
Smaltz said his biggest concern, however, is whether upcoming sports lounges could be paving the way for live gambling at sports venues.
"What's really the next stop? Are we talking about expanding these into a [casino] gaming situation, where we've gone from sitting and betting on your phone and watching other games to … eventually [having] some sort of table games?" he said.
So far, neither the Pacers nor the Colts has expressed a desire to pursue accepting live bets—and certainly not for live table games at their venues. But neither team would likely brush off the opportunity for a sports book in their space, either.
"If that was permitted and there was interest, we would definitely give it a good, hard look," VanDerSnick said.
Taylor agreed. "I wouldn't be doing my job if I wasn't looking into all the new possibilities," he said. "So, if the state of Indiana suddenly said, 'Hey, any of our sports venues … can operate a sportsbook under these particular guidelines,' we would have to take a look at that."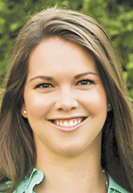 Sara Tait, executive director of the Indiana Gaming Commission, said the agency expects sports betting to grow in popularity.
"Gaming is an industry based on innovation, and we don't want to hinder that," she said. "But at the same time, we have to make sure that, from a regulatory perspective, we remain efficient at what we do, and [that] we are implementing new policies and procedures when new activities occur. So, we're constantly looking at" the field of play.
Smaltz predicted that lawmakers will continue to tackle questions about sportsbooks and mobile gambling for several decades, but he noted there's been no indication from sports teams or legislators that such is a topic of interest.
"I would imagine we'll start talking about them sooner rather than later," he said. The Legislature will be "trying to answer some of these very, very difficult questions."•
Please enable JavaScript to view this content.