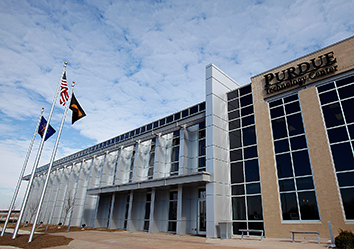 Purdue University's Purdue Research Foundation is suing Google LLC over Android software that Purdue says incorporates patented technology for smartphones.
The patent-infringement lawsuit was filed this week in U.S. District Court in the Western District of Texas. Google has a regional hub office in Austin, Texas, where employees work on Android products, among other things.
The dispute concerns technology developed by a team of two professors and two graduate students from Purdue University, according to the suit. Purdue Research Foundation is a not-for-profit organization that works to commercialize technologies developed at the university.
The Purdue team developed and patented a method for software developers to address what are known as "power bugs" in mobile phone apps. A power bug prevents an app from entering sleep mode when the app is not in use, which causes an unnecessary power drain of the mobile phone's battery.
One of the Purdue professors presented a paper about the team's technology at a conference in 2012. Purdue Research Foundation secured a patent for the innovation in August 2019.
Purdue's lawsuit alleges that Google engineers saw that paper in 2012 and developed their own Android software based on the Purdue innovation.
Purdue sent Google a letter in August about the alleged patent infringement, but Google continues to develop and disseminate the software, the lawsuit says.
"The suit against Google was filed after a year-long pre-suit investigation that revealed Google's willful infringement of multiple PRF patents," said Brooke Beier, the foundation's senior vice president of commercialization. "PRF attempted for weeks to set up a meeting with Google, but when Google refused reasonable conditions for a meeting, Purdue was left with no option but to initiate suit."
Purdue is asking the court to find that Google has infringed on the Purdue patent, and to award Purdue damages, attorney's fees and other costs in unspecified amounts.
Google has not yet responded to Purdue's allegations, and the court docket does not yet identify who will serve as Google's counsel in the case.
"We are currently reviewing the allegations made in the complaint, but we compete on the merits of our ideas and independently develop our products and will vigorously defend ourselves," Google spokesperson José Castañeda told IBJ in a prepared statement.
But Beier added that the Purdue Research Foundation "is the assignee of multiple additional patents Google infringes. Purdue has again invited Google to meet, see the evidence of infringement, and discuss license terms. If Google continues to refuse to negotiate a license, the suit will be amended to add patents. What happens next is completely up to Google."
Please enable JavaScript to view this content.