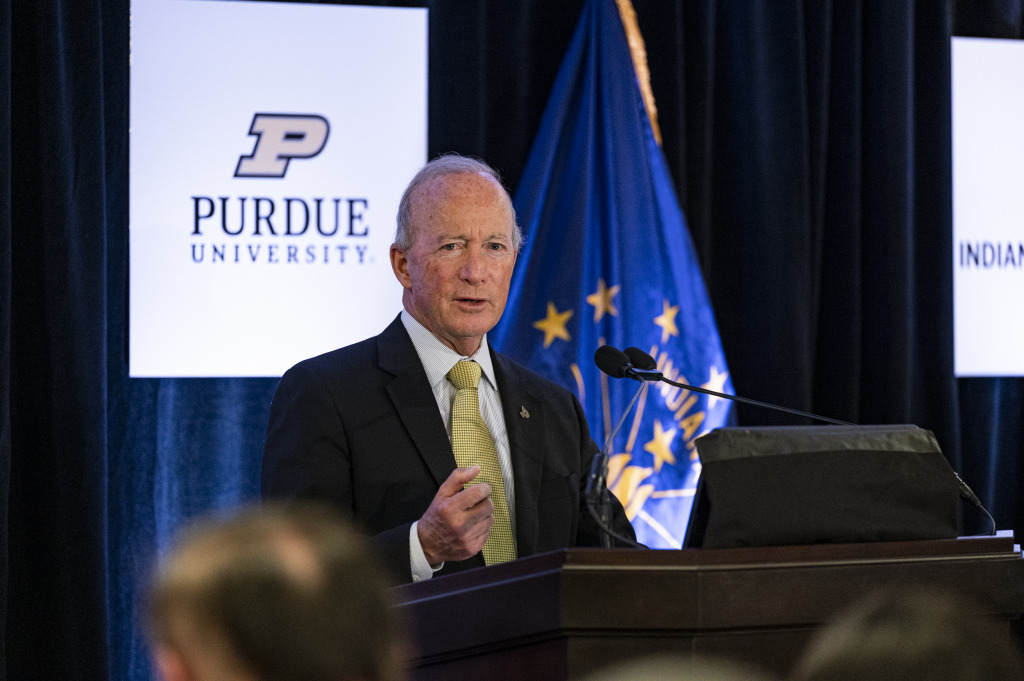 The Purdue University Board of Trustees on Friday approved naming its reimagined business school after former Indiana Governor and Purdue President Mitch Daniels. The university said last September it was reorganizing its current school into what will now be known as the Mitchell E. Daniels Jr. School of Business.
Daniels retired as Purdue's 12th president in December after 10 years in the role. The university said the announcement marks the first time its business school will have a formal name.
"To be associated with any aspect of Purdue's academic enterprise is an inestimable honor, but this one in particular touches me deeply," Daniels said in written remarks. "This modernized School of Business will send out its graduates armed with a sense of mission and the tools to fulfill that mission in the most complex of enterprises."
Plans for the reimagined business school include doubling the size of its existing building on the West Lafayette campus and expanding faculty and student enrollment, which has already risen 33% since 2019, the university said.
When the effort was first announced, Purdue said the goal was to "prepare tomorrow's leaders and entrepreneurs, grounded in the hallmarks of a Purdue education, including STEM disciplines and business analytics."
Purdue Board of Trustees Chair Mike Berghoff said the university will invest a minimum of $100 million to relaunch the school. A $200 million fundraising campaign will also be implemented.
Purdue President Mung Chiang, who began his tenure in January, said it is "truly fitting and exciting" to name the new school after Daniels based on both his time as president and his experience in the business world.
"Through the launch of the Daniels School of Business, Purdue will have a world-class business school that carries out even more top-caliber research and educates many future leaders of a technology-driven, free market economy," Chiang said.
The board said Friday it is committed to retaining the Krannert name for its graduate and executive degree programs within the Daniels School.
Additionally, the board has endorsed plans to freeze tuition for the 12th consecutive year, keeping rates at the same level through at least the 2024-25 academic year.
The plan must be formally approved by the board in late spring after the Indiana General Assembly completes the next two-year budget.
If approved, undergraduate tuition will remain at $9,992 per year for Indiana residents and $28,794 for out-of-state students.
"Purdue remains committed to the vision of higher education with the highest proven value," Chiang said. "This proposal of another year of tuition freeze, and the endorsement by the Board of Trustees, continues Purdue's national leadership in student access and success."
Purdue said the freeze would keep the cost of attending Purdue less than what it was in 2012.
Please enable JavaScript to view this content.