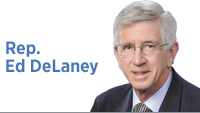 Politics does make for strange changes in direction. Nonetheless, I never expected to see the Indiana Republican Party drift toward reinventing the command economy. Remember, that was the concept that imposing detailed government supervision would generate economic progress. The idea was put to full use in the Soviet Union and China. We all know the results.
The Republican supermajority would be aghast at any suggestion that it might want to replace private business decisions with political mandates. But look at what this session has brought forth. The House has already passed a measure that would prevent businesses from imposing vaccine mandates on their employees. So, the House majority believes it is more competent than business leaders when it comes to protecting the health of employees and customers.
But the latest attempt puts this idea in the shade. The supermajority is attempting to adopt a state policy on energy that would punish banks, businesses and pension funds.
Currently, the main drivers of energy policy are the federal government, energy companies and financial markets. All of them are headed in the direction of reducing reliance on fossil fuels. Many local Republicans want to throw a wrench into this process. They have detected yet another "woke" movement to oppose and want to fight a rear-guard action supporting the coal industry. They would interfere with pension-plan investment decisions and loan decisions by bankers.
The chosen device to get all this done is to declare an end to "boycotts" of fossil fuels. Any business or investment that seeks to "limit commercial relations with a [carbon-based] energy company" is defined as being engaged in a boycott. Those making the list wouldn't be able to contract with the state. Banks wouldn't be able to loan funds to any "boycotting" firm. State pension funds would have to disinvest from these companies. The state would not be able to contract with firms found to be engaged in a boycott.
Now, remember how a command economy works. First, it needs to identify internal enemies. Under the latest draft legislation (House Bill 1224 found at IGA.in.gov), the state will list offending firms.
Second, a command economy can only work if rights are limited. So the bill would prevent any firm, pension beneficiary or financial company from suing to invalidate the law because it was unconstitutional or in breach of fiduciary duty (p.3, Section 11). Remarkable.
Third, the command economy depends on unbridled enforcement, so the bill puts the state attorney general in charge of bringing any lawsuit "necessary to enforce this chapter." That provides few limits on the current attorney general.
Happily, this proposal stumbled and was "withdrawn" on the final day for passing House bills. But the underlying motivation has not gone away. The author, Rep. Ethan Manning, is likely to continue his objection to decisions made by corporate boards in far-off places. Republicans are likely to stay fearful that we will run out of electricity and that environmental concerns will be effectively addressed.
The idea behind this bill comes from Texas (where it passed). It is not dead.
I am a Hoosier, and I am willing to assume that Texas' businesses can survive this onslaught. I doubt ours can.•
__________
DeLaney, an Indianapolis attorney, is a Democrat representing the 86th District in the Indiana House of Representatives. Send comments to ibjedit@ibj.com.

Click here for more Forefront columns.
Please enable JavaScript to view this content.