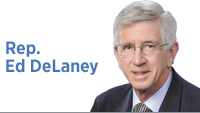 Apparently, the Republican majority in our Legislature is out of ideas. Or at least it is out of big ideas. Neither a tiny cut in business taxes nor limiting COVID vaccinations qualifies as good, let alone "big."
I would suggest something different: lowering state college tuition for all Hoosier students. This could reduce student loan debt and encourage more kids to go to college.
Two big facts underpin the idea of lowering tuition for all. Fact one: Despite all the noise about improving education, our state colleges and universities have seen enrollment drop 10% in the last five years. Fact two: Half of our college students end up with debt, with average debt for those Hoosier college students at about $27,000. There goes the down payment on the first home. Many former students carry this debt for decades. It can rarely be discharged in bankruptcy.
Now let's be clear: Our state colleges and universities have been doing a good job keeping tuition down. Outgoing Higher Education Commissioner Teresa Lubbers and others have struggled honestly for years to raise our attainment level. Yet, we are still coming up short. Reducing costs can encourage young people to attend college—and their parents to encourage it. So, how do we do this? We increase state support for our public colleges and universities.
Our state dollars pay only a limited amount to cover the operating expenses of our institutions of higher education. In the case of Indiana University, it is some 17%. This means the bulk of the operating costs there have to come from tuition, grants and donations. Our parents must dig deep into their wallets.
The Legislature has a unique opportunity to increase state support for our colleges (and their students). We have billions of dollars in reserve beyond what is reasonably needed. These spare funds could be used to lower tuition. In the process, we could move toward more honest "sticker prices" for tuition.
We all know, and appreciate, the fact that many students get financial aid through several wonderful state-financed programs like the 21st Century Scholars. If we increase state support, we can reduce the strain on these programs and on every Hoosier family that has a child at a state college. We all win.
How do we do this? First, we increase state support for our public institutions in return for lowering tuition. Second, we look into the idea of rewarding families for student success. Currently, the state funds a modest performance-based program that rewards colleges that have higher graduation rates and faster times to completion of college. We could boost and reform that effort.
We could also send funds directly to families that meet similar goals. We could give a rebate to those who stick with their higher education plans. To use modern language, this effort would "align" the interests of families with those of the institutions. It would affect the calculus parents and students use when deciding to stay the course or to end or interrupt education.
I would be remiss if I didn't mention our many private institutions. These colleges and universities educate many Hoosiers. They are also losing students. That is a big problem. If we could craft a way to support their students who are from Indiana, that could only help. It would help families and local communities. My travels across Indiana tell me that a town with a college is far more likely to thrive than one that has no higher education campus.
Lower tuition is a much bigger idea than lowering vaccination rates or obscure business taxes.•
__________
DeLaney, an Indianapolis attorney, is a Democrat representing the 86th District in the Indiana House of Representatives.

Click here for more Forefront columns.
Please enable JavaScript to view this content.