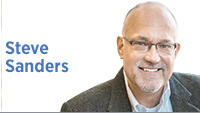 "IU is Home." That slogan is ubiquitous on the Indiana University Bloomington campus. It's intended to send a message of belonging. It is a noble idea.
But home might also be where your parents are. And I've come to think "IU is Home" also underscores—albeit unintentionally—the extent to which the concept of "in loco parentis" has made a comeback.
In loco parentis, which fell into disfavor in the 1960s, means the university stands in the place of a parent and asserts broad control over students' lives. In effect, it means students are regarded less like adults and more like children in need of care and supervision.
At IU and other schools, this has meant a growth of middle-level administrators and professional staff and a corresponding decline in the role of faculty in setting standards and tone, as well as a culture of what critics have called "safetyism."
I wonder if those who coined "IU is Home" realized that, for some students, "home" is where they expect to be protected from upsetting facts and strange ideas or from people who might challenge their understanding of the world.
Recently IU stopped using a lecture hall that displays one of Thomas Hart Benton's famous murals about Indiana history. This mural includes a depiction of a Klan cross burning. Benton's intent was not to glorify the Klan; it was to render a warts-and-all picture of the Hoosier state's past.
Nonetheless, some students complained the mural made them feel threatened or unwelcome. These students were not interested in hearing that part of a college education is to learn about things that might make you uncomfortable; that that is how we grow, learn to think critically and draw lessons from history. (At one forum about the mural, a student remarked, "I'm not here to learn how to think. My professors are supposed to tell me what I should know.")
IU is Home, a place we want to be safe and comfortable. So the decision was made that no more students will have to see this disturbing aspect of our past.
Not everything about safetyism involves validating students' feelings. In the name of safety, IU, like many universities, asserts broad authority to regulate students' lives, and not only on campus. IU claims power to punish behavior that occurs across town, in another state, even in cyberspace.
Not long ago, a student was charged with violating the Student Code for something he wrote on Facebook. The posting was racist and vulgar. But it was addressed to someone on another continent. It wasn't composed on a university computer. No one at IU was affected. There was no clear reason why it was the university's business. Nevertheless, the student received a serious disciplinary sanction.
For certain alleged misbehavior, IU will even impose a "summary suspension," meaning the student is banned immediately without a hearing because they are deemed a "threat." There are no standards for what constitutes a "threat."
If IU is Home, apparently home is a place where we don't obsess about things like due process.
Earlier this month, one such suspension handed down after a fraternity brawl was caught on video, had to be reversed when the student—who was forced to have a police escort when he returned to campus to plead his case—pointed out he had been misidentified. (The student tells me he received no apology.)
To be clear, in my experience, IU has the best of intentions. Administrators, faculty and staff care about students. If in loco parentis is back, maybe students like it that way. But that does not mean it is sound policy or consistent with academic values.•
__________
Sanders is professor of law at the Indiana University Maurer School of Law in Bloomington.Send comments to ibjedit@ibj.com.

Click here for more Forefront columns.
Please enable JavaScript to view this content.