State Sen. Jack Sandlin of Indianapolis has died, GOP officials said Wednesday evening. He was 72.
Sandlin, a Republican who represented District 36, including parts of southern Marion County and northern Johnson County, was a retired Indianapolis police officer who served on the Indianapolis City-County Council from 2010 until he was elected to the Indiana Senate in 2016.
"Jack lived a life in service to his community," said Marion County Republican Party Chairman Joe Elsener in a statement. "His voice and impact on our city will certainly be missed."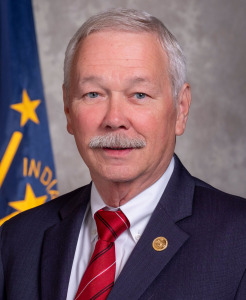 Sandlin died of a heart attack at his home, according to reporting by IndyPolitics.
A caucus of Republican precinct committee members in Senate District 36 will be charged with choosing Sandlin's replacement for a term that runs through 2024. Elsener said the details of the caucus will be sorted out in the coming days.
Elsener, called Sandlin a "fierce advocate for law enforcement" and applauded his ability to work across party lines.
"Indiana lost a true public servant today," Indiana Gov. Eric Holcomb said in a written statement. "Sen. Jack Sandlin was a gentleman who devoted his life to serving others, in public safety on the front lines and in our State Senate. His clear voice and integrity will be missed. Our thoughts and prayers go out to his family and all those who became close to him over the years."
Senate President Pro Tem Rod Bray called Sandlin a "strong advocate for the people of central Indiana and a champion of Indianapolis."
"He was a valued member of our caucus, and we will feel his loss deeply," Bray said in a statement. "Our hearts and prayers go out to his family, friends and all those who will be affected by this sudden loss, especially his wife Lydia."
Sandlin, who was president of Jack Sandlin & Associates Fraud Examination, was recently working on legislation meant to reduce crime in Marion County. The Legislature in March passed a bill he authored that established a Marion County crime reduction board as part of a larger crime reduction pilot project.
"I think this kind of collaboration could be an example for other cities in our state and across the country," Sandlin said about the bill earlier this year.
In recent years, he had also worked on bills aimed at helping victims of human trafficking, reducing property taxes and developing a stadium for the Indy Eleven soccer team.
Those who knew Sandlin were quick to offer their condolences.
"I am heartbroken to hear the news that State Sen. Jack Sandlin has passed away," Rev. Dr. Charles Harrison posted on X, the platform formerly known as Twitter. "Jack was a friend of mine. My thoughts and prayers are with the family."
A U.S. Army veteran, Sandlin served on three Senate committees: Corrections and Criminal Law, Environmental Affairs and Insurance and Financial Institutions.
He served as Perry Township trustee from 1997-2006 and spent 23 years on the Indianapolis Metropolitan Police force, retiring in 1996 as deputy chief.
"I had the pleasure of serving with Jack on the council and running alongside him for the Senate seat," said Jefferson Shreve, a Republican candidate for mayor of Indianapolis who lost his bid for the GOP nomination for the District 36 Senate seat to Sandlin in 2016. "He was a kind man, a great competitor and he served our state well."
Please enable JavaScript to view this content.