What constitutes a journalist?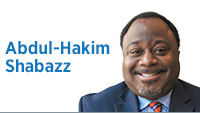 As you are probably aware from reading this column, I am in the middle of a legal fight with Indiana Attorney General Todd Rokita.
A quick recap: Last October, I tried to attend a news conference he had in his office on a robocall lawsuit, and was told I wasn't allowed in because I was not credentialed media. As the story unfolded, the AG's spokesman said, "Our press conferences are meant for actual journalists reporting on real issues, instead of gossip columnists."
Now, of course, the courts will have the final say in all this, but it does bring up a bigger question: In the 21st century, what exactly is a journalist?
The standard definition of a journalist is someone who writes for newspapers, magazines or news websites, or someone who prepares news to be broadcast. Seems pretty straightforward.
However, as media has changed, questions have been raised as to who is considered a journalist. For example, are bloggers journalists? Is someone who posts frequently about news events on social media a journalist? Is someone who writes a gossip column a journalist? Let's face it, anyone with a smartphone that has a good camera can be considered a journalist. So, to find answers to these questions, I did what any good journalist or reporter does: I researched.
One area I looked at is who is protected by "shield laws," laws meant to protect reporters and journalists from giving up their sources. In Washington state, the Supreme Court last year ruled that the state's shield law defined "news media" broadly to include newspapers, broadcasters and online outlets. But it drew a line by specifying that the law applies to "any entity that is in the regular business of news gathering and disseminating news or information to the public."
Indiana also has a shield law that applies to any person connected with or employed by a newspaper or other periodical issued at regular intervals and having a general circulation, or a recognized press association or wire service; to a bona fide owner, editorial or reportorial employee who receives or has received income from legitimate gathering, writing, editing and interpretation of news; and to any person connected with a licensed radio or television station as owner, official, or as an editorial or reportorial employee who receives or has received income from legitimate gathering, writing, editing, interpreting, announcing or broadcasting of news.
There is a question as to whether amateur journalists or those working for non-traditional media are covered by the shield statute; however, other courts have found that such language includes websites and other online platforms for publishing information and commentary.
So, is new media the same as news media? I don't think so. But what I can say is that, if you are protected by the state shield statute, you're a journalist. Or to put it another way, a journalist by any other name is still a journalist.•
__________
Shabazz is an attorney, radio talk show host and political commentator, college professor and stand-up comedian. Send comments to ibjedit@ibj.com.

Click here for more Forefront columns.
Please enable JavaScript to view this content.